Positively Muslim in The West: Blind and in her 70s | Hifdh Student Umm Uthman
Gateway to all Ramadan related posts on MM
Bismillah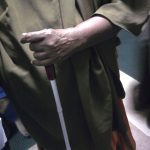 This is the newest monthly recognition of outstanding and inspiring Muslims, residing in the West. We hope to showcase the talents and contributions of these individuals to the Muslim Ummah. Feel free to nominate other talented Muslim individuals, who have made a positive contribution to the society by emailing: info@muslimmatters.org.

Our newest, "Positively Muslim in the West" recognition specifically for Ramadan goes to Umm Uthman, an elderly blind sister residing in the East Coast.
Asma bint Yazid

reported that the Prophet

said, "Shall I tell you who is the best of you?" "Yes," they replied. He said, "Those who remind you of Allah when you see them." [Adab al Mufrad]
I love watching her, especially when she prays. She doesn't see me looking at her, but every time I see Umm Uthman, I become overwhelmed with emotion and humility. She is of the few people that truly remind me of Allah azza wa jal every single time I see her. She is one of the even fewer people that I truly see noor glowing from their face. Whenever I go to greet her, she will hold my hand tightly and feel my wrist, as if it's how she recognizes me now that she cannot see. Her strong memory puts me to shame as she asks me about things I told her months or years ago like I told her about it yesterday.
The reason why Umm Uthman is receiving recognition is not because she is a blind elderly woman, but because she is a blind student of the Qur'an striving to complete her memorization in her 70s.
Umm Uthman, as I will refer to her in this post, is a family friend of my parents. She is a woman in her late 70s who still wears full khimar (below her knees) and jilbab although she is beyond the age of covering.
I first met her nearly 10 years  ago when she still had her eyesight, but it was beginning to weaken due to a brain tumor which alhamdulillah was removed. I remember going to visit her and she would use the walls as a support/guide to navigate in her house. As her sight started to go and ultimately went, she never once openly complained or talked in such a way that caused others to pity her. Now being completely blind, she has the support of her children or grandchildren guiding her and a walking stick.
After Umm Uthman and her family moved a bit further away from us, we didn't see her and her family as much but still stayed in contact.
Last year, while attending a fundraiser for a local Qur'an school, the director of the school announced that they would like to introduce one of their special students. I thought it was going to be a very young child who perhaps finished their memorization, but instead I see Umm Uthman walk on the stage with the help of a sister. The director, knowing that Umm Uthman does not know English, goes on to tell the audience her story and that Umm Uthman is a hard working student of their school, coming regularly even though she crosses into the neighboring state to attend. He asked her to recite some Qur'an and she began to recite from a powerful surah that she recently finished memorizing:
ص ۚ وَالْقُرْآنِ ذِي الذِّكْرِ
Saad. By the Qur'an, full of reminders. (38:1)
I sat there, in complete awe, as this blind elderly woman recited the Book of Allah moving  many in the audience to tears. I had no idea that she was a student at the school, so I was eager to talk to her after the event. She told me she just finished memorizing her seventh juz of Qur'an, mashaAllah. I asked her to recite her favorite surah to me, and she began to read from Surah Zumar:
تَنزِيلُ الْكِتَابِ مِنَ اللَّهِ الْعَزِيزِ الْحَكِيمِ
إِنَّا أَنزَلْنَا إِلَيْكَ الْكِتَابَ بِالْحَقِّ فَاعْبُدِ اللَّهَ مُخْلِصًا لَّهُ الدِّينَ
The revelation of this Book is from Allah, the All-Mighty, the All-Wise. Verily We have sent down the Book to you  in truth: So worship Allah (Alone) by doing religious deeds sincerely for Allah's sake only. (39:1-2)
I finally got to see Umm Uthman again at the masjid for tarawih prayers. It has become my habit now that I ask her how much more she has memorized since our last conversation because she always increases in her hifdh mashaAllah. When I asked her after prayer, she told me she couldn't remember the name of the surah but read the first ayah to me and I told her the name of the surah and that she has almost completed a third of the Qur'an mashaAllah.
I think of myself and all of the youth who have the ability to read and see the words of Allah while she cannot, who may know Arabic while she does not, who have easy access to knowledge while she does not, yet we do not have a relationship with the Qur'an like Umm Uthman. Her determination and love for the Qur'an is an inspiration to me, so I hope that inshaAllah you will be inspired as well.
I interviewed Umm Uthman after tarawih prayers and asked her a few questions (this is a translation of her answers):
Q: Why do you memorize the Qur'an?
I memorize to remove myself from the hell-fire and to receive the bishaarah (glad tidings) of Jannah. Through the Qur'an I seek the hereafter.
Q: What is your routine like for memorizing and reviewing?
Before I started going to the Qur'an school, I would memorize only one ayah every week. I memorize more at the Qur'an school now, maybe seven-eight ayat a week. I have tapes that I listen to and repeat with, that is how I memorize, repeating the ayah over and over. I ask my grandchildren to help me with the tapes and to read the ayat with me as well.
Q: Did you hear any negative words from anyone, such as you're too old to memorize?
A man once came to the school and saw me reviewing and told my teacher, "why is this old woman here?! what is the point of her learning??" and the my teacher responded, "you don't know her, she is almost done memorizing the Qur'an!" Alhamdulillah, no one else at the school said anything to me, they all encourage me.
Q: What is your favorite surah to recite?
Surah Zumar! I love reciting it in prayer.
Q: What is special to you about the Qur'an?
It is my way of coming close to Allah. Through the Qur'an, I seek nearness to Him. [Note: she then began talking about the Qur'an like it was her friend]
Q: What advice do you have for the youth and those who want to memorize?
May Allah guide them and us! I advise them to seek to come closer to Allah and to find peace in memorizing His Book – may Allah continue to guide them. Our deen and imaan are the most valuable to us.
After asking her these questions, I narrated to her the hadith qudsi of the Prophet

:
"Allah, the Glorious and Exalted said: "When I afflict my slave in his two dear things (i.e., his eyes), and he endures patiently, I shall compensate him for them with Jannah." [Bukhari]
She responded to me in the affirmative, that she knew this hadith and that she is patient with her eyesight only for the sake of Allah. She then said to me a beautiful statement: "When you have imaan in your heart, true imaan, then that is your eyesight." Indeed she spoke the truth as Allah ta'ala says in surah Hajj:
فَإِنَّهَا لَا تَعْمَى الْأَبْصَارُ وَلَـٰكِن تَعْمَى الْقُلُوبُ الَّتِي فِي الصُّدُورِ
Verily, it is not the eyes that grow blind, but it is the hearts which are in the breasts that grow blind. (22:46)
The Prophet

narrated in an authentic hadith, "The helpers (awliya') of Allah the Exalted are those whom, when they are seen, Allah is remembered." (Sahih al Jaami')
I ask Allah ta'ala to make Umm Uthman from His Awliyaa', from the Companions of the Qur'an and its People. May Allah grant her a good end with the glad tidings of angels in this life and ultimate success with the greetings of the angels in the next, Ameen.