Belonging & Banishment: Being Muslim in Canada – Book Review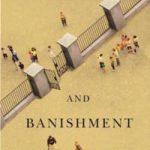 Ever on the lookout for the latest publications on Muslims in the West (and specifically in Canada), my interest was piqued when I was notified about a new book titled Belonging and Banishment: Being Muslim in Canada. The book is an anthology of essays by Canadian Muslim writers and edited by Natasha Bakht, spanning a variety of topics related to the theme of Canadian Muslims.
Upon receiving the book from the publishers (TSAR books, whom I thank for sending me a copy), I admit that I was extremely suspicious and cynical of what it might contain – my opinion of Canadian Muslims is, unforunately, rather low after having seen what it is that it is produced by them in the media. The majority of those who have any presence in the public eye tend to be either of the 'progressive' strain or cringe-inducingly wishy-washy (feel free to bash, flame, and lynch me now…).
I digress. The book, as I said, is a collection of essays – 11 of them, titled and authored as follows:
Muslims and the Rule of Law; Haroon Siddiqui
Bearing the Name of the Prophet; Syed Mohamed Mehdi
Knowing the Universe in All Its Conditions; Arif Babul
Raising Children in a Diverse World; Rukhsana Khan
Islamic Theology and Moral Agency: Beyond the Pre- and Post-Modern; Anver M Emon
Muslim Girl Magazine: Representing Ourselves; Ausma Zehanat Khan
Towards A Dialogical Discourse for Canadian Muslims; Amin Malak
Islamic Authority: Changing Expectations Among Canadian Muslims; Karim H Karim
A Case of Mistaken Identity: Inside and Outside the Muslim Ummah; Anar Ali
Victim or Aggressor? Typecasting Muslim Women for their Attire; Natasha Bakht
Politics Over Principles: The Case of Omar Khadr; Sheema Khan
It is difficult to make a judgement of the entire book, to label it as either "good" or "bad." From an 'aqeedah point of view, my worst suspicions were confirmed – Ismailis, progressives, and flat-out atheists were the majority featured, with the exception of the slightly more 'mainstream' Haroon Siddique, Sheema Khan, and children's author Rukhsana Khan. However, it must be noted that most of the essays did a surprisingly good job at not portraying their chosen topic with too much of a slant towards the author's ideological leaning (with the except of "Bearing the Name of the Prophet," which I found to be absolutely ridiculous and nonsensical).
Political/ Media
Three of the essays dealt specifically with mainly political issues, drawing on well-known incidents involving Canadian Muslims. Haroon Siddique's Muslims and the Rule of Law, Natasha Bakht's Victim or Aggressor? Typecasting Muslim Women for Their Attire, and Sheema Khan's Politics Over Principles: The Case of Omar Khadr were all excellent.
Muslims and the Rule of Law covers the presence of Islamophobia in Canadian politics and media, discussing such high-profile cases as the Maher Arar tragedy, the 'Shari'a court' controversy, the infamous Maclean's brouhaha,  the disturbing Quebec "reasonable accomodations" xenophobia, and much more. Siddique did a fantastic job in analysing the coverage of these incidents in the media, and the political and social responses that were broadcast all over the country. He criticizes and refutes the popular Islamophobic arguments found both in the media, political statements and actions, and amongst the general Canadian population; effectively using Canadian law, examples of  anti-hate and hate-speech incidents from Canadian history, and plain old logic to point out the many faults and inconsistencies of the Islamophobic arguments. The essay concludes with the warning that unless anti-Islam and anti-Muslim sentiments are effectively combated, the very nature of Canada's tolerant and inclusive foundations will be destroyed.
I strongly recommend Sheema Khan's article Politics Over Principles: The Case of Omar Khadr for its excellent coverage of one of the most tragic ongoing events in Canadian history. She discusses the background of the case, the latest developments as of publishing date (2008), and the huge waves it has caused in the fields of law, human rights, and politics. Her essay is one of the most comprehensive summaries I have read so far on the subject, drawing upon indisputable sources and emphasizing the shocking oppression being perpetrated in a land that claims to stand for justice and freedom.
Victim or Aggresor? Typecasting Muslim Women for Their Attire by Natasha Bakht was, to me, surprisingly good. She discusses the contradictory stereotypes put out by the media in their coverage of Muslim women, specifically Muslim women who wear hijaab. She lists and refutes the attitudes we have found common in media presentation of Muslim women, specifically those of "Protecting Muslim Women from the dangers of hijaab" and "Protecting Canadians from fraudulent Muslim women." She refers to the flurry of anti-hijaab bans in the field of sports, and the absurd veils-and-voting incidents. Her analysis of "unhelpful Muslim responses" is also spot-on, pointing out the danger of self-appointed 'Muslim representatives' such as the Muslim Canadian Congress who make matters worse when they issue statements declaring that hijaab is simply a patriarchial tool to control women.
Spirituality/ Philosophy
My reaction to the two essays, "Bearing the Name of the Prophet" and "Knowing the Universe in All its Conditions," were mixed. The former annoyed me intensely, being as it is the insistence of an atheist of Shi'i background that one need not believe in or practice Islam in order to be Muslim. Quite frankly, the piece is a load of hogwash… although it did alert me to the prevalency of the idea of self-identity and (what I perceive as) its absurdity. The idea that one is Muslim simply because they call themselves so, and not because they actually believe in Islam, is about the same as one considering themselves a doctor simply because their father was one. However, I'll save my spiel on this subject for another time.
The other essay, Knowing the Universe in All its Conditions, is by an Isma'ili. Arif Babul, the author, makes it clear from the beginning what kind of faith background he is coming from, which is good to know as he does refer to Isma'ili beliefs and mentalities throughout his article. That being said, however, the essay is actually a personal, spiritual reflection about how the author does not consider his career as an astrophysicist to pose a challenge to his beliefs, but rather affirms them. Once one filters out the skewed 'aqeedah, the essay is quite good and most of it is easy to relate to.
The third article which could be included in the category of philosophy is a rather obscure work titled "Islamic Theology and Moral Agency:  Beyond the Pre- and Post-Modern." To tell the truth, I struggled to get through it without falling asleep, as discussions on qadaa wa'l qadr and its nuances as debated amongst the Mu'tazilah and Ash'arites are not my cup of tea. Sheikh YQ might be interested in it though :)
Muslim Identity in the West
The rest of the essays touch upon the general theme of Muslim identity in the West – raising a family, creating Muslim-friendly media, personal reflections, interactions between the Muslim community and non-Muslim society, and the changing internal views of members of the Muslim community.
A Case of Mistaken Identity: Inside and Outside the Muslim Ummah by Anar Ali was not particularly impressive – a short musing by an Ismaili about growing up as one of the few coloured people in his school; feeling unrepresented by self-appointed spokespeople of Muslims such as Irshad Manji; and his personal experience in writing a children's book about Ismailis.
In Raising Muslim Children In A Diverse World, Rukhsana Khan reflects upon the difficult, yet not impossible, task of bringing up Muslim children who are aware of their non-Muslim surroundings but firmly grounded in their Deen. She shares stories of her own childhood, and from the journey that continues as she raises her own children in Canada. Her personal anecdotes make us aware that no matter how many times the issue is discussed, Muslim families in the West continue to struggle with the challenges of Islamic parenting in a non-Muslim society. Overall, the essay is good and great to share with non-Muslims who may be interested in the challenges that Muslim parents face in the West.
Muslim Girl Magazine: Representing Ourselves by Ausma Zehanat Khan is a look at the background and birth of Muslim Girl Magazine by one of its founders and editors. I was particularly interested in this article as I once purchased a copy of the magazine to review for MM (my apologies for not having gotten around to it yet), and have a lot to say about it. It was, as expected, a summary of how a group of people felt that the views of Muslim girls were either being sidelined or skewed, and that a new medium was required to fully represent them. Thus was Muslim Girl Magazine born for the Western Muslim teenage girl… to "enlighten, celebrate, and inspire." Stay tuned for my own full review of the magazine, coming to MM sometime in the future (more likely distant than future), insha'Allah.
Towards A Dialogical Discourse for Canadian Muslims by Amin Malak is a discussion of how Canadian Muslims can reach out, connect, and dialogue with other Canadian citizens as a means to overcome anti-Islamic sentiments and prejudices in general. Basically, it goes on about the responsibilties of Muslims and non-Muslims alike to overcome isolationism, extremism, and stereotypical cliches. I personally found the essay tiresome, if only because this is a topic which has been discussed to death both in the Muslim community, in interfaith/ inter-community dialogues, and online. Nonetheless, it was nice to see these oft-expressed thoughts and sentiments being put down on paper and through a medium that will reach out to a wider audience (although it contains a distinct flavour of modernism/ progressiveness that I find distasteful).
Islamic Authority: Changing Expectations Among Canadian Muslims by Karim H Karim was another one of the "meatier" essays which caught my eye. It actually happens to be a summary of a research project that the author was involved in; the findings of which have since been publicized in various media articles including this one in the Toronto Star. The essay examines the way that Canadian Muslims/ Western Muslims in general view 'Islamic authority' (that is, the leaders and sources of Islamic knowledge in the Muslim community) and the attitude that they extend to them.
The focus is on the shift of mentality from the 'back home'/ traditional attitude of trusting fully in the words of the Imam/ Sheikh/ Maulana/ Mufti, to a new way of dealing with Muslim leaders – critically, often doubting or challenging their qualifications and their ability to comprehend, understand, and deal with the context of Muslim life in the West.
The study, conducted in Canada, the U.S., and the UK, asserts that "The faithful no longer continue to think of traditional authorities in the same manner as in the past. This appears to be happening because they tend to have more education than religious authorities, enjoy access to primary intellectual sources of Islamic traditions, continually come into contact with new ideas, and are able to use communication technologies to discuss religious issues over vast distances." The article expresses findings which have, up until now, been recognized only implicitly in community circles – basically, the changes which the Muslim community in the West at large has been experiencing, as it evolved from being founded by immigrants to incorporating young Muslims born and raised here, struggling with the challenges of studying the Deen and implementing it.
Interestingly, the essay refers to the growth of such institutes as the Muslim College in London and the Zaytuna Institute (although I was disappointed to not see mention of alMaghrib), and how part of the 'implicit criteria by which [Canadian Muslims] asses the validity of Islamic authority' has come to include having both an Islamic and secular educational background, as well as being involved in social and/or political activism and work. A variety of quotes from participants in the study are included, expressing differing opinions and mentalities which are prevalent amongst Western Muslims across the ideological spectrum.
The essay concludes that "the sociological conditions that exist presently for Muslims in the West are historically unique," and I think that this something most of us can agree with. Indeed, this essay was certainly intriguing, for even if it didn't bring to light anything that we don't already know, it still emphasized many important points for those of us involved in community activism and Islamic education need to be aware of.
…
Most of the essays in Belonging and Banishment provided food for thought and were worth the time I spent on them. If nothing else, I appreciated that trends and ideas which have been tossed around, expressed, argued about, and developed by the Muslim community have been brought together in such a concrete manner. Although I disagree with a great deal of what was said in several of the articles articles, I think that for those who aren't easily confused or impressed by philosophical or intellectual types, it's a good book to have on hand.
As a whole, I am cautious of recommending the book to all and sundry; there are a few essays which I feel are great for general reading and sharing with friends and colleagues, but there are also a few which I feel can only be fully understood if one has a relatively thorough background in the history of Muslims in the West and their current socio-ideological situations. Certainly, I will be keeping this book as a reference text of sorts, and I have no doubt that many of the thoughts expressed within it will be excellent fodder for future essays, articles, and even books and lectures.
Rating: 4 out of 5 stars