Canadian Judge Orders Witness to Remove Niqaab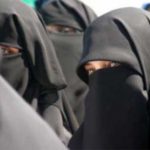 Toronto Star: Order to take off niqaab pits law against religion
A judge has ordered a Toronto woman to testify without her niqab at a sexual assault trial – raising the thorny issue of whether Muslim women should be allowed to appear as witnesses wearing a veil that covers everything but the eyes.

The issue is a collision of two rights, pitting religious freedom against the right of a defendant to face an accuser in open court.
The case could be precedent setting because it doesn't appear there is any Canadian case law addressing the question of Muslim women in the courtroom. In Canada, home to about 580,000 Muslims, the case will be closely watched, amid fears about Muslim women coming forward in criminal cases.
The National Post: Muslim Woman Must Testify Without A Veil
TORONTO – A decision by a Toronto judge to compel a Muslim woman to testify in court without wearing her veil has raised the tricky issue of how freedom of religion fits into the legal system and how it stacks up against other charter rights.

The ruling, stemming from a preliminary hearing into a sexual assault trial in October, could be the first time that the contentious issue has been ruled on in Canadian court.
CTV: Judge Says Woman Must Remove Veil When Testifying
I'm no legal expert, nor is analysis my strong point, but the following things come to mind:
How can the judge determine the sister's level of emaan?! Since when are judges given the jurisdiction to evaluate the sincerity and strength of anyone's religious beliefs or faith?!
The judge has grossly and blatantly twisted the sister's words to suit himself. Although the sister is quoted as saying that she wears niqaab due to her belief in it, the judge seized upon her statement that she's "more comfortable" if she didn't have to show her face to other men as meaning that it's ONLY an issue of comfort rather than religious conviction. This is a shocking and disgusting overstepping of bounds, and a misuse of legal authority and power.
Is this really an issue of the law vs. religious beliefs? If the sister did not wear niqaab but was rather a woman of any other faith group, and still did not want to reveal her face to male members of the court, what would the court say? In the comments section of the news article (admittedly not the most accurate source of information), it's mentioned that in some cases shields are erected between the testifying witness and the suspect. Can an analogy be made between the legal permissibility of the shield and this particular witness's wearing of niqaab?
Also, the judge pointed out that the sister has a driver's license in which her face is revealed; is it legally sound to use that as the basis of forcing her to remove her niqaab in court?
On the other hand, from a Shari'ah perspective, is the sister allowed to remove her niqaab if the courts determine that it is absolutely neccessary? Sheikh Yasir Qadhi shared the following:
The Shariah does allow for a woman who veils her face to unveil it in specific circumstances; one of them being in a court of law if required by the Muslim judge. Whether this ruling can be extrapolated to her specific case or not requires some more research, but at the same time if it can be arranged that only female jurors see , out of respect to her beliefs, that would be an ideal solution.
I would not be very inclined to put up a fight for this specific issue, though, as it is a court of law and she is only being asked to do so for a particular reason. But she should consult with her religious authority and also her legal counsel before she decides what course of action to take.
Sheikh Younus Kathrada continues:
There is firstly the matter of the hukm (ruling of niqaab); is it waajib or sunnah? In her case, if what the article states is correct, then she sees it as being sunnah and, therefore, she should not have a problem removing it. On the other hand, if she sees it as being waajib, then she can fight it and do as suggested (in the comments); basically that she be identified by a female bayliff (forexample) and continue the trial. That is why the British ruling seems to make sense. In the end, if she has a good case against her assailant and the only way to get justice is to remove the niqaab for a period of time during the trial, then she may do so. However, many factors need to be considered.
To me, the current state of the case is a continuation of a troubling trend in the Canadian media and courts:
Challenging Muslims specifically regarding their religious beliefs, under the guise of legal processes, procedures, and concerns, while maintaining a condescending air of "we know better" rather than a sincere and understanding attitude.
It also reveals, once again, the disturbing amount of ignorance and misunderstanding regarding Islam, and Muslim citizens taking part in important activities in the public sphere, both social and legal. Unfortunately, this ignorance has often translated from mere public opinion to political actions – as in the case of voting with veils, after which Bill C-6 (An Act to amend the Canada Elections Act – visual identification of voters) was introduced.
It increases the difficulties for Muslim citizens to confidently take part in vital proceedings without having to fear that their religious beliefs and practices will be disregarded, mocked, or attacked by fellow Canadians. The debate of religion's place in the public sphere is a heated one, but it is dismaying nonetheless that so many people continue to be intolerant and aggressive when this issue is brought up.
In the end, this is not a black-and-white case.
There are many questions that need to be answered before we can say right out that it is illegal for the judge to order the sister to unveil, or that it violates the sister's Charter right of freedom of religion.
Nonetheless, the fact remains that from what is apparent, the judge has gone about this in an extremely tactless and provocative manner rather than handling it maturely as would be expected from a representative of the law. He has certainly stepped out of bounds by taking it upon himself to determine the level of religious conviction of the witness, which is both ethically unacceptable and legally shaky.
As well, this is once again simply blowing the situation out of proportion: Islamically, this can be handled very easily because as the shuyookh have stated above, there are flexibilities in Islamic Law that permit certain exceptions out of necessity.
Let us remember that before jumping to choose sides or conclusions, we need to keep in mind the various factors at play and the potential ramifications of this case's conclusion. The defence of Charter rights, civil liberties, public perception of Muslims, and the continued debate about exceptions for religion in legal cases will all be deeply affected by the outcome of this case.
Please make du'a for the sister as she is a witness in a sexual assault trial, which is a difficult and emotional ordeal for her. May Allah grant her strength of emaan and patience, and make it easy for her to overcome this tribulation, ameen.
We await a response from the CIC (Canadian Islamic Congress), CAIR-CAN, and the CCMW (Canadian Council of Muslim Women) regarding this case.