Gaza University Destroyed, Professor Rayyan & Family Murdered: Are Some Freedoms More Sacred Than Others?
*Link to complete coverage of Gaza Massacre on MM*  
Last year, a large majority of British academics raised the issue of potentially boycotting Israeli universities. This 'tactic' did not just appear out of the blue, but rather had been discussed for a number of years before this throughout British academic circles. The boycott would serve as their symbolic act of protest against what they viewed as clear apartheid-like policies that discriminated against Israeli-Arabs and Palestinians, not just in the academic arena, but in all walks of life.  Not surprisingly, American universities reacted quite harshly. Amidst accusations of 'anti-Semitism', over 450 presidents of various American Universities, and thousands upon thousands of professors, denounced their British counterparts and claimed that this was an assault on the very foundations of academic freedom.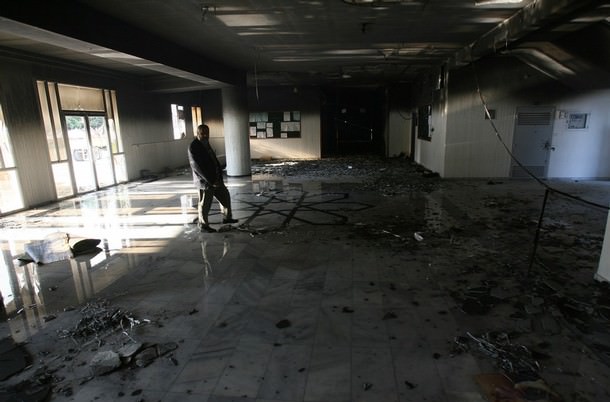 Fast forward to the present. In this last week, Israel viciously bombed the largest University in Gaza, in six SEPARATE raids, and destroyed a number of facilities, including the Ladies Building, where female students attended classes. Although the university is named the 'Islamic University,' it teaches both religious and secular sciences, serving over twenty-thousand students, most of whom are female. It has over ten departments, including engineering, medicine, science, art, and nursing. It was established over thirty years ago, has graduated tens of thousands of students, and is recognized as the largest and most accessible institute of higher learning in Gaza.
All of this meant little to the state of Israel.
Israel justified the attacks by claiming that the Gaza University was merely a front for a "… research and development center of Hamas weapons." But leaving aside the veracity of this claim for a moment, is there any modern research facility in the world that does not do research on aspects that could be used for military purposes? And how many of our own American universities directly receive aid from the government, and from private corporations, and use their intellectual resources for the political and military benefit of the country. Institutions of higher learning are supposed to serve the needs of their countries and are also supposed to be a place where diverse views are debated. The indiscriminate bombing of this university simply cannot be justified.
As if bombing the university was not enough, yesterday Israel succeeded in assassinating a professor of the University, Dr. Nizar Rayyan. Dr. Nizar was a professor of Hadith Studies at the Islamic Faculty, and had studied in Saudi Arabia, Jordan and Sudan. He had been a volunteer Imam and khatib at a major Masjid in Gaza since 1985, and had been imprisoned and tortured numerous times (for a total of almost four years of his life). He was targeted because he was a 'senior figure in Hamas'.
The Israelis were so terrified of this one man, who probably weighed around two hundred pounds, that they felt the need to drop a two thousand pound bomb on the apartment complex where he lived, killing him and eighteen other members of his family, including nine of his children. Men, women and children, murdered with unchecked savagery.
Dr. Nizar was clearly an advocate of military aggression against Israel, and also considered suicide bombings as a legitimate means of attack – a method that most other Muslim theologians and jurists (including myself) disapprove of. But regardless of what one thinks of the legitimacy of suicide attacks, such brutal violence against a professor and his entire family and innocent neighbors will undoubtedly generate more violence. International law does not allow extrajudicial assassinations, nor the permissibility of associated "collateral damage". If the Israelis believed that Dr. Nizar was a terrorist, and that an assassination was justified, without trial, along with his innocent family and hapless neighbors, how then would they respond if someone asked them that is exactly the same logic with which Palestinian bombers view their own "innocent" targets?
The speed and enthusiasm with which certain American universities and academics jumped to attack the proposed British boycott of Israeli universities was a spectacle to witness. They claimed they were championing academic freedom.
I wonder where these same universities and academics are now, when an entire University is bombed, its facilities destroyed, and professors assassinated? The only reasonable answer seems to be that in the eyes of these academics, Palestinians don't really deserve the same freedoms as Israelis do. In other words, some freedoms are just more sacred than others.
See Also: