Lloyds TSB Threaten to Close Charity Account
The banking group, Lloyds TSB are forcing the Islamic Bank of Britain to close Interpal's account – a UK-based charity dedicated to helping poor Palestinians (which these days, constitutes most of the population of Palestine, thanks to Israel preventing fuel and food aid from entering Gaza).
The timing could not be worse: the notice comes into effect on December 8th 2008, i.e., around Eid-ul-Adha; a time when Muslims are encouraged to give in charity, so that the less fortunate can also partake in the festival of Eid. How will Interpal process Qurbani donations, if their bank account is closed? Was the date deliberately timed to be as heartless as possible, or is it just plain coincidence?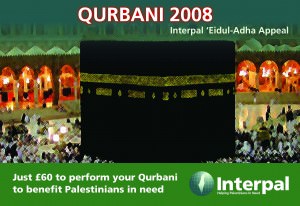 Lloyds TSB are most likely responding to accusations that Interpal has 'dealings' with Hamas. This claim is currently under investigation by the UK's Charity Commission (though they have not issued instructions for any assets to be frozen, as far as I am aware); the same commission has twice before cleared the charity of any wrongdoing, in 1996 and 2003. However, similar allegations actually lead to a ban on Interpal in 2003, both in the US and Australia.
Question: how is a charity meant to avoid interacting with members of a country's democratically elected government? Especially in a place as chaotic as Palestine, where one needs to have good contacts at every level, in order to get anything done.
Another case of "guilty until proven innocent", it seems. Except for the fact that the charity has repeatedly and consistently been proven innocent in the past.
The following is a copy of a message sent out by Interpal. Scroll to the bottom for details on how you can help, God willing.

—
Dear Friends,
Assalamu Alaikum – Peace be upon you.
I am writing to you because we are faced by a totally unexpected crisis which has the potential to force us to cease operations early next month.
We received notification the day before yesterday from our bank, the Islamic Bank of Britain (IBB), that Lloyds TSB (their clearing bank) have served notice on IBB to cease all dealings with Interpal. The notice comes into effect on 8 December 2008 (a nice Eid prsent!). After this time "all transactions into or out of Interpal accounts will be blocked and IBB will be at further risk of all its customer payments being suspended." IBB has offered us its total support but is apparently powerless in this situation, throwing into question the autonomy of Britain's burgeoning Islamic finance sector.
As you can imagine, this has the potential not only to damage Interpal but also to affect community relations (and cohesion) in Britain. The bank hasn't even waited for the Charity Commission to publish its latest report on Interpal.
No reason at all is given for this draconian and punitive measure, taken without any consideration for the thousands of contributors who have placed their faith in us to assist the needy of Palestine – and who want to continue to do so. Needless to say, it will be an administrative nightmare to transfer the thousands of standing orders that we have, etc.
By acting in this way, Lloyds TSB has treated IBB with contempt. Their action sends a signal to other Muslim charities – as well as the bank's 50,000 Muslim account holders – that their accounts can be closed down without warning or explanation at any time.
It is, at the very least, an example of the utter lack of respect faced by the Muslim community from some hostile quarters in this country.
Perhaps it should be pointed out to Lloyds TSB that Muslims are among the British taxpayers who have bailed out the bank after years of wasteful mismanagement!
Be that as it may – we are less than a month away from a potentially very difficult and testing situation. We are currently mobilising all the support we can to try to persuade the banks to rescind this decision – and hope and pray that we can look to you for guidance, advice and practical support at this critical time.
We are calling upon our friends and supporters, and all who stand for justice in the face of oppression to contact Lloyds-TSB and the Islamic Bank of Britain to ask them to rescind this outrageous, unfair and arbitrary decision.
Your support in this will be much appreciated.
Many thanks.
Ibrahim Hewitt
Chairman of the Board of Trustees
Interpal
—
WHAT YOU CAN DO
Call Lloyds TSB to ask them to rescind this outrageous, unfair and arbitrary decision.
Bulat Betalgiry,
Tel: +44 (0) 20 7661 4778
Islamic Bank of Britain plc,
Tel: +44 (0) 121 452 7330 / +44 (0) 845 6060786
Or write to them – if you don't have time use this template below:
Dear Sir/Madam

I, … am outraged at the news that Interpal, the only UK Charity supporting the oppressed people of Palestine, has been asked to clear all funds and has been threatened by Lloyds TSB to have their account closed, without good reason.

I am also shocked that a well-known bank, such as yourselves would not even await the findings of the current Charity Commission investigation into Interpal which is due shortly.

I demand that Lloyds TSB take into consideration our values and provide a reason for these actions, and withdraw threats made to the charity.

I look forward to your response.

Thank you
…………….
Send your letters to:
Bulat Betalgiry,
Lloyds TSB Bank plc,
1st Floor,
25, Gresham Street,
LONDON,
EC2V 7HN
bulat.betalgiry[at]lloydstsb.co.uk
Islamic Bank of Britain plc,
Edgbaston House,
3, Duchess Place,
Hagley Road,
BIRMINGHAM,
B16 8NH.