Authority of Sunnah Part-4: Intellect and Beyond!
Authority of Sunnah
Part 1 | Part 2 | Part 3  | Part 4
A few weeks ago, I ran my car over a rock! The parking lot of my friend's apartment complex is landscaped with those "decoration" rocks. It is difficult to see low objects through my SUV windshield.  As I was pulling out of the parking lot, I made a turn, accidentally drove on the grassy area, ran and lodged my car over one of these decoration rocks. I didn't want to move the car so as to avoid any further damage due to the sharp rock!
MashaAllah, within a few minutes, several brothers showed up to help me. I suggested to them that they lift up the SUV and push it away from the rock, as it seemed the fastest way to resolve the problem. After all, I thought to myself that eight strong, energetic brothers must have the strength to pick up one car, wouldn't you agree? But they all gave me this, "are you out of your mind" look!
Normally, a strong man has the ability to lift and push heavy objects.  I was asking for a "collective" effort to lift ONE heavy object! Needless to say, I was overlooking the limitation of the human muscle. What were they up against? A 5-ton SUV! I think even the kids, who were playing around in the area, probably saw the irrationality of my request!
Amazingly though, the restrictive abilities of our mind are often challenged. Every organism, be it muscle or mind, has limitations and cannot be used beyond its finite scope. Irrationality cannot be justified in the name of "rationalism!"
Had those brothers tried to lift the SUV, they wouldn't have moved it even an inch. And had they have persisted in their efforts, one or more of them would have suffered an injury, and we all would have agreed on the recklessness of this effort. Likewise, the human mind cannot attempt to know or even grasp the infinite Divine and His Divine Revelation. And when it persists in undertaking a task beyond its finite boundary then the harmful consequences are produced in the manner that we often see in today's world: the human mind objecting to Divine Revelation!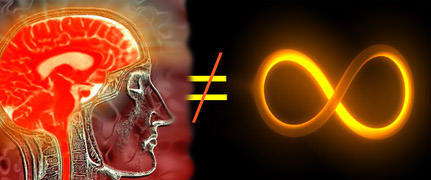 Having said this, I do not intend to present a refutation of "reason over revelation."  I think there is much on that topic all over the net. What I do want to discuss is the following:
Our minds have its limitations, and
If our minds are over-extended, it can be "intellectually" harmful
Does this mean Islam condemns or discourages us from using our intellect? Definitely not! In numerous verses of Qur'an, Allah azza wa jal has asked us to reflect, think and ponder:
لعلكم تعقلون  "So you understand"

لأيات لقوم يعقلون "Signs for the people who understand"

أفلا تتفكَّرون "Why don't you ponder"

أفلا تذكرون  "Why don't you remember or reflect"
Abundant verses in the Qur'an tell us to use our intellect to realize the sovereignty of Allah azza wa jal and understand the need of submitting to Him and Him alone. Islam encouraged and called for the usage of human intellect centuries before the age of enlightenment. We Muslims think, ponder, reflect, and use our minds to understand the truthfulness of Islam, to find our way to Islam, and to appreciate the guidance of Islam. But once guided to Islam, we surrender and submit to what is revealed. However, and what is ironic, is the audacity of those who use this very intellect to challenge the Revelation in the name of "pure rationalism," "intellectualism,"  "humanitarianism," or whatever "ism" it maybe! It is difficult to categorize and discuss in one article each and every way people have used to object to the Revelation.  Some have denied the Divinity of Qur'an and some have rejected the status of ahadeeth, but each one of them leads its way to the underlying concept of "reason/intellect over Revelation."
It is difficult to categorize and discuss in one article each and every way people have used to object to the Revelation, some have denied the Divinity of Qur'an, some have rejected the status of ahadeeth, but each one of them leads its way to the underlying concept of 'reason/intellect over Revelation'.
Allow me to say, those who put "reason/intellect/logic" over Revelation and stubbornly argue that their action is only in compliance to Islamic teachings of "think and ponder," miss out on the whole idea of using their intellect for intellectual reflections. Let me explain what I mean by this. One of the objections that the "intellectuals" have with the Revelation is the "Hadd Punishments" because it is "in-humanitarian."  Whereas Allah azza wa jal, says (the translation of which is):
"And there is life for you in Al-Qisaas, O men of understanding, that you may become Al-Muttaqun." (2:179)
This is a challenge to those who take pride in their intellect! Allah azza wa jal is telling us that through the implementation of this law we will have life, calling out on the people of understanding (ulul albaab). It takes the quality of submission and intellect to truly comprehend the wisdom behind the laws of Allah. Anyone can doubt and reject, it doesn't take any talent nor does it make anyone intellectually elite. In fact, anyone who rejects automatically becomes disqualified from being of the "ulul albab!"
Submission doesn't require the understanding of the text first. Rather, understanding can be achieved through the submission. Let's not forget the German scientist who rejected the sahih hadeeth in Bukhari about dipping  the fly completely in the drink if it falls in it, as was mentioned by Sh. Waleed Basyouni in his lecture. He didn't think it made "sense" to him and the idea was "illogical" and "inhumane." Later, when he discovered in his research about the fly carrying the antidote of the pathogens on its wing, he then recalled the hadeeth and submitted to it after realizing its wisdom!
Did his discovery change the status of the hadeeth? What if he wasn't a scientist and had never discovered the fact about the fly? Would it have nullified this characteristic of the fly carrying its antidote on its wings? What about all those people who have yet to learn about this special trait of a house fly, is it not obligatory on them to submit to the hadeeth of the Prophet, sallallahu alihi wasalam, until their intellect is able to grasp the idea? (We have discussed in previous parts regarding ahadeeth being a part of Divine Revelation).
The harm of "Pure Reasoning" can be clearly seen in how it can lead one to openly disobey Allah's implicit commands. Let's take Iblees for example.  When Allah azza wa jal commaned him to prostrate to Adam, alihi salaam, he (ar-rajeem) used his "reasoning" to disobey Allah.  He reasoned that since his creation was better than Adam's, it didn't make "sense" that he should bow down to Adam (Qur'an 7:11-12). He rejected Allah's command on his "pure reasoning" and his "doubt" in Allah's Justice!
To think that we can reason better (I think therefore I am!) and then allowing that "free thinking" to lead one to "doubt" and "reject" Divine Orders is a trick of Iblees, since he wants us to follow in his footsteps.
There is no superiority in "De Omnibus Dubitandumest" (methodological doubt, or, everything is to be doubted). In his own words, Rene Descartes said, "…If I am able to find in each one [his former opinions] some reason to doubt [i.e. doubt doesn't have to be reasonable], this will suffice to justify my rejecting the whole." (Renee Descartes, Meditations of First Philosophy, in The Essential Descartes, Margaret D. Wilson, ed., Elizabeth S. Haldane and G.R.T. Ross, trans. P. 166)
Islam puts a seal over any type of doubt when it comes to Revelation:
"This is the Book (the Qur'an), whereof there is no doubt, guidance to those who are Al-Muttaqun…" (2:2)
Further, all humanity has been challenged to produce something better if there is "doubt" in the Revelation:
"And if you are in doubt concerning that which We have sent down to Our slave (Muhammad, sallallahu alihi wasalam), then produce a surah of the like thereof and call your witnesses besides Allah, if you are truthful." (2:23)
Suffice it to say, those humanists or rationalists who reject Revelation have not yet produced anything better to counter the laws of Allah. Take Hadd punishments as an example. Have they come up with a better "system" or "solution" to fight crimes?
We don't judge Islam in a syllogistic scale. True, every ideology has flaws, and Islam is an ideology, but Islam is flawless. If we are unable to comprehend some part of the Revelation, the flaw is not with the Revelation; rather it is with our inability to comprehend.
The true believer, after using his/her mind to understand the truthfulness of Islam, frees himself/herself from any element of doubt:
"Only those are the believers who have believed in Allah and His Messenger, and afterward doubt not…" (49:15)
"The Truth (comes) from Allah alone; so be not of those who doubt." (3:60)
As mentioned earlier, to doubt is not some intellectual specialty. Anyone can doubt, even my 8 year old son can doubt.  The real intelligence is to grasp and understand and submit, while keeping in mind that the brain can only grasp what is within its realm of comprehension.
There is no doubt that our intellect differentiates us from animals, that our intellect gives us superiority over Jinn, that one who uses his/her intellect is superior to the one who chooses not to.  It is a virtue praised by the One who created intellect:
"…Say: 'Are those who know equal to those who know not?' It is only men of understanding (ulul albaab) who will remember (get a lesson from Allah's Signs and Verses)." (39:9)
But the same Lord who has praised the ability of understanding, has also restricted our intellectual abilities, informing us in a number of places about the limitations of understanding certain Divine issues, like the life of martyrs:
"And say not of those who are killed in the Way of Allah, "They are dead." Nay, they are living, but you perceive (it) not." (2:154)
Those brothers realized their inability of lifting an SUV; it wasn't a cowardly decision, but rather a smart move. So, too, we should realize the inability of understanding every Divine Issue. Our minds were not created with the ability of infinite understanding. Revelation cannot be rationalized. Islam is a reasonable religion but it is not based on "reason!"
Islam is a simple religion for anyone who responds to his/her innate nature, i.e. fitrah. If Islam was meant to be understood through  "rationalism" only, then everyone would have to "philosophize" in order to be a Muslim, which in my humble opinion means, "take people away from their fitrah and then call them to Islam." And it is because of this, some enter Islam with preconceived notions of "Pure Reason" and try to rationalize Revelation!
I don't know how Aristotle defines arête, but I do know how my Lord described those who achieve human excellence.  They use their intellect to recognize and appreciate the truthfulness of Islam, submit to Divine Revelation, and remain firm without any doubts.
For a better understanding on Reason and Intellect in Islam, here is a good lecture by Yasir Qadhi.
[google -2311681368822110254]
May Allah azzawajal give us tawfeeq to be among those who have truly achieved falah (success).