SignLabs.org – It's Finally Here
Bismillah
Finally, I have the immense honour and pleasure to announce the launch of the long-awaited (well, long-ish, kinda awaited) website, that has recently got the blogosphere in a buzz… SignLabs.org!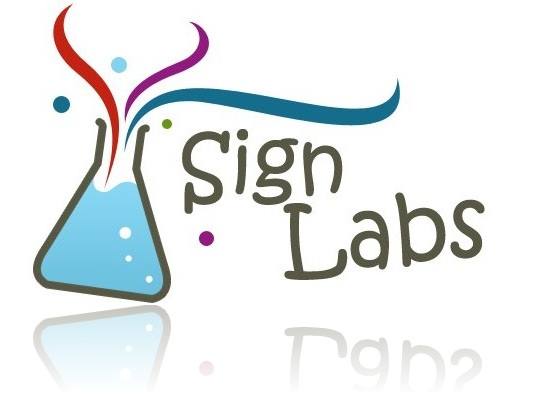 So, what has all the fuss been about?
Basically, the team behind SignLabs.org figured it's about time that the needs of the Deaf members of our community got a little attention.
As you may know, the hearing impaired (this includes the deaf, as well as those with reduced hearing) often rely on a system of coordinated signs and gestures, known as sign language, to communicate. However, not many members of the public (never mind Muslims) actually know how to sign. This barrier in communication has lead to the isolation of the Deaf community from wider society. Most tragically, they are even excluded from places where we, as Muslims, often gather for both social and religious benefit, such as the mosques, and at Islamic conventions.
The good news is, there are many simple ways to improve the current situation.
But we need your help for things to change.
Oh great, another charity on the scrounge…hang on, let me find my wallet.

No! Really, it's okay. For once, it's not all about the money. Shocker, I know. What we really need is your time, effort, and most of all… your enthusiasm! Can you manage that?
Hmm, perhaps… what do I have to do?
Yey for enthusiam… ahem.
As I mentioned earlier, one major problem that faces the Deaf community, is the inability to easily communicate with the hearing, as they are both essentially speaking different languages. Thus, a simple solution would be for one or both parties to learn the language of the other. In this case, it is much, much easier for a hearing individual to learn sign language, than for a Deaf person to learn to lip read, and in addition, attempt to speak words that they cannot actually hear.
But, maybe you already know how to sign… or perhaps you aren't very good with languages… or you don't have much time to attend lessons… (etc, etc, [insert random excuses here]). Then what?
Well, we have taken all those scenarios into account, and devised three ways in which you can assist SignLabs.org, depending on your existing circumstances.
1) Project: Learn to Sign: It does exactly what it says on the tin. (Will I ever tire of using that phrase? Don't think so).
For those who are unfamiliar with contemporary British advertising slogans… This project aims to encourage complete beginners to learn the basics of sign language, providing access to training videos, and links to established on and offline courses.
2) Project: Reach Out n' Sign: This is for those of you who know a little sign, but want to become more fluent.
Experience teaches us that the best way to learn a new language is to immerse yourself into an environment where it is often spoken. E.g., if you want to learn Arabic, you go to Egypt, or Syria. If you want to learn French, well, a trip to France may help! In the case of sign language, hanging out with your local Deaf kids on the block can work wonders – and who says they have to be Muslim? In addition, this will definitely help to bridge the enormous chasm that currently exists between the social circles of the Deaf and the hearing.
3) Project: Sign Islam: You don't need to know a single word of sign for this initiative! But you do need to know English. Parlez–Vous Anglais? I thought you might.
The hearing are blessed with many avenues by which they may gain knowledge of Islam using audio materials, such as mp3 lectures, Islamic online video and DVDs, and even specialist satellite/cable television channels. However, without signs, subtitles, or accompanying transcripts, they are pretty much useless for our Deaf neighbours. The good news is that many of these can be easily adapted in order to be more accessible to the hearing-impaired, who naturally have just as much right to learn about the religion as the rest of society. Please visit the website for more detailed information of how you can get involved.
Fair enough… I understand what you need. But what's in it for me?
Dude, I'm in the UK. It's late. Do I reeeally need to throw a bunch of Qur'anic verses, and ahadith at you to explain the IMMENSE rewards to be gained for such a teeny-weeny amount of effort? I think common sense – and a soft heart – will tell you that this is simply the right thing to do.
Think of it as seeking knowledge. Think of it as helping your neighbour. Think of it a great opportunity for da'wah.
Whatever your intention (as long as it is to please Allah) – just do it, already! (Ooh, another famous marketing slogan… I'm on fire tonight).
—
Okay, so I think I've taken quite enough of your time with this entry. I now urge you to visit SignLabs.org right this minute, and start taking advantage of all the resources and opportunities that we have lovingly (lovingly?) provided you, so that you can learn sign, use sign, and ultimately, sign Islam for the benefit of all. How wonderful!
May Allah bless our efforts, accept our actions, and grant us success in this life and the next. Ameen.
Updates:
HalfDate.com have launched a special drive to assist us with Project: Sign Islam. Specifically, to collect:

and 35 members for a new transcription team that will work to transcribe Islamic audio material for the benefit of the hearing impaired. Sign up [pun intended] today!