Niqabi SuperHero: Sooraya Qadir, X-Woman

As a Muslim comic book geek reader, I'm always on the lookout for a good graphic novel that has awesome pictures, cool characters, and a rockingly awesomely exciting storyline – and you can't go wrong with X-Men! And it just gets better with the introduction of Sooraya Qadir (code name: Dust), possibly the first practicing Muslimah in the Marvel Comics Universe.
I first came across the munaqqabah mutant when avidly devouring the graphic novel collection of The New X-Men: Hellions. I was stunned and delighted to discover the existence of a character who is not only a strong, intelligent young woman but is a practicing Muslimah to boot – who makes it clear to readers why she chooses to observe correct hijaab.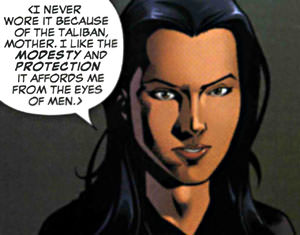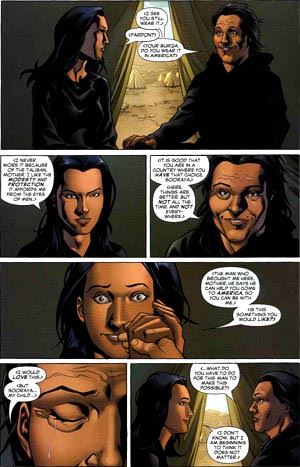 (Source)
Here's a bit more info about my new favourite superhero (Wiki bio):
Dust is an adolescent Sunni Muslim girl who possesses the mutant power to turn herself into a sand-like substance. Born in Afghanistan, Sooraya is kidnapped by a slave-trading ring after she is separated from her mother. While one of her slavers tries to remove her niqāb, she instinctively lashes out with her powers and flays them all alive with her dust form before passing out. She is subsequently discovered and rescued by Wolverine and Fantomex. Wolverine takes her to the X-Corps base in India. Sooraya hides herself from the X-Men stationed there by turning into sand and spreading herself around the complex. Phoenix senses Sooraya's presence and telepathically convinces her to reveal herself to everyone present. Sooraya reforms and announces her presence by speaking a single word: Turaab (Arabic for dust).
More here at her official Marvel database page.
If you're as nerdy as I am, then no doubt you find it pretty darn cool… but of course there's always that doubt that springs up immediately after you get excited about how there's finally some positive representation of Muslims in the media (as fictional as it may be!) – how long it will be before the desire to make "Dust" more sexy overtakes any desire for editors to keep up with her proper hijab? How long before the commercial need to sell femininity, as is the case with all other female superheroes with exaggerated figures to make them more desiring for teen boys, will cause Dust's abaaya to be a figure-hugging uniform? In the world of reel-bad Arabs, it may be a small consolation to see at least an attempt to sell the hijab in a positive manner, but how sincere and long-lasting will the effort be?
Some artists depict Sooraya's abaya incorrectly, having it tightly cinched around her waist and breasts, which questionably disregards the purpose of wearing an abaya.