Lessons from Ignorance: Part 1
Part 1 | Part 2 | Part 3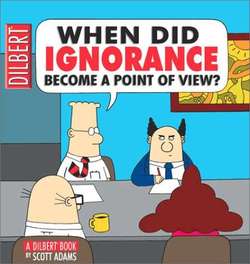 "So, what religion are you?"
"Ummm, I think I'm half-Muslim, half-Christian because my mom is Muslim, but my dad is Christian."
This is just a guess on my part, but after reading that, I bet your thoughts may have looked something like the following:
"Subhaan'Allah, this guy's a moron."
"Great, another ABCD – American Born Confused Dummy."
::smack!:: (the sound of your palm smacking your forehead)
"Look at the state of our Ummah – this misguided person doesn't know the difference between ethnicity and religion!"
For other interesting reactions, check out the post on the AlMaghrib forums:
Had I encountered someone who said something like that a few years ago, I'd probably have reacted the same way myself, except that the person who made those comments was none other than the author of this post at the age of 14.
That's right – I was the one who, while 100% a believing Muslim, called himself half-Muslim, half-Christian. I remember the desi kids who asked me that were like, "How does that work? Do you believe Jesus is the Son, but then you don't?"
As I think back on it even now, I can't help but find it funny. How could I have been so dumb? But there it was – I was practicing Islam to the best of the little-to-no-knowledge that I had (and I certainly had not an iota of Christian belief or practice that I followed), but somehow I had mixed up my concepts of race and ethnicity.
I'll bet if many of us were to take a moment now and reflect on some ideas or beliefs we held years ago, or some dumb statements that we made in the past, we'd find them pretty funny in retrospect.
There's an interesting story about 'Umar ibn al-Khattaab (ra) in which he was seen first laughing and then crying. When questioned about it, he said that he was remembering his life before Islam.
He recalled that at one time, he was in need a god to worship, but there were none available for him at that moment. So what did he do? He pulled out some dates from his pocket, formed them into a god, and then worshipped it.
So what's so funny about that? Was he laughing about committing shirk? Actually, he was laughing because after he was done with his worship, he became hungry and proceeded to EAT the god made of dates. Can you imagine how funny that must have seemed post-shahadah?
Of course, it's not always that we have happy memories of past mistakes – many times, there are moments of regret, of shame, of pain, of wanting to go back and undo mistakes that we had made. The same was true of 'Umar in this story.
He continued, explaining that he was crying because his wife at that time had delivered a baby girl, and as was the practice before Islam, he buried his daughter alive. He remembered being able to hear her coughing as the sand was covering her face, and this was what brought him to tears.
Another version of the story mentions she was a bit older, and while 'Umar was digging the hole to bury her, she would wipe the sand that would get in his beard, and this memory was what caused him to cry, wallaahu a'lam.
I have a few regrets myself from back in those high school years. During my junior year, I remember there were two Muslim sisters (both in Islam and family members) that stood out more so than all the other Muslim girls in our school because they did something unusual – they wore hijaab. By my senior year, another of their sisters had joined the school, and we had three sisters in our school, all hijaabis.
Can you imagine that? Three Muslim girls wearing hijaab in high school of all places? High school was the absolute worst place to look or dress differently than anyone else because of the social backlash that came with it, and come it did. I remember students would sometimes comment on them, wondering sarcastically if they were bald, or had bugs in their hair, or something else.
That wasn't the worst part. The worst was what I thought about them. Here I was, their Muslim brother, so ignorant of Islam that I myself never stood up for them, and even looked down on them. I remember one time thinking, don't you guys realize this isn't medieval times? We're in the 20th century now! May Allah subhaana wa ta'aala reward them for their strength and resolve in the face of so much criticism.
It'd be great to ride a DeLorean Marty McFly style and change the past for the better, but what's happened has happened and what we can do is look back a bit and search for lessons to benefit ourselves for future use, insha'Allah.
One lesson I realized much later was that when I see people who are not practicing Islam properly (meaning, they have ideas about Islam that no scholar holds, or they are what we would call "nonpracticing"), it's not correct to automatically assume that everyone is at the same level of knowledge and understanding, and therefore condemn them if they don't know what is obvious to you (assuming you don't know them, or anything about them).
I recall that later as I started to learn more of Islam in college, I would start looking at others thinking, why isn't he doing this, or why isn't she doing that? Astagfirillaah, how could someone say that?! That was the type of attitude I had towards other people's personal flaws or mistakes in understanding, meanwhile I was (and still am) a work in progress.
After having this type of attitude for many years, eventually I realized, hey, what if someone looked at me the same way because of how I practiced or thought Islam was, back when I was ridiculously ignorant? That ignorance was really not my fault – I was not taught these issues growing up by my family, and maybe, just maybe, those other people I was looking down on now might be in the same situation I was in way back when. Shouldn't I find out more about them first before inwardly condemning and feeling offended by them?
I recall Shaykh Muhammad Alshareef once use a metaphor for moving one's life in the right direction. He said that if you're trying to get to some destination, if you ask someone for directions, the first question they'll ask you is, "Where are you right now?" Knowing where you are, you can get relevant directions to where you need to go.
Likewise when approaching people with the intent of helping them become better practicing Muslims – before we can tell them what they should do and why, we can't assume they're parked right next to us in terms of our own knowledge, practice, and understanding. We need to first figure out where they're at, and then help provide a solution that's appropriate for that them, not ourselves.
Many of us know the story of the bedouin who walked into the masjid, picked a corner, and proceeded relieve himself there. We also know the way that the Companions wanted to deal with him, and we know how the Prophet sallallaahu alayhi wa sallim treated him, seeing that he was a bedouin – he didn't assume that the man knew that urinating in the masjid was not allowed, and so he explained to him in a kind and merciful manner that one didn't do this kind of thing in the masjid.
Surprising as it may seem, smashing someone on the head with a hammer (as I once used to do) is often not the best way to help bring our brothers and sisters in Islam to proper knowledge and better practice. It's been my experience over the years that mercy, kindness, and not being personally offended go a long way in helping people come closer to Allah subhaana wa ta'aala, and one of the best ways to achieve that mercy and kindness is to lay off on the assumptions and pre-judgements until one has a clear picture of who they're really dealing with and trying to help, insha'Allah.
These are just small samplings of the mistakes in my understanding of Islam (among many) that I've had over the years – how about you? What mistakes in understanding and knowledge have you learned lessons from over the years?