Reminder: Lunar Eclipse Tonight!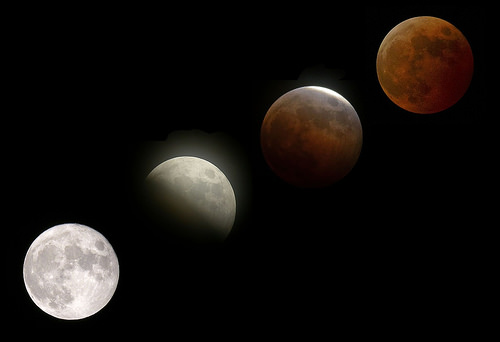 [Photo by Fort Photo]
Just a short notice to the MM readers that there will be a total eclipse of the moon tonight, which should be visible anywhere in the world, except Asia and Oceania. Those who are able to see the eclipse should perform the special Sunnah prayer, known as Salat-al-Kusuf.
Please read this previous MM article to remind yourself of the significance of this celestial event, and what the prayer entails.
Here are some timings that I managed to nab from Facebook:
In North America (Canada & the US), the Total Eclipse takes place during:

Newfoundland ~ 11:30 p.m. – 12:21 a.m.
Atlantic ~ 11:00 – 11:51 p.m.
Eastern ~ 10:00 – 10:51 p.m.
Central ~ 9:00 – 9:51 p.m.
Mountain ~ 8:00 – 8:51 p.m.
Pacific ~ 7:00 – 7:51 p.m.

MEXICO, Central America and the Caribbean include all time zones listed above, so if you're not sure which time zone you're in, just keep your eyes on the skies from 7pm until midnight!

South American time zones range from UTC (GMT) -5 to -3, so the time will be from 10pm until 1am.

In Europe and Africa ~ 3:00 a.m. – 3:51 a.m. UTC (GMT) in the early morning of February 21.
Abu AnonyMouse advises those who may be asleep during the eclipse (such as myself!) to wake up and pray, if possible.