Hakeem Olajuwon Monument Islam Compliant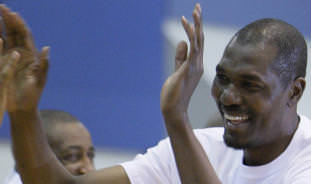 Monument honouring Hakeem Olajuwon to be unveiled in April
February 14, 2008, 11:44 PM ET
HOUSTON – The Houston Rockets plan to unveil a monument honouring former star Hakeem Olajuwon on April 11 outside the team's arena.

Organizers said they worked hard to ensure that the monument complied with Olajuwon's Islamic beliefs. Rockets spokesman Nelson Luis told The Associated Press that details about the monument had not been released.

Houston television station KRIV reported that it would focus on his jersey and accomplishments, but in keeping with the tenets of his Muslim faith, it won't include a picture or likeness of him.

"It's a wonderful monument to the greatest player in the history, I think, of Houston sports, and one of the greatest players of all time in the NBA," Rockets owner Leslie Alexander said.

Olajuwon led the Rockets to two NBA championships and was the most valuable player of the finals both years.

"I am so grateful for their thoughtfulness to honour me," Olajuwon said. "It can't be any higher than that. I feel so humbled. I mean, like, 'Wow … I mean that much."

Olajuwon said a statue was not acceptable because it is against his faith.

Houston artist Eric Kaposta designed the monument.
Source: Associated Press
– – – – – – – – – – – – – – – – – – – – – – – – – – –
That's AWESOME, mashaAllah!
Some brothers in Houston I met at the Texas Dawah Convention 2005 said that while we Chicagoans grew up watching Jordan as our basketball role model and legend, they had Hakeem Olajuwon, who would be fasting during games, show up at the masjid and at Fajr for Salah, and still maintain his position as best center in the league. How beastly is that?
This story of how he asked to make sure the monument wasn't a statue and stick with Islamic beliefs is just another testament to Hakeem's nature. May Allah (SWT) reward him and grant him and his family Paradise without any punishment.
[youtube jc02Z4-0wDM]