Islamophobia Part-1: It Exists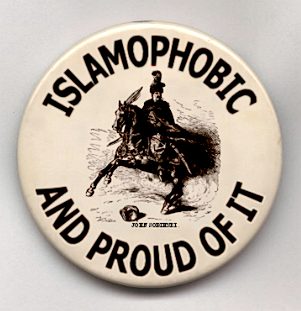 Cross-posted on Dailykos.com & Streetprophets.com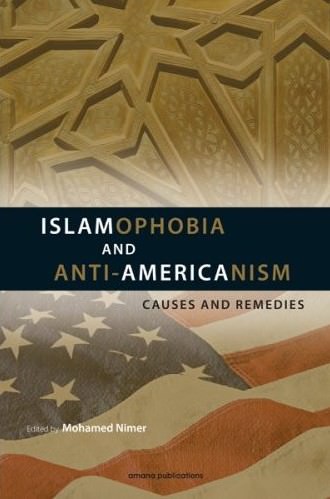 In what will hopefully be a series of posts, I will be examining the trend of rising Islamophobia in America, employing a sprinkling of information from the collection of articles in the book with the title, "Islamophobia and Anti-Americanism" edited by Mohamed Nimer (an Amana Publication) mixed. I highly recommend this book for any Muslim who is concerned about the difficult times American Muslims are finding themselves in these days.
What I found especially compelling about the book is that the collected opinions come from a spectrum of important American voices (Muslim and otherwise), from Dr. Asma Asfaruddin (an associate professor at Notre Dame and adviser for Karamah) to Cherif Basyouni (a distinguished professor at DePaul and president of its International Human Rights Law Institute) to Richard Cizik (vice presisent of National Association of Evangelicals) to Claude Salhani (UPI's international editor) to Dr Shanta Premawardhana (a Baptist pastor and director of Interfaith Relations for National Council of Churches) and many more.
This first part will be an attempt to establish that Islamophobia is real and does in fact exist. Some may find this to be redundant because it is so obvious, but others in the know will disagree. While it is obvious and real, there is a deliberate and sustained effort by the Islamophobes to suppress this term and its implication for many reasons:
Of course, the first reason is obvious. Without Islamophobia, they would not be Islamophobes. And without the burden of this word (whatever little baggage it currently holds), it would be hard to find an appropriate label to describe this prejudice and bigotry, in essence providing the Islamophobes a free-pass. In other words,
If there was no Islamophobia, then those engaged in daily and consistent bigotry against Muslims would assume that they were engaged in rational behavior that is not driven by hatred and prejudice.
Since the world has embraced the concept of antisemitism, I think the need and importance of terminology, i.e. for Islamophobia, can draw some parallels from the need for having the word antisemitism.
Another way to recognize the importance of driving this term into "common" Western lingo, such that its far-reaching implications are obvious to people, is to recognize the efforts by the Islamophobes to suppress it. Why are they so concerned about it? Why are they bent on making this term "go away"
In fact, if one were to visit with the right-wing opinion-makers in America, one would find that for them Islamophobia is a concept that does not exist except as a figment of imagination created by CAIR in order to be exploited by CAIR. What is amusing about this opinion is that most, if not all, CAIR directors could probably find better gigs, make more money and lead less stressful lives working outside CAIR! So, there is no obvious motivation, financial or otherwise, for the creation of CAIR, and more importantly for the creation of the term "Islamophobia".
Searching online dictionaries, the first surprise (or is it?) is that Merriam-Webster online returns this message for the term "Islamophobia", "The word you've entered isn't in the dictionary." Only in dictionary.com, is there a single return for its meaning: "noun- prejudice against Muslims; 'Muslim intellectuals are afraid of growing Islamophobia in the West'" [WordNet® 3.0, © 2006 by Princeton University]. Interesting sentence choice for the usage example. Perhaps, it should be corrected to "common Muslims" not just "intellectuals" who are afraid of the growing Islamophobia!
On the other hand, a search of "anti-semitism" returns a similar meaning as well as a bit more at dictionary.com, which is "discrimination" in addition to "prejudice" against Jews. This is an important addition. When a state of mind translates into an actual negative behavior, then the implications of this prejudice become graver. One can also take historical parallels from the antisemitism that eventually culminated in the German holocaust to the development and denial of Islamophobia today. It is a well-recorded fact that anti-semitism was present and alive in Germany well before the holocaust, and that its denial was equally in vogue.
Let's get into the meat of this post, with some of the following based on two articles in the book: Dr. Parvez Ahmed's "Prejudice is Real and Exacts a Heavy Toll" and Dr. Samer Shehata's "Popular Media and Opinion Leaders are to Blame".
What is Islamophobia?
Dr. Ahmed states that
Islamophobia refers to unfounded hostility and fear of Islam.
Unfortunately, one of the handicaps of this word is that it may lead people to assume that it is merely a "phobia", a state of mind, and not of action (as I mentioned earlier from its definition in Princeton's WordNet). So, it is important to highlight that this is not only a state of mind, but also culminates a behavior that leads to hidden or explicit
discrimination against Muslims, exclusion of Muslims from mainstream political or social process, stereotyping, presumption of guilt by association, and finally hate crimes.
Most Muslims and a growing minority of non-Muslims recognize that all of these evils are present and growing in 21st century America and increasingly tolerated as being "justified". Though to be fair, I should add that American Islamophobia is still less rampant than in many quarters of Europe where Islamophobia, much like anti-semitism pre-holocaust, is being actively institutionalized (consider the hijab ban in France that is now being picked up by other European areas).
The term Islamophobia gained popularity in part due to the famous thesis developed by Samuel Huntington (a thesis that is of biblical proportion for the right-wingers), in which he argued that there was an impending clash of civilizations between Islam and the West. 9/11 was literally "god-sent" in terms of helping this theory gain wider appeal, leading to a sustained campaign by the right-wing outlets (FOX, talk radio, etc.) to help create a climate of extreme prejudice and fear in "preparing" the "West" for this epic impending clash. Other important names to mention include many of the neoconservatives who pushed for the war in Iraq (and now pushing for it in Iran) such as Daniel Pipes, Steve Emerson, Bernard Lewis, Robert Spencer, David Horowitz, and others.
What are the beliefs representing shades of Islamophobia?
Islam is monolithic and cannot adapt to new realities.
Islam does not share common values with other major faiths.
Islam as a religion is inferior to the West. It is archaic, barbaric, and irrational.
Islam is a religion of violence and supports terrorism.
Islam is a violent political ideology.
Dr. Ahmed is spot on. In fact, most right-wingers would accept the preceding points without argument. At the same time they will insist that this is completely rational and normal behavior, without any prejudice. That this is simply "reality" and that anyone who does not accept it is either (a) an "Islamist" or (b) a sold-out liberal, who is as dangerous as the "Islamist" for America.
If you are one of those who does not believe the preceding points, then I would URGE you to spend about 15 minutes on just this website, reading just this one post (took me 30 seconds to find it), and then drilling down into the comments. I guarantee that you will find most, if not ALL, the mental diseases listed above at the post on Little Green Footballs (LGF). What is the post about? LGF's campaign of letter-writing to Mayor Bloomberg of NYC against the green lighting of the Empire State Building in commemoration of Eid-al-Fitr! Remember one of the goals of Islamophobia: "exclusion of Muslims from mainstream political or social process". By the way, LGF is one of the most popular conservative right-blog on the web.
What is the proof that anti-Muslim sentiments exist in America?
If the little LGF tour doesn't convince you that the Islamophobic attitudes are not merely on the sidelines of American attitudes, then perhaps these statistics will convince you:
While survey data about Muslims prior to 9/11 isn't readily available, a plethora did come in after the horrible attacks:
The latest national survey by the Pew Research Center for the People & the Press and the Pew Forum on Religion & Public Life, conducted Aug. 1-18 among 3,002 adults, finds
Public attitudes about Muslims and Islam have grown more negative in recent years. About four-in-ten Americans (43%) say they have a favorable opinion of Muslims, while 35% express a negative view. Opinion about Muslims, on balance, was somewhat more positive in 2004 (48% favorable vs. 32% unfavorable). As in previous surveys, Muslim Americans are seen more positively than Muslims (53% vs. 43%); however, unfavorable opinions of Muslim Americans have also edged upward, from 25% in 2005 to 29% currently.
When asked for the single word that best describes their impression of Islam, far more Americans mention negative words than positive ones (30% vs. 15%). The word "fanatical" came to mind for 4 out of 10! "Radical" came in at 30%, terror/terrorism or violence/violent at nearly 25% of the time.
Almost half the population believes that Islam encourages violence, as opposed to about a quarter who say it doesn't. While the rest didn't know or didn't answer. So, one could assume that the number would be as high as 65% if we were to split the difference.
A troubling poll by Washington Post/ABC seems to show that as people claim to "know" more about Islam, their negative opinion about it is actually increasing. This correlation is an important sign for Muslims that our "dawah" and campaign of information is failing, while the dawah and campaign of misinformation by the right-wingers and Islamophobes is winning. A commentator on Dailykos pointed out that this may also be due to the type and quality of the otherwise true information that people get. It's very easy to pick out comments from the Qu'ran that are in direct opposition to the ethical worldview that most of non-Muslims are familiar with. So, the stats:

While "basic understanding (probably more like misunderstanding)" of Islam increased from about 31% in October 2002 to 40% in March 2006, unfavorable opinion of Islam increased from 24% to 46% over the same time period or a nearly 100% increase! It is important to recall that once the dust of 9/11 settled, unfavorable opinion of Islam actually dipped due to the efforts of people in politics and the media, as well as Muslim organizations, to prevent large-scale retribution and revenge-motivated assaults on Muslim life and property (which nevertheless still occurred). However, once past this, Muslims slept while the neocons and the right-wingers launched a campaign of Islamophobia that continues to resonate today.
On the other hand, another poll by USA Today/Gallup Poll (article here) finds that people who actually know Muslims, as opposed to claiming that they "understanding Islam" do feel better about Muslims:


Considerable differences are seen in attitudes about Muslims according to whether one is personally acquainted with a Muslim. For instance, only 10% of those who say they personally know someone who is Muslim say they would not want a Muslim as a neighbor. This compares with 31% of those who are not acquainted with a Muslim — representing a 21-point gap in views between the two groups. Other large gaps are seen in attitudes toward special security measures targeted at Muslims, and fear of sharing an airplane flight with Muslim men.

The WP/ABC poll also finds that (similar to the Pew Poll), belief that Islam encourages violence has gone up from 14% to 33%, nearly 3-fold.
Nearly 34% had heard prejudiced things about Muslims. 27% honestly believed that they had some feelings of prejudice against Muslims, compared to 6% against Jews (is there a better indicator than this that anti-semitism is no longer the big problem in America, as Islamophobia has become?).
What are the implications of Islamophobia?
At work, we talk a lot about the "Injury Pyramid", where the small first-aids form the bottom, large part of the pyramid and fatalities form the top, tip of the pyramid. In other words, for every 1000 first-aids or so, an average of 1 fatality occurs (the figures in this example are not meant to be accurate, just providing an analogy).
Similarly, one can think of racism or prejudice as a pyramid, with the bottom base being a myriad and widespread negative opinions and beliefs, which I have already described in the preceding paragraphs. The next, less-widespread, step up on this pyramid would be hate-talk. A step further up will be actions motivated by hate, like throwing a pig's head into a mosque. Further steps up (less frequent but of higher intensity) would include direct attacks on Muslims and eventually to Muslim deaths and even large-scale terrorism (a plan by a Florida doctor to bomb Muslim educational centers was derailed in Florida in 2002 before it could be enacted). The question is not whether such hate-crimes will happen (because they already are); rather the question is when and how many.
Rest assured, and nearly every Muslim recognizes this, that if there is to be another terrorist attack in America orchestrated by Muslims, then no Muslim will feel safe in this country in the immediate wake of that crime. In other words, the ground-work has been laid. Feelings of hatred have been planted. And it does not require a pscyhologist to recognize that with such large-scale negativity, there will be enough nut-jobs to ac upon their prejudices.
Consider then, which should not come as a surprise, that a large percentage of Americans are ready and willing to strip the Muslim minority of America of its constitutional rights for what they perceive as their own safety. To be continued…
Next: Islamophobia Part-2: Hate Pyramid; Part 2 will further detail out this concept of hate pyramid, implications with evidence, including poll-data, documented discrimination and violence against Muslims.
Retire Aladdin To The Ends Of The Earth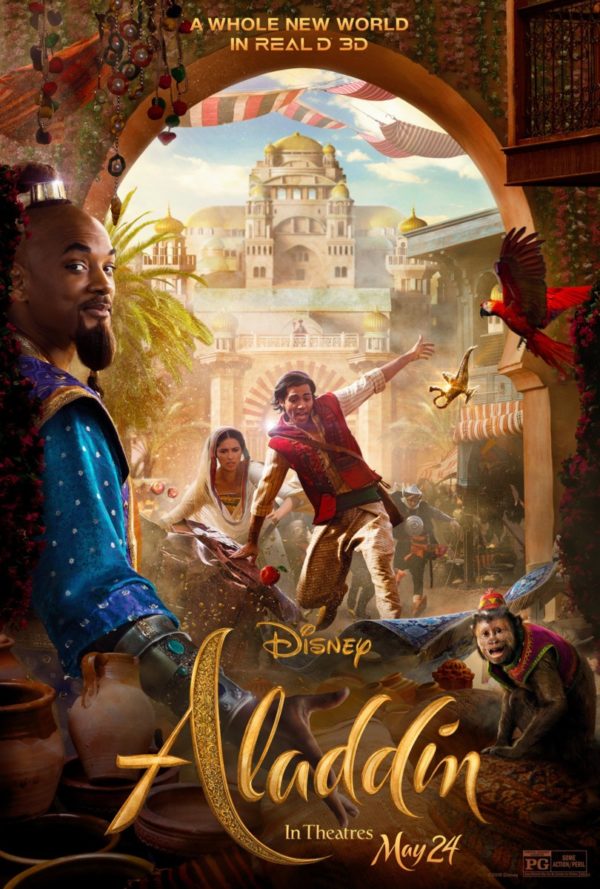 By Jinan Shbat
I grew up in an upper-middle-class suburb in Ohio, where I never felt different than the kids in my neighborhood. Sure, my siblings and I had odd-sounding names, and we spoke a second language. But to our neighbors and classmates, we were white, like them. However, that perception changed when I was 11-years-old, when a Disney cartoon movie named "Aladdin," was released based off of a character created by a French orientalist at the height of Orientalism. At first, my siblings and I were excited because we thought Disney had made a movie that represented us. However, shortly after the movie came out, the questions began.
Are you from Agrabah?
Do you have a magic carpet? Are you going to be married off to someone your parents choose? Do you have outfits like Jasmine?" My head was swarming with all these questions, and I admit, I was intimidated. A little scared, too. I didn't know how to answer them, and so I just shook my head and walked away.
My parents thought they were doing us a favor by buying the movie and have us watch it anytime other kids came over to play. This just created a larger divide between us, and soon my siblings and I were the "other." It made me hyper-aware of my brown skin, my visiting foreign grandparents, and my weird-sounding name that no one could ever pronounce correctly. As I grew up, the movie and its racist, Orientalist tropes followed and haunted me. Anytime anyone found out I was Arab, they would ask, "oh, like Aladdin?" I didn't know how to answer that. Was Aladdin Arab? South Asian, Persian? These were all different ethnicities, yet the movie seemed to be an amalgamation of them all, set in a fiction land I could not identify.
Why is Disney's Aladdin Harmful?
It may not seem like a big deal to be misidentified in this way, but it is. And these stereotypes that have been present in Hollywood for decades are a huge disservice to our communities- all our communities- because when you misidentify a person's culture, you are saying that all people of color are interchangeable— which is dehumanizing.
With the new release of the live action version, "Aladdin" is reinforcing the trauma and obstacles we have had to fight for the last 30+ years. The addition of a diversity consulting firm made Disney look good; it showed good faith on their part to receive feedback on the script to try and improve it.
However, issues remain with the original story itself, and no amount of consulting will change that.
Although the Aladdin remake was marked by controversy over Disney "brown-facing" its white cast, and despite original Aladdin's racist history, last weekend Disney's live-action version soared to $207.1 million globally. Money experts tell us that the remake success comes from the "power of nostalgia"- that is, the film's ability to connect with feel-good memories.
The original production is the second highest grossing film project in Disney history. Last weekend, millions flocked to the remake in record numbers, despite critics' negative and mixed reviews.
The accompanying Aladdin Jr. play is also a major concern, sales of which will skyrocket because of the film. Disney only recently removed the word 'barbaric' in its description of Arabs in the opening song. Many more problems abound, but Disney promises through its licensing company, Music Theatre International, to keep the concepts explored in the original production intact.
A Whole New World Needs Less Anti-Muslim Bigotry
From my perspective, as an organizer that fights a huge Islamophobia network in my daily work, it would be a disservice to my work and our community to sit by and allow racist, Islamophobic, orientalist tropes to make their way into our theaters, homes, and schools. What exactly is not a big deal in this movie? The depiction of Arabs and South Asians as one demographic, the storyline of forced marriage, power struggles, a black man playing a genie literally bound by chains to a lamp?
Hollywood's history of Islamophobia needs to be rectified. There is a plethora of writers, actors and creative minds with alternative positive portrayals of Muslims, Arabs and South Asians. Our consumer appetite must shift to embrace authentic stories and images about people like me.
Aladdin is beyond repair; in its original form, it is problematic. No number of meetings with executives will fix the problems that are still prevalent. It should be retired, indefinitely, and put on the shelf with all the other racist caricatures from Hollywood history.
It's our duty to speak out- and if you don't believe we should, then you can choose to stay silent. I cannot.
Jinan Shbat is an organizer in Washington DC.
Faith Community Stands With Peace And Justice Leader Imam Omar Suleiman During Right Wing Attacks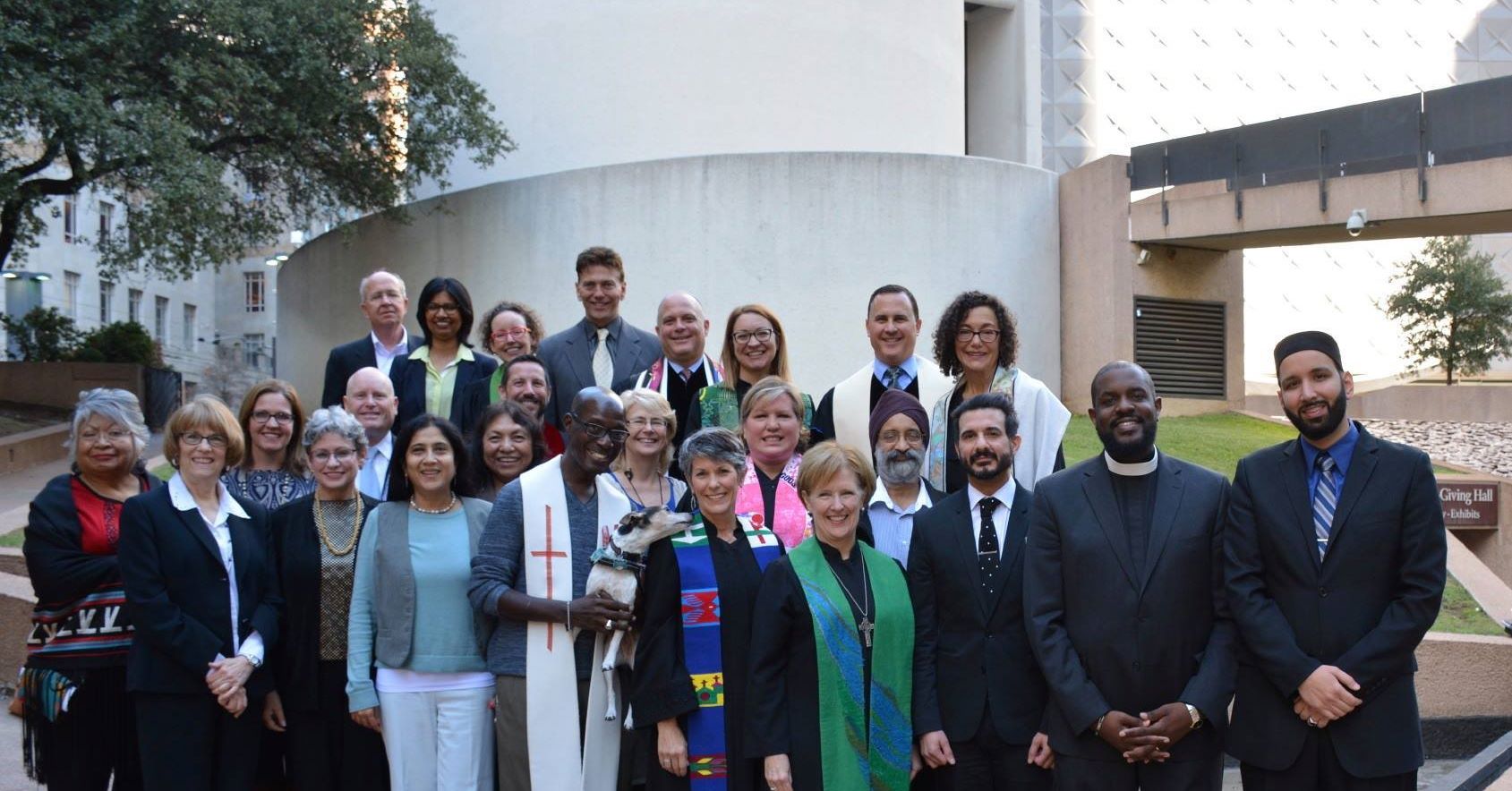 In a follow up to the right-wing media platforms attack on Imam Omar Suleiman – calling him anti-semitic, a common tactic used to discredit both Muslim activists, as well as criticism of Israel policies, Faith Forward Dallas issued a statement.
Faith Forward Dallas at Thanksgiving Square – Faith Leaders United for Peace and Justice is a Texas-based interfaith organization that has worked on many initiatives with Imam Omar Suleiman.
The statement reads:
"Imam Omar Suleiman a spiritual and moral voice for peace with justice!!!!!

Time after time in our city, in the United States and around the world, Imam Omar Suleiman has been a spiritual and moral voice for peace with justice. When others seek to divide, he calls for unity. Faith Forward Dallas at Thanks-Giving Square works to unite faith leaders for justice and compassion. Imam Suleiman has been a trusted leader among us. In the wake of his beautiful prayer to open the House of Representatives on May 9, he has received threats of violence and words of vilification when instead he should have our praise and prayers. We call upon people of good will everywhere to tone down the rhetoric, to replace hate with love, and to build bridges toward the common good.

Faith Forward Dallas at Thanks-Giving Square"
Commenters on the Faith Forward Dallas statement have left comments of support.
The group has invited locals and other leaders to endorse and share the statement. "Endorsed! I love and fully you Imam Omar Suleiman!" wrote Karen Weldes Fry, Spiritual Director at Center of Spiritual Learning in Dallas (CSLDallas), commenting on the statement.
Some commentators do not understand the manufactured controversy.  Heather Mustain writes, "What people are writing is so vile. They obviously didn't even listen to his prayer!" Imam  Omar Suleiman delivered the opening prayer in the US House of Representatives on May, 9th, 2019  at the invitation of Rep. Eddie Bernice Johnson (D) of Dallas, TX.
"I'm grateful for the faith leaders with whom I've built relationships with and served with for years that have shown full support throughout this process. Together we've stood with one another in solidarity in the face of bigotry, and in the support of others in any form of pain. We will not let these dark forces divide us," said Imam Omar Suleiman in response to the outpouring of love from the people he has worked with on the ground, building on peace, love, and justice.
#UnitedForOmar – Imam Omar Suleiman Smeared by Right-Wing News After Opening Prayer at US House of Representatives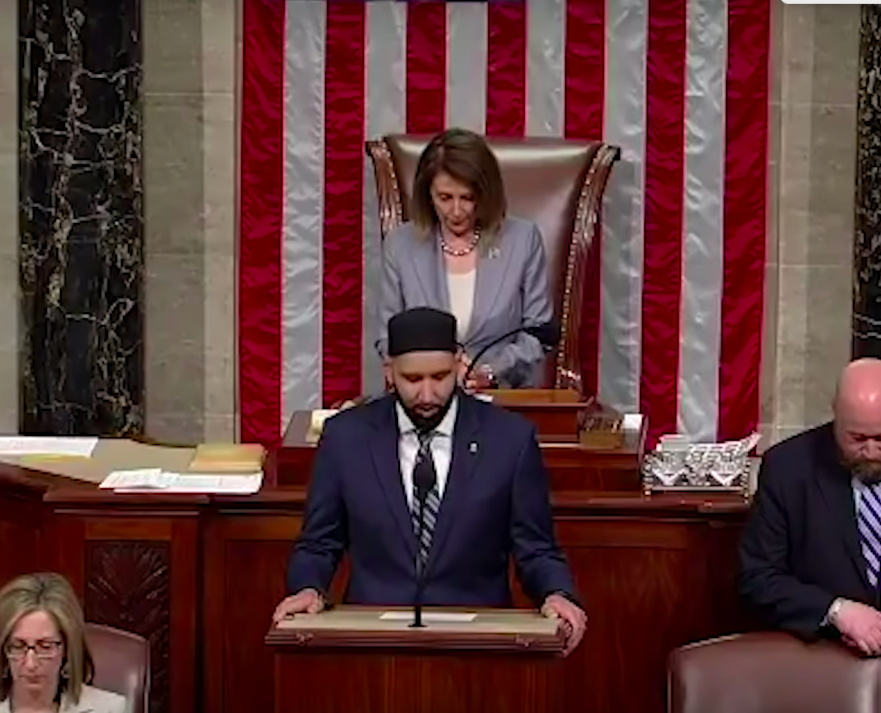 Sh. Omar Suleiman delivered the opening prayer in the US House of Representatives yesterday, May, 9th, 2019  at the invitation of Rep. Eddie Bernice Johnson (D) of Dallas.
Immediately since, right wing media platforms have begun spreading negative coverage of the Imam Omar Suleiman – calling him anti-semitic, a common tactic used to discredit both Muslim activists as well as criticism of Israel policies.
News outlets citing the criticism have pointed to a post from The Investigative Project on Terrorism or ITP, as the source. The  ITP was founded by and directed by noted Islamophobe Steven Emerson. Emerson's history of hate speech has been documented for over two decades.
Since then, the story has been carried forward by multiple press outlets.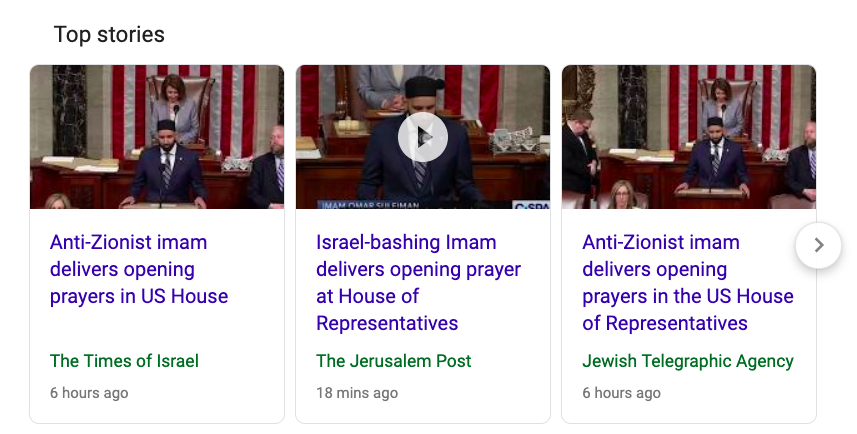 The immediate consequence of this has been the direction of online hate towards what has been Imam Omar Suleiman's long history of preaching unity in the US socio-political sphere.
"Since my invocation I've been inundated with hate articles, threats, and other tactics of intimidation to silence me over a prayer for unity," Imam Omar Suleiman says. "These attacks are in bad faith and meant to again send a message to the Muslim community that we are not welcome to assert ourselves in any meaningful space or way."
MuslimMatters is proud to stand by Imam Omar Suleiman, and we invite our readers to share the evidence that counters the accusations against him of anti-semitism, bigotry, and hate. We would also encourage you to reach out, support, and amplify voices of support like Representative E.B.Johnson, and Representative Colin Allred.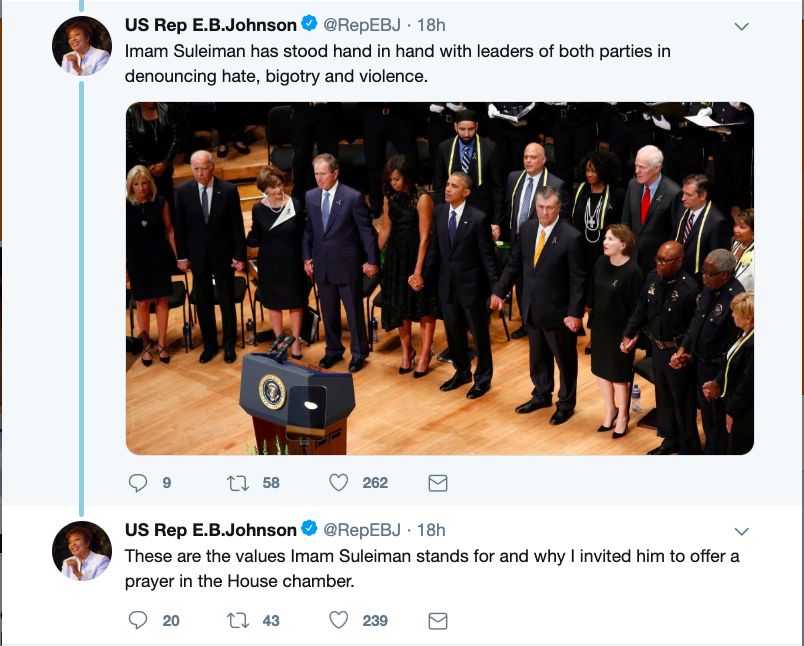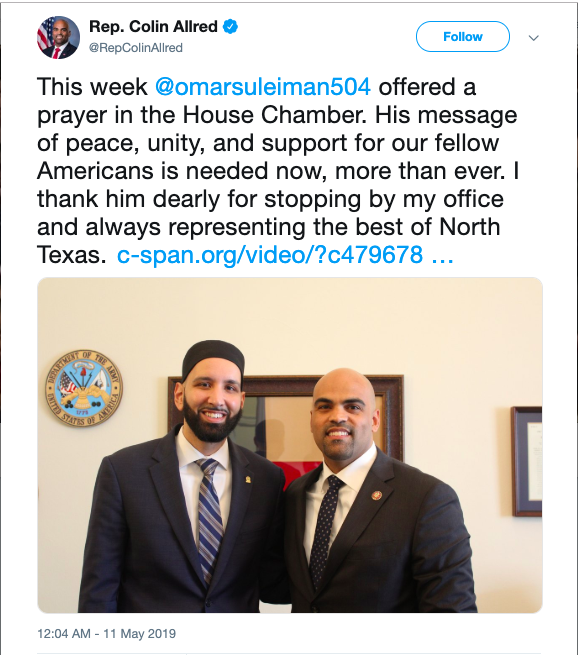 You can help counter the false narrative, simply by sharing evidence of Imam Omar Suleiman's work. It speaks for itself, and you can share it at the hashtag #UnitedForOmar
JazakAllahuKheiran
---
At an interfaith panel discussion, three North Texas religious leaders promoted understanding and dialogue among Muslims, Jews, and Christians. Amid a vexed political and social climate, three religious leaders in North Texas—a priest, an imam, and a rabbi—proved it's possible to come together in times of division. Source: DMagazine.com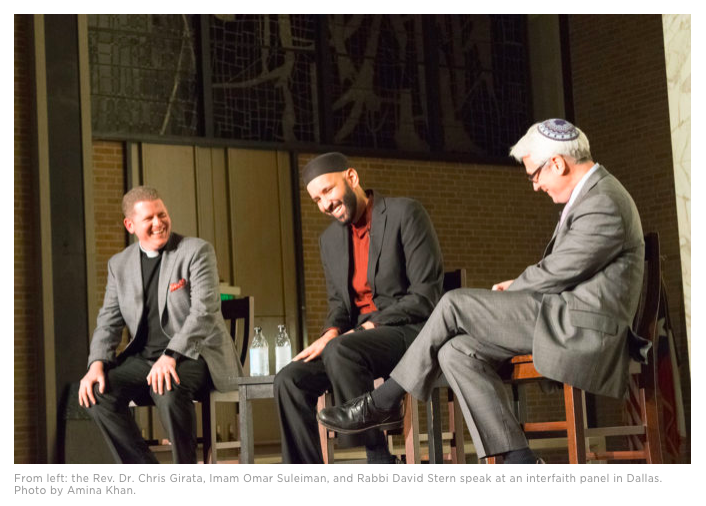 ---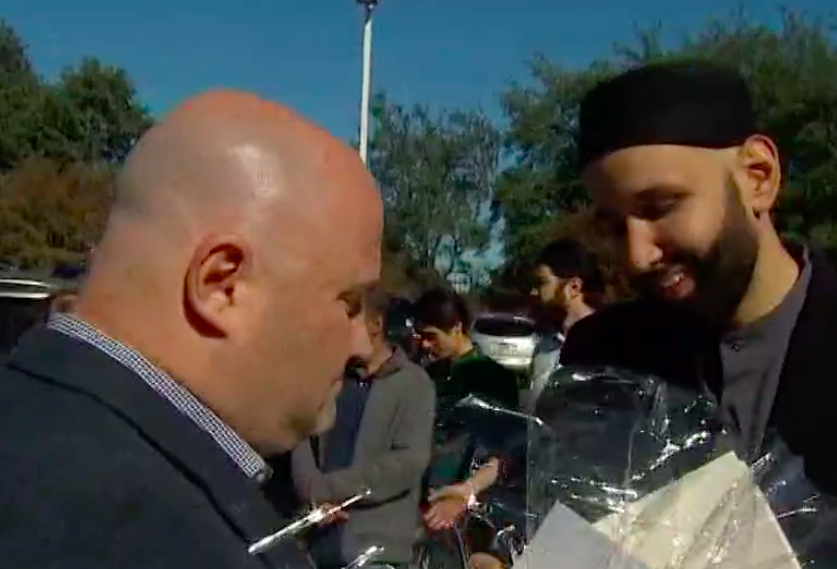 The congregation, led by Imam Omar Suleiman, penned more than 150 cards and letters. source: WFAA News
---
"We must recognize that the white supremacy that threatens the black and Latino communities, is the same white supremacy that spurs Islamophobia and antisemitism," -Imam Omar Suleiman
Source: Bend The Arc
---
"When any community is targeted, they need to see a united faith voice — that all communities come together and express complete rejection of anything that would pit our society against one another more than it already is." -Imam Omar Suleiman
Source: Kera News

---
Source: The Carter Center
---
Imam: After devastating New Zealand attack, we will not be deterred
"My wife and I decided to take our kids to a synagogue in Dallas the night after the massacre at Tree of Life in Pittsburgh to grieve and show solidarity with the Jewish community. My 5-year-old played with kids his age while we mourned inside, resisting hate even unknowingly with his innocence…" Source: CNN