"NeO" to Giuliani — United Against a Presidential Nightmare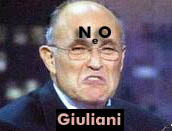 *After you read this article, here's what you can do: BECOME A PARTNER (as an individual or as a blog)! Click here or see the bottom of this page for our PARTNERS*
This is a campaign to bring all Americans together, liberals and conservatives towards a common cause: keeping, what Tom Hayden calls, the most dangerous candidate, out of the White House! If you don't like George Bush's policies, then you should know that Giuliani is far more of a threat to world peace than Bush ever was.
If you don't have time to read the post, then just read these 6 points to get the gist:
All Americans can agree on this, regardless of your political leanings. Rudy is not a true conservative, and he is definitely not a liberal. He jumps into any camp that befits his political expediency.
He is a one-issue candidate: 9/11. He has exploited this tragedy beyond human decency and using it to cover up his lack of solid credentials and qualifications to be an effective President.
He has surrounded himself with the neoconservative clique that is bent on world domination via unilateralism.
His team consists of the same people responsible for the Iraqi war and will likely take us to war in Iran soon if Giuliani takes over.
His neocon team are constitution-phobes and Islamophobes. They will hastily discard constitutional rights of people in the name of "protecting" Americans.
His team is more right-wing and more hawkish than even the right-wing Likud party of Israel, and will make every effort to destroy any chance of achieving lasting peace in the Middle East.
If you care, you should read further:Giuliani has the potential of dragging America into more quagmires for America. His team is composed of the same neoconservatives that took us to the war in Iraq that has consumed hundreds and thousands of lives.
Conservatives should remember that he is not honest to any of their "moral imperatives". His values are not shared by "true" conservatives but only by the neoconservative cult that is bent on taking America to disaster after disaster.
Liberals should know that Giuliani, among all the Republican candidates, will crush civil liberties in the name of "protecting you". His ENTIRE campaign is based on FEAR, using the tactics that Bush used to win the last election.
Giuliani is also a one-issue (9/11) candidate, who has exploited this tragedy for his own political fortunes. While he is supposedly pro-abortion, he doesn't mind the support of the right-wing televangelist, Pat Robertson. Robertson of course agreed with Falwell that 9/11 was caused by ""pagans, abortionists, feminists, gays, lesbians, the ACLU and the People For the American Way." Also Robertson frequently rails against Islam, saying that the religion shared by 1.2 billion people is "motivated by demonic power. It is Satanic". Do we want a President who is in bed with such bigots?
As Thomas Friedman stated in a NYT article:
"We need a president who will unite us around a common purpose, not a common enemy. Al Qaeda is about 9/11. We are about 9/12, we are about the Fourth of July — which is why I hope that anyone who runs on the 9/11 platform gets trounced."
Who are the Neoconservatives?
The most important thing you should know about this group is that they are unilateralist. In the past they supported a militant anticommunism, and in general, they sympathize with a non-traditional foreign policy agenda that is less deferential to traditional conceptions of diplomacy and international law and less inclined to compromise principles, even if that meant unilateral action.
Neocons took us to WAR in IRAQ. See below for more articles exploring this.
You can bet if Giuliani comes to power, we will be attacking Iran and burning bridges with every country that doesn't agree with us 100%. Instead of returning America to being the gentle giant that it was, Giuliani and his neocon boys will take America down the path of war and disaster.
Giuilani's Campaign Advisors contain a list of Who's Who among the Neocons:
*Norman Podhoretz: one of most vocal proponents of American military action against Iran. "Why does Norman Hate America?"
*Charles Hill, once served as political counselor to the American Embassy in Tel Aviv. And he believes in America's right to do whatever it wishes.
*Martin Kramer, a fellow with both the pro-Israel Washington Institute for Near East Policy and the Jerusalem-based Shalem Center. Wants to "thought-control" academia in America (which is probably the least of his dangers)
*Daniel Pipes, who makes a living going after Professors with his Campuswatch witch-hunt, a known Islamophobe and what theNation calls, "Neocon Man"
While it is important for every American to weigh all the strengths and weaknesses of all candidates before voting, it is our duty to prevent someone who is obviously a nightmare that America may have to live with for a long, long time! Tell your friends, co-workers and family members. Educate them about what Rudy and his team are about. Do your patriotic duty… become a partner in this virtual effort against the Presidential Nightmare called Rudy Giuliani!
See also:
misUSING 9/11:
Conservatives Against Rudy Giuliani:
Giuliani and Neoconservatives (and Iraq):
JOIN the CAMPAIGN AGAINST GIULIANI:
Bloggers & Partners United in Saying "NeO" to Giuliani
To Join, simply add a post on your blog (you can use the 6 points mentioned in the post) and link to this post here on MM. We will then add you to the list and backlink to your post.