Flashback: Gujarat Massacre of 2002
The video below (you MUST see it) refreshed my memories of the Gujarat massacre that occurred in Spring 2002. On the pretext of a "Muslim attack on Hindus" that later turned out to be an accident, extremist Hindus went on the rampage… killing, burning and raping any Muslim in sight in Gujarat, India. The crimes were so reprehensible, so extreme that it reminds me of that school reading, "Lord of the Flies"… how human beings can turn into savages and animals. Actually worse than animals, because animals usually kill for subsistence. The "official" dead-count was around 800, but most believe that the number was closer to 2000 (including independent human rights organizations, US Congressional Research, etc.- see footnotes 4-9). The number is less important than the savagery employed by the seemingly-possessed Hindus.
[google 9101562255306616976]
I must add that we Muslims cannot fall into the same stereotyping that we ourselves are victims of and despise. I have known many Hindus, in the workplace, in school and elsewhere, who are good, decent human beings, just like anyone else. As you can see in the video, there continues to be a section of the Hindu populace who are being brainwashed with messages of hate and intolerance: not just towards Muslims, but towards Christians and other non-Hindus. The Gujarat animals cannot represent the majority of Hindus, just like Muslim extremists cannot represent the majority of Muslims.
Furthermore, the video itself was produced by Hindus, and I am including articles by Hindus. I am assuming that the average Hindu would rue this black mark on India's history like anyone else.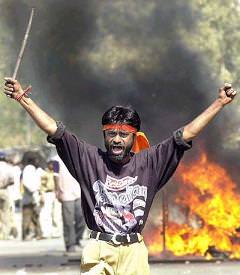 Nevertheless, herein lies the problem: justice still has not taken place for the victims of this genocide. India has not lived up to its purported "democratic" standards in providing an adequate redress for the savagery and killing spree. So, we have to continue the education and we cannot forget the Muslim's equivalent of 9/11 (or worse)… that happened in Gujarat in 2002.
For further information and to get involved: