The Lal Masjid Fiasco – Thoughts & Questions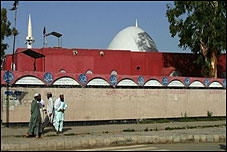 I would like to prelude our friend Irtiza's thoughts on this issue (below my notes) with some food for thought:
Instead of approaching the issue in terms of whether the vigilante actions of the Masjid people prior to the government action was justified or not, I would instead raise a few questions as to the consequences (benefits vs. harms) of what transpired and people judge for themselves whether ultimately the goods trumpeted the nags or vice-versa. At the same time, I condemn the loss of life and the hard-handed techniques of Musharraf, who continues to establish himself as Pakistan's new Ataturk. I have to add that I don't know what the alternative technique could have been… but where there is a will, there is always a way.
I think the consequences speak for themselves:
The "Benefits":
A few (1?) spots for immoral activities shutdown and possibly others afraid to enter this "service"
People asking more questions about Islam and who "runs" Islam as Irtiza highlights below.
The "Harms":
Public boost in image for Musharraf, who was otherwise faltering significantly and deservedly in terms of public opinion due to his handling of the Supreme Court Chief Justice.
The fact that this became a boost for Musharraf's image also is pointed, in that most of Pakistan's population seems to be supporting the government action.
"Mullahs" who already suffer terrible credibility and image among Pakistan's masses (a lot of it deserved), have had their image crushed yet again. The action of the chief-Mullah of the Lal Masjid, who tried to escape in a burqah, has caused this Mullah and clerics in general to become the laughing-stock for the average person. This of course is extremely dangerous because you take away the respect of the people of knowledge from the hearts of the people, ultimately you will also take away their respect for the knowledge itself.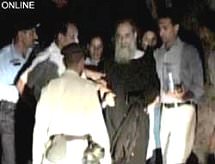 The use of the burqa to attempt escape also further tarnishes the image of the burqah/niqab, etc. in world opinion. It will be quite justifiable for someone in UK to assert that the burqah is a security concern due to its use for such brazen escape attempts
Images flashing around the world were of men in beards carrying weapons and women in burqas brandishing sticks. Hmm… is there a more frightening and stereotype-strengthening visual than this?
A center that seemingly was teaching Quran and other Islamic studies to thousands of students may forever be closed and hopefully, transferred into the hands of education-minded authorities. Of course, based on the actions of the students, it seems that there was more than just seminary education being imparted. So, this significant "harm" would result if the seminary was closed completely, or it could turn into a positive if the education curriculum was shifted into being more religious and less political.
——————————————–
Irtiza sends the following thoughts:
In the US Muslims are often disappointed when they see anything about Islam, Muslims or events involving Muslims on television. Sometimes, this is because the Muslim watching television at home is sick of his fellow Muslims doing terrible things to make the breaking news update, and other times probably more often the Muslim watching television at home feels stereotyped and attacked by what has been shown or said about his/her religion and fellow people.
Been there, seen that.
Watching this current Lal Masjid fiasco on television here in Islamabad has been quite interesting for me. Firstly it has raised many questions and issues ranging from the common man in Pakistan to the elites who are the movers and shakers here:
1) Is violent rebellion against the government permissible?
2) Who represents the Muslims in a city, in a country, in today's world?
3) Who can decide when Jihad is to be declared, and against whom and which people have to participate in that?
4) What is the role of Muslim woman in Islam, in their community and in politics?
These are all old questions which have old and new answers. The problem in Islamabad was that nobody was even asking questions like these before. The problem now is finding the answers which people are trying to do… mostly by means of books, television, talking to an elder in the family, discussing the issue with the "Maulvi sahib" (Imam) or anyone who attends the masjid regularly… and of course there is the internet!
As a Muslim I believe there is something good, some blessing in everything that happens, and while I may not be able to understand it or comprehend it, I know that what happens or the result of what happens will always have some good in it. I wanted to contemplate on that "good" in light of the Lal Masjid debacle and I believe at least one of the blessings from this tragedy is that people are now discussing these Islamic issues.
Now we need to work on a way to help them get answers… maybe I will suggest Munnajid's Islam Q&A website.
———————-
Is it Permissible to Cross-Dress to Escape from the Authorities?
I knew from this episode sooner or later someone would ask about the "permissibility of cross-dressing to evade authorities during a hostile stand off" and it happened today, sort of…
So "Maulana" Abdul-Aziz appeared on PTV (Pakistan's pro-government TV station) today and he was still in the burka actually (at least the robe, he had remove the niqab) and the reporter asked him (in Urdu):
"You try to convince so many young people to go for martyrdom (shahaadat) and to sacrifice their lives and yet you tried to escape pretending to be a girl in a cowardly fashion. How can you justify that? Was this reasonable for you to do?"
He said (a bit surprised perhaps from the question), "What I did, wearing the burka is permissible (jaa'iz) since I was trying to escape out of fear for the lives of so many of our students and young people."
A researcher at the International Islamic University says, "Maybe in his mind it was some sort of daroorah (necessity) where he thought saving those student's lives really was at stake and the ultimate purpose of the shariah would be to protect them so dressing like a woman for a short while would be acceptable.
These people (Lal Masjid) clearly have lots of issues and him dressing as a woman is probably not the biggest of them, but it will make nice pictures for the media, and it is rather funny too."
It should be noteworthy that there have been massive demonstrations against Lal Masjid in Pakistan, the biggest in Karachi earlier this year.
I think one local Imam in Islamabad said it best, "We tell people about the Shariah under Abu Bakr and Umar and about justice and tolerance and how great it was. Sometimes they look at us as if they do not really believe us, and you can see that people hate even the mention of this word today (shariah) because of people like the ones at Lal Masjid."