Reflections on Thanksgiving and a Trump led America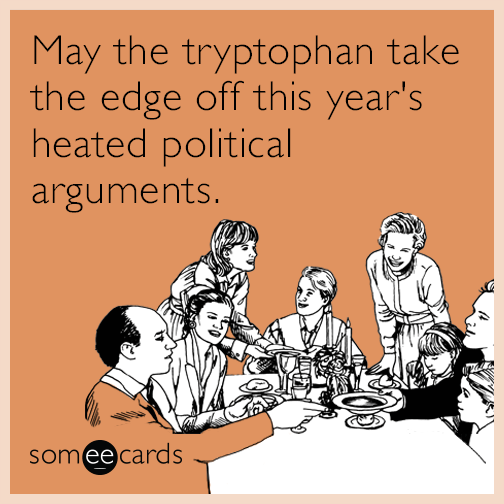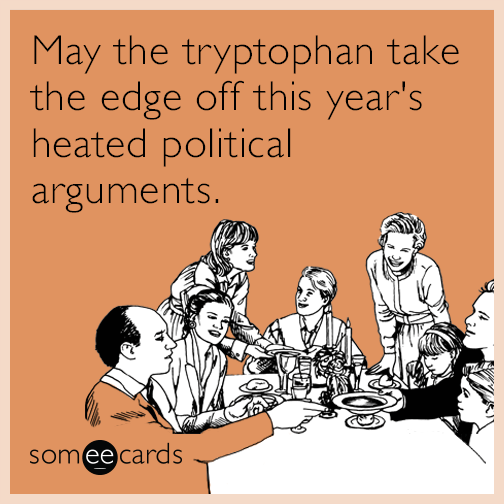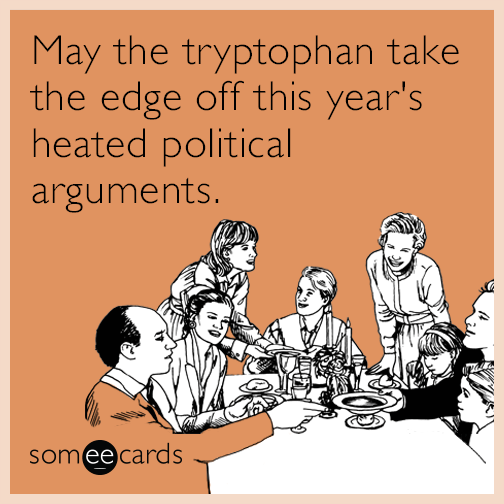 Tuesday, my son filled my heart with joy during his first-grade "What I am Grateful For" presentation. He began his speech with, "I am grateful for God, because He created everything." As a Muslim I was elated, that he put God first and that he felt secure enough to fully express himself in front of his peers. I looked around his public-school classroom appreciating the diversity and harmony around me. Like America, the class is a mix of folks from different ethnic, religious, economic and racial backgrounds. Unlike America, the class was united, full of parents who came together to support not just their own child, but every child, embodying our national motto: e pluribus unum, out of many one.
As the students' presentations ended, I wondered if we could model that kind of mutual respect and appreciation in the real world. Can we truly embrace and stand up for each other? What about American Muslims who are being targeted by the incoming administration? Like the Thanksgiving holiday itself, we must overcome our anxiety and examine some ugly truths to find answers.

"Those who believe in Allah and the Last Day, and work righteousness, shall have their reward with their Lord; on them shall be no fear, nor shall they grieve." (Quran 2:62)
First, Americans must acknowledge that President-elect Trump's campaign was unprecedented in how it normalized bigotry. For example, as a candidate, Trump said that he thinks "Islam hates us," called for a "total and complete shutdown of Muslims entering the United States" and called for creating a government registry for American Muslims. As a result, American White Supremacists are openly shouting "Hail Trump!" while preforming Nazi salutes and the FBI's latest hate crimes report shows a 67% increase in anti-Muslim incidents. And now, Mr. Trump is appointing advisors who advance policies aimed directly at American Muslims like internment camps and targeted deportations.
For example, Mr. Trump recently announced retired Lt. Gen. Michael Flynn as his National Security Advisor. Flynn is a known anti-Muslim conspiracy theorist who said as recently as August 2016 that "Islam is a political ideology" and not a religion. If you're a Tennessean you might be feeling a bit of déjà vu, because opposition to the Islamic Center of Murfreesboro forced our U.S. Attorney to state, "To suggest that Islam is not a religion is quite simply ridiculous. Each branch of the federal government has independently recognized Islam as one of the major religions of the world."
When it comes to anti-Muslim bigotry, Tennessee holds a unique place and offers several expedient examples for us to learn from. The state is practically ground zero for Muslims standing up to systematic defamation and disenfranchisement. Each year, a handful of Tennessee legislators and several of nation's most notorious anti-Muslim profiteers work together to harass the state's Muslims. However this hatred does not exclusively harm Muslims, and it is often used as doorway for discrimination against others.
Case in point, local Tennessee Muslim haters – supported by out of state funding – advanced a boldfaced lie and claimed Tennessee's social studies standards were actually "Islamic indoctrination." On the surface their claims seemed laughable, yet through town halls and social media these activists successfully pressured the state's Board of Education into an early review and redrafting of the state's newly adopted standards. Today, the new draft Tennessee Social Studies Standards significantly whitewash history. Not only has the overall content on Islam been reduced by 50%, but many lessons on important civil rights milestones and even, ironically the Cherokee origins of the state's name have all been removed. A similar pattern also occurred in Texas during that state's campaign against how Islam was taught and the result was the adoption of new textbooks, one which labeled slaves as "workers."
This Thanksgiving, we all need to reflect on what exactly it means to be American. To do so we must come to grips with how we purposefully ignore the atrocities of our colonial past. More importantly, we should reflect on how we continue to allow our media to minimize and underreport today's injustices. In fact, as we celebrate Thanksgiving, there is perhaps no more glaring example of our willful ignorance than the #NODAPL movement and the violence being perpetrated against them at Standing Rock.
The election of Donald Trump, required a bulk of White Christian evangelicals (many of whom call themselves the "moral majority") to embrace, endorse and vote for a man known for misogyny, bigotry, philandering, swindling and dishonesty in general. Through the Christian Right's quest for power, their claims to the moral high ground have been exposed. These conservative, White, Christian, evangelical Trump voters are the very same people who present themselves as the standard-bearers of what it means to be "American." We should learn from this example, and remember that our diverse American Muslim community helps us remain a community of faith, based on principles and not a special interest group or tribe.
"O you who have believed, be persistently standing firm in justice, witnesses for Allah, even if it be against yourselves or parents and relatives. Whether one is rich or poor, Allah is more worthy of both. So, follow not [personal] inclination, lest you not be just. And if you distort [your testimony] or refuse [to give it], then indeed Allah is ever, with what you do, Acquainted." (Quran 4:135)
As forces mount to harm our community, let us never forget that Allah has endowed us with the moral high ground in our struggle, allies from multiple communities, and the opportunity to continue promoting justice and freedom. We will surely face difficult times ahead, but we are also positioned to be a source of goodness for ourselves and for others. The only question is — will we?
Prophet Jesus (May Allah's Peace and Blessings be upon him) was known to have said, "Virtuous action does not consist in doing good to someone who has done good to you—that is merely returning a favor. Virtuous action consists in doing good to those who have wronged you." – reported by Ahmad bin Hanbal
So remember Allah's words, "Is the reward for good [anything] but good? So which of the favors of your Lord would you deny?" (Quran 55:60-61)
Our task is to help America realize the best of its values: ideas like freedom religion, justice and equal treatment before the law, and truly becoming a land of opportunity for all. We cannot let our past or even our current imperfections prevent us from working towards these goals. We also have to remain resolute, no matter who disagrees with us, be they from the extreme right-wing or from angry and disillusioned leftists.
America is a paradox of opposing forces like fear versus hope, and bigotry versus freedom. Our history includes both the ugly and the aspirational. We must learn from it and try our best to create an authentic culture of respect, because, 'It may be that God will grant love [and friendship] between you and those whom ye [now] hold as enemies. For God is Oft-Forgiving, Most-Merciful' (Quran 60:7).
Paul Galloway is the Executive Director of the American Muslim Advisory Council (AMAC) whose mission is to foster mutual trust and respect among all people through civic engagement, community building and media relations to protect all Tennesseans from prejudice and targeted violence.
Faith Community Stands With Peace And Justice Leader Imam Omar Suleiman During Right Wing Attacks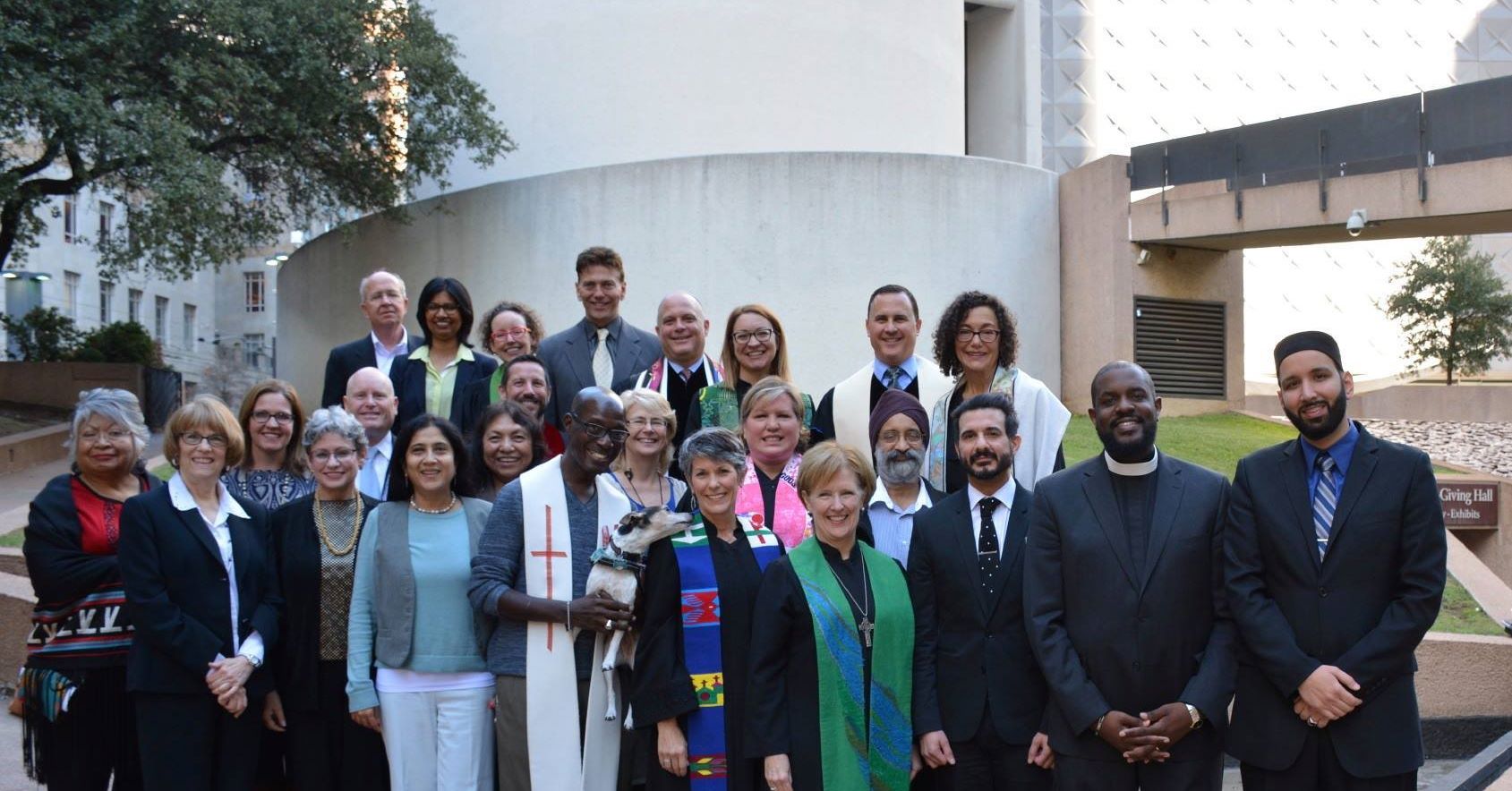 In a follow up to the right-wing media platforms attack on Imam Omar Suleiman – calling him anti-semitic, a common tactic used to discredit both Muslim activists, as well as criticism of Israel policies, Faith Forward Dallas issued a statement.
Faith Forward Dallas at Thanksgiving Square – Faith Leaders United for Peace and Justice is a Texas-based interfaith organization that has worked on many initiatives with Imam Omar Suleiman.

The statement reads:
"Imam Omar Suleiman a spiritual and moral voice for peace with justice!!!!!

Time after time in our city, in the United States and around the world, Imam Omar Suleiman has been a spiritual and moral voice for peace with justice. When others seek to divide, he calls for unity. Faith Forward Dallas at Thanks-Giving Square works to unite faith leaders for justice and compassion. Imam Suleiman has been a trusted leader among us. In the wake of his beautiful prayer to open the House of Representatives on May 9, he has received threats of violence and words of vilification when instead he should have our praise and prayers. We call upon people of good will everywhere to tone down the rhetoric, to replace hate with love, and to build bridges toward the common good.

Faith Forward Dallas at Thanks-Giving Square"
Commenters on the Faith Forward Dallas statement have left comments of support.
The group has invited locals and other leaders to endorse and share the statement. "Endorsed! I love and fully you Imam Omar Suleiman!" wrote Karen Weldes Fry, Spiritual Director at Center of Spiritual Learning in Dallas (CSLDallas), commenting on the statement.
Some commentators do not understand the manufactured controversy.  Heather Mustain writes, "What people are writing is so vile. They obviously didn't even listen to his prayer!" Imam  Omar Suleiman delivered the opening prayer in the US House of Representatives on May, 9th, 2019  at the invitation of Rep. Eddie Bernice Johnson (D) of Dallas, TX.
"I'm grateful for the faith leaders with whom I've built relationships with and served with for years that have shown full support throughout this process. Together we've stood with one another in solidarity in the face of bigotry, and in the support of others in any form of pain. We will not let these dark forces divide us," said Imam Omar Suleiman in response to the outpouring of love from the people he has worked with on the ground, building on peace, love, and justice.
#UnitedForOmar – Imam Omar Suleiman Smeared by Right-Wing News After Opening Prayer at US House of Representatives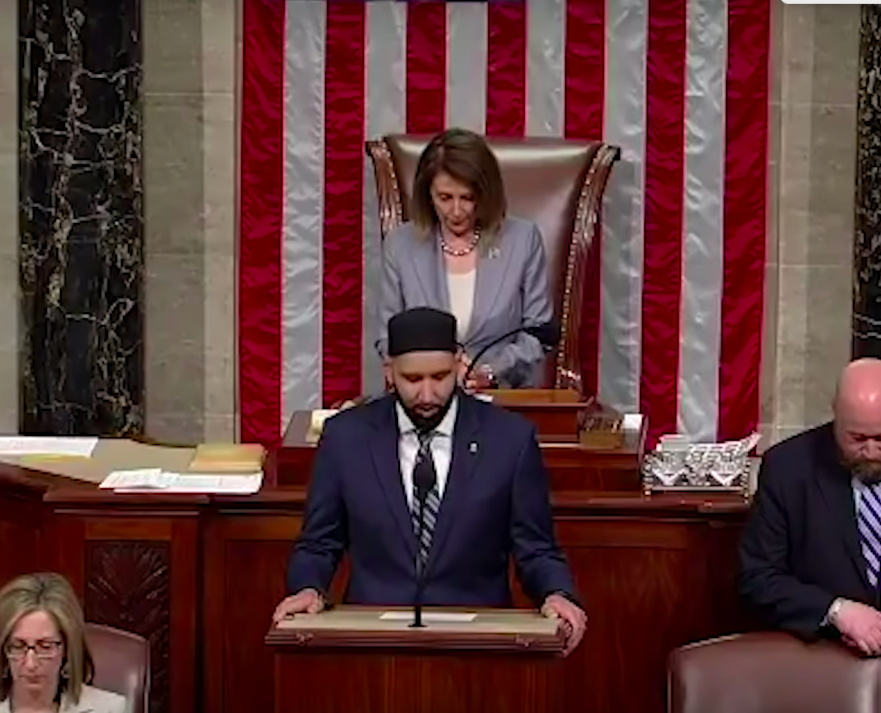 Sh. Omar Suleiman delivered the opening prayer in the US House of Representatives yesterday, May, 9th, 2019  at the invitation of Rep. Eddie Bernice Johnson (D) of Dallas.
Immediately since, right wing media platforms have begun spreading negative coverage of the Imam Omar Suleiman – calling him anti-semitic, a common tactic used to discredit both Muslim activists as well as criticism of Israel policies.

News outlets citing the criticism have pointed to a post from The Investigative Project on Terrorism or ITP, as the source. The  ITP was founded by and directed by noted Islamophobe Steven Emerson. Emerson's history of hate speech has been documented for over two decades.
Since then, the story has been carried forward by multiple press outlets.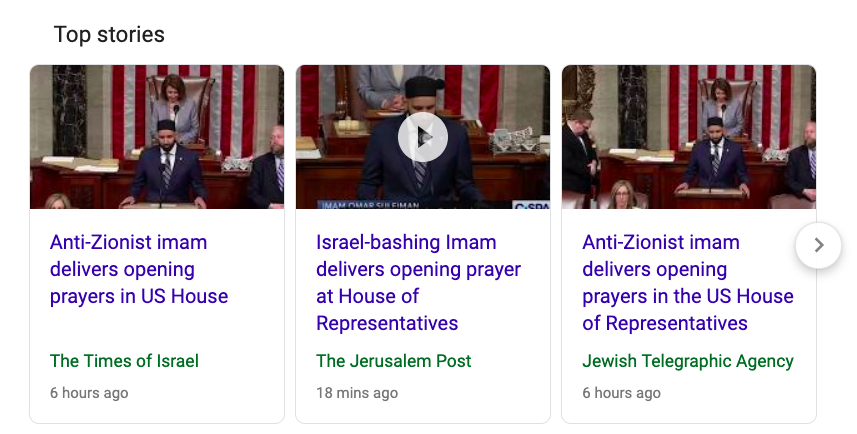 The immediate consequence of this has been the direction of online hate towards what has been Imam Omar Suleiman's long history of preaching unity in the US socio-political sphere.
"Since my invocation I've been inundated with hate articles, threats, and other tactics of intimidation to silence me over a prayer for unity," Imam Omar Suleiman says. "These attacks are in bad faith and meant to again send a message to the Muslim community that we are not welcome to assert ourselves in any meaningful space or way."
MuslimMatters is proud to stand by Imam Omar Suleiman, and we invite our readers to share the evidence that counters the accusations against him of anti-semitism, bigotry, and hate. We would also encourage you to reach out, support, and amplify voices of support like Representative E.B.Johnson, and Representative Colin Allred.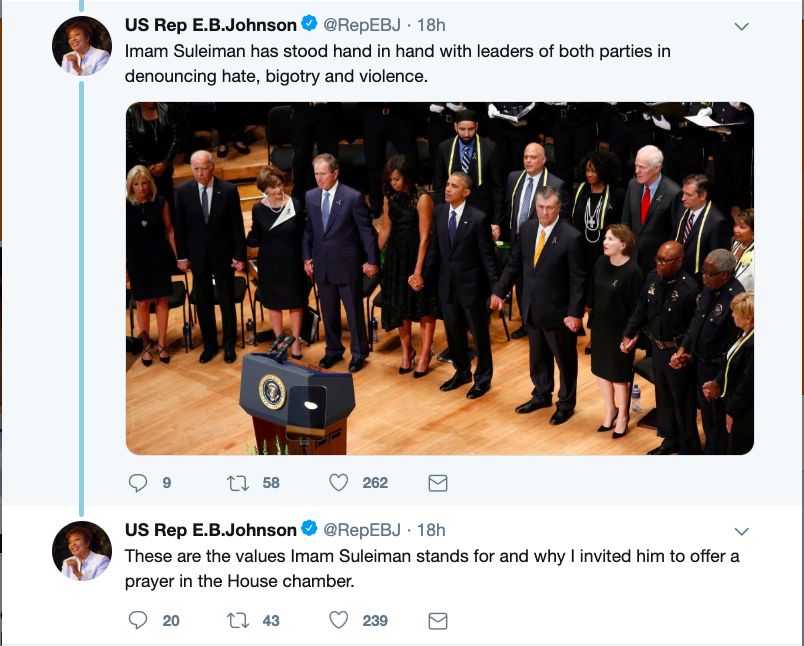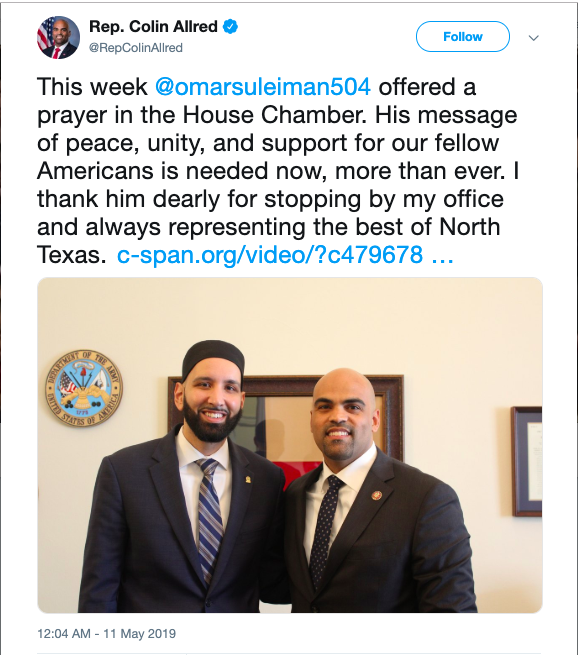 You can help counter the false narrative, simply by sharing evidence of Imam Omar Suleiman's work. It speaks for itself, and you can share it at the hashtag #UnitedForOmar
JazakAllahuKheiran
---
At an interfaith panel discussion, three North Texas religious leaders promoted understanding and dialogue among Muslims, Jews, and Christians. Amid a vexed political and social climate, three religious leaders in North Texas—a priest, an imam, and a rabbi—proved it's possible to come together in times of division. Source: DMagazine.com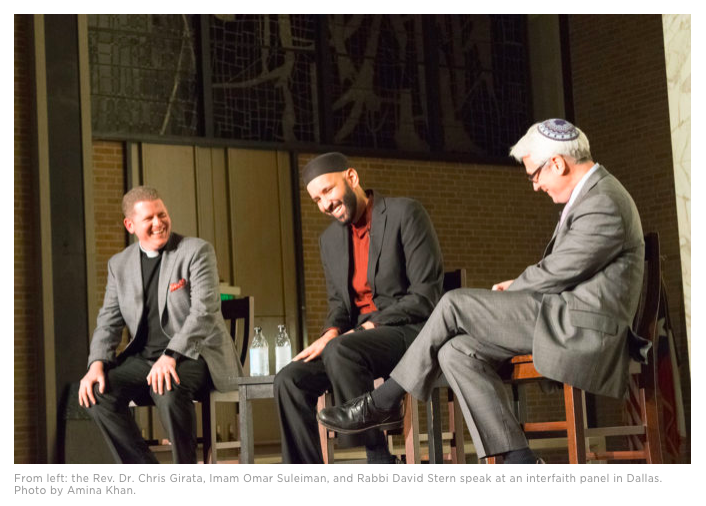 ---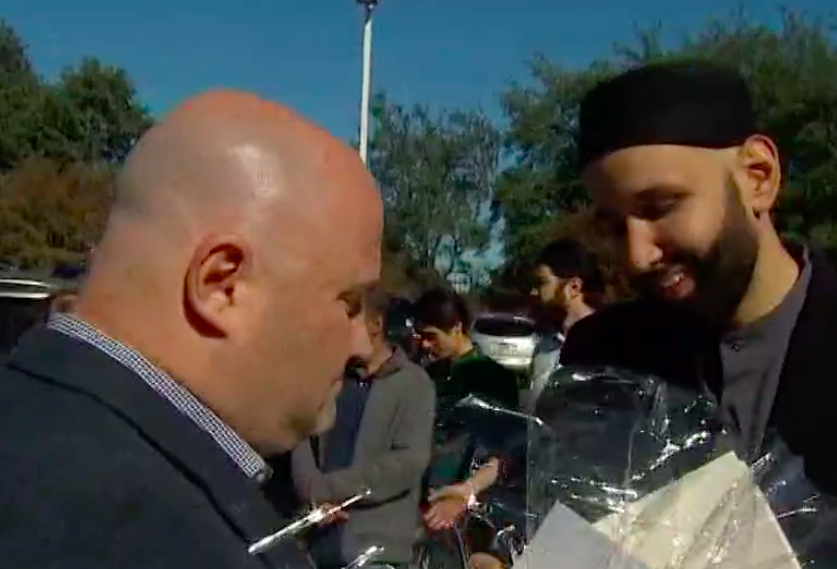 The congregation, led by Imam Omar Suleiman, penned more than 150 cards and letters. source: WFAA News
---
"We must recognize that the white supremacy that threatens the black and Latino communities, is the same white supremacy that spurs Islamophobia and antisemitism," -Imam Omar Suleiman
Source: Bend The Arc
---
"When any community is targeted, they need to see a united faith voice — that all communities come together and express complete rejection of anything that would pit our society against one another more than it already is." -Imam Omar Suleiman
Source: Kera News

---
Source: The Carter Center
---
Imam: After devastating New Zealand attack, we will not be deterred
"My wife and I decided to take our kids to a synagogue in Dallas the night after the massacre at Tree of Life in Pittsburgh to grieve and show solidarity with the Jewish community. My 5-year-old played with kids his age while we mourned inside, resisting hate even unknowingly with his innocence…" Source: CNN
From Sri Lanka – The Niqab Ban and The Politics of Distraction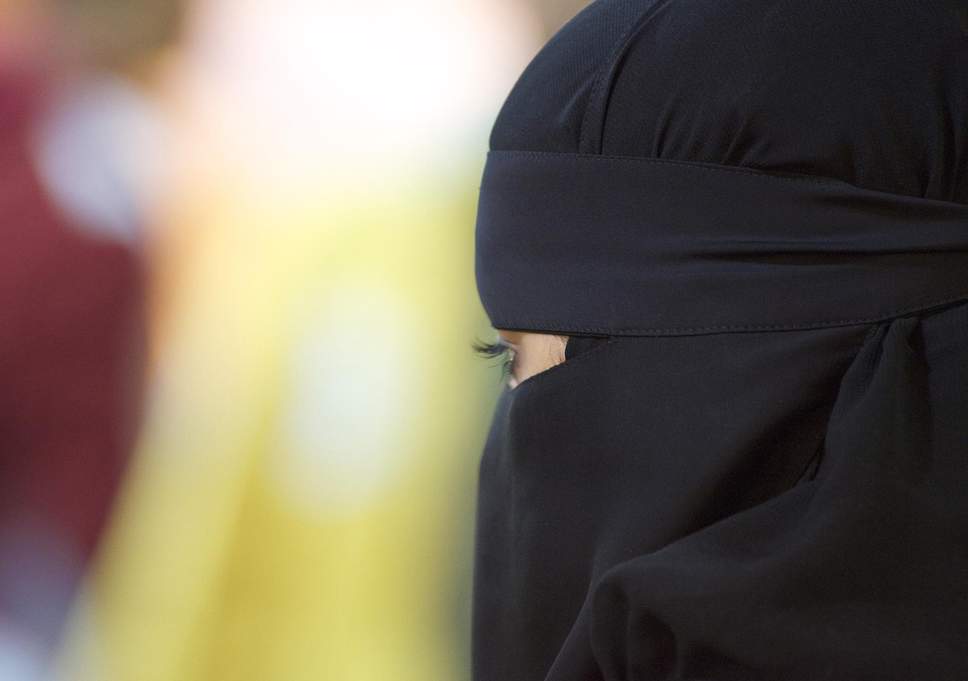 This article was originally published on Groundviews

As of last Monday, Sri Lanka is taking a seat at the table next to a list of 13 other countries from across the world who have passed legislation banning the niqab or face veil.
Amidst incensed murmurs from certain parliamentarians, and following a discussion with the country's main Islamic theological body, the All Ceylon Jammiatul Ulema (ACJU), the President's office has announced that 'any garment or item which obstructs the identification of a person's face would be barred.' Sri Lanka has been under emergency regulations following the Easter Sunday attacks which killed over 250 people. The ban will hold until emergency regulations are lifted.
Ever since the identification of the all-male terrorists behind the massacre as members of militant group ISIS, Muslim women -for some inexplicable reason- were to bear the hardest brunt. Instances of headscarved Muslim women being refused entry at various supermarkets and prominent establishments, was followed by the usual scaremongering via alarmist infographics doing the rounds yet again 'educating' the public of the differences between the burqa, hijab, and chador.
A victory indeed for both anti-Muslim voices, as well as to many within the Muslim community seeking to audibly amputate themselves from a supposedly dated form of Islam – one that they claim has no bearing to inherent Sri Lankan Muslim identity.  A view that discards the notion that any religious or ethnic identity is fluid, in flux, and subject to constant evolution.
The grand slam however is primarily for the current political establishment, members of whom are probably high-fiving each other as a result of this kneejerk symbol-politics manoeuvre on having supposedly successfully placated the public of their fears of homegrown terrorism. A move that bleeds hypocrisy for it comes at the cost of subliminally 'othering' an already marginalized segment of a minority community, while at the same time PSA'ing for peace and coexistence in this time of crisis.
What is most insulting to the intelligence of our society however, is that amidst all this brouhaha, only few have questioned the actual relevance of this new ban to the current state of our security affairs.
No eye witness report nor CCTV footage showed that any of the suicide bombers from any of the coordinated attacks across the country were on that day wearing the niqab/burqa/chador at the time of inflicting their terror. The men were in fact dressed in men's attire, with faces completely exposed. It might serve to add here also that they weren't dressed in traditional Muslim man garb either.
How then did the face veiling Muslim woman get pushed under the bus as the most identifiable sign of radicalism?
It is obvious that the government was cornered into passing this legislation, as was the ACJU too in having to support this move. While all communities have only their praises to sing for the exceptional work of the security forces in tracking down the attackers within only just hours, the country's elected leadership was in dire need of respite following what many experts claim was a massive intelligence failure, a blunder involving the wrongful identification of a terror suspect, and incompetence in the handling of events overall. A distraction was desperately required. Something needed to give, and it just so happened that the niqab-donning Muslim woman was the easiest scapegoat.
To an outsider unfamiliar with Muslim religious symbolism, the face-veil can come across as alien, even unnerving. And while our first instinct is to otherize in an attempt to help deal with the discomfort of dealing with any unknown, a woman out in the street in a niqab is -for as long as anyone can remember- most certainly not an oddity that has compelled anyone to stop and recite their final rites.
The misguided belief that the face veil is a marker of extremism isn't and hasn't ever been based on any empirical research. If studies were to be carried out, results would show that Muslim women in general -let alone those with a face cover- have a little role to play, if any, for acts of terror committed in all the countries that have banned them.
Contrarily, there is a clear proven relationship between terrorist attacks and increases in recorded Islamophobic incidents against Muslims, with women being disproportionately targeted. One can then dare infer that being visibly Muslim carries a greater risk to oneself, than to the people around them.
The niqab ban has been put in place as a security measure they say – a flexing of muscles towards any semblance of radicalization that will deter any future acts of terror in the country. Naturally, the perpetuating of this ideological hegemony is doing Muslim women no favors. If anything, the ban is a wholly counterproductive one, in that it ostracizes an already marginalized segment of a minority community – a sliver of a percentage out of the 10% that is the country's Muslim population.
If -as commonly believed- veiled Muslim women are being hopelessly persecuted, the ban will serve only to increasingly confine these women to their homes, under the control of the men accused of governing their lives, and further disconnected from being able to assimilate with society. Even more dangerous, there are studies which prove that having to live in an environment that is aggressively policed on the basis of belief is more likely to harbour radicalization.
Absurdity of the non-connection of the attacks with the niqab ban aside, this in itself should be a war cry for secular feminists advocating for everyone's basic right to the civil freedoms of a liberal society. Where now are the proponents and ambassadors so wholly soaked in the 'Muslim woman saviour complex?' A segment of Muslim women has been forbidden from wearing what they feel best represents their Sri Lankan Muslim identity. They were not consulted before this legislation was passed, nor were they given the chance to show their willingness to cooperate on instances where identification was required.
Ludicrously, discourses surrounding veiled Muslim women are paradoxically lobbed back and forth according to the convenience of the times. In times of world peace, they are oppressed and subservient to patriarchal whims and fancies, while in the immediate aftermath of a terror attack there are hostile and threatening, capable of devising all kinds of evil. They are either victims of violence or the perpetrators of it.
This age-old preoccupation with Muslim women's attire is in actuality a gross conflation of conservatism with extremism. In claiming that a strip of cloth holds the answer to combatting a severe global threat is trivialising the greater issues at hand. If there was a direct correlation between the attacks and veiled individuals, legislation forbidding the covering of the face in public would be wholly justified. But there is none.
Muslim women shouldn't be faulted for the cracks in the state's china. In not being able to answer the hard questions of accountability, lapses in acting on available intelligence, and general good governance, those at the top should leave well alone and consider hiding their faces instead.