Black Mass, Liberalism, and the Orthodox Paradox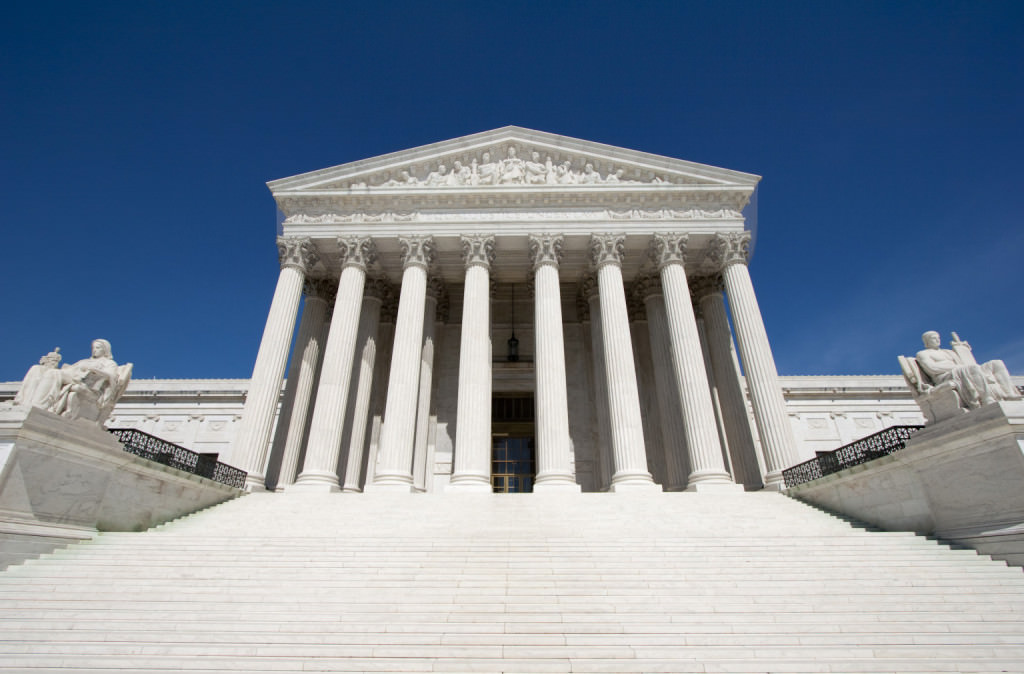 Daniel Haqiqatjou was born in Houston, TX. He attended Harvard University where he majored in Physics and minored in Philosophy. He completed a Masters degree in Philosophy at Tufts University. Haqiqatjou also studies traditional Islamic sciences part-time. He writes and lectures on contemporary issues surrounding Muslims and Modernity as well as the intersection of western philosophical thought and Islamic intellectual history.
This post was orginally featured on islamandevolution.com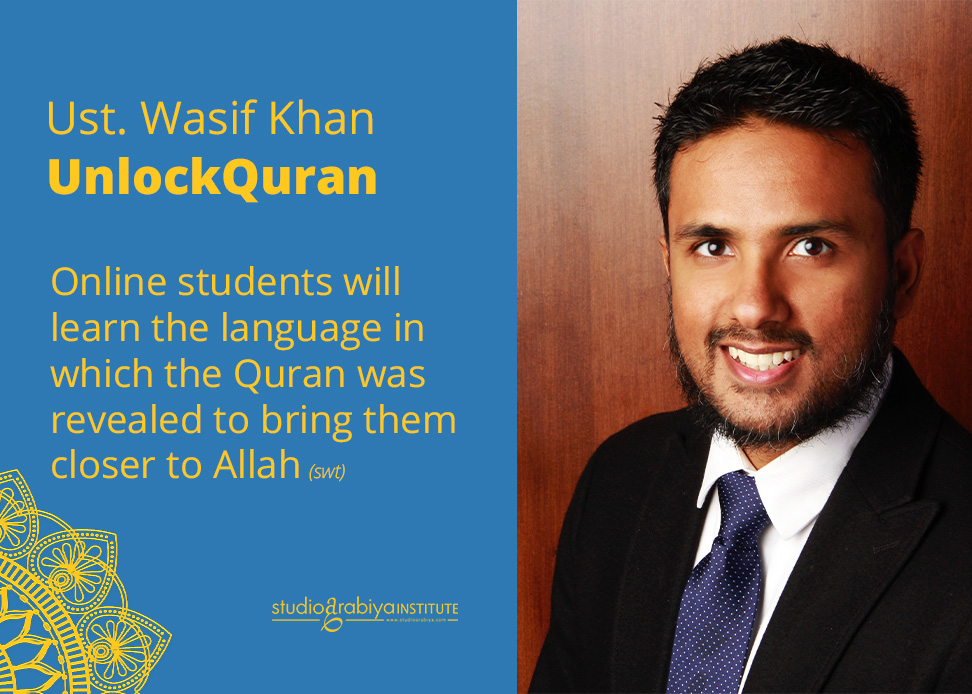 To the outrage and dismay of Catholics across the US, atheists and Satanists at Harvard University planned to perform a "Black Mass" on campus. In an official statement, Harvard president Drew Faust remarked that, while the Black Mass is deeply offensive and "abhorrent," the University's commitment to free speech prevents it from intervening. For more info on the controversy, read here.
Interestingly, an analogous controversy took place at Harvard in 2006, when a campus student magazine published the infamous Danish cartoons. As an undergraduate there, actively involved with the campus Islamic Society, I remember vividly the impact the controversy had on the local Muslim community. In that case, the University administration took a similar stance to the one above, though, unlike in the case of the Black Mass, there was not an official statement from the University president nor did the then-president, Larry Summers, attend our campus Friday prayers in solidarity.
In any case,  how should we, as Muslims, feel about this recent situation and the response to it? On the one hand, it is Satanism. Anything done in the name of Satan or black magic, whether genuinely or for mere spectacle, is condemned according to the sharia, i.e., Islamic Law. On the other hand, the language and reasoning used by some commentators to condemn the event is quite similar to arguments used to curtail American Muslim rights, e.g., the right to build mosques, wear the hijab, etc. As Michael Muhammad Knight argues in his provocatively titled essay "Muslims for Satan":
As a Muslim, I have to support the Satanists. Public revulsion of Muslims in this country is so popular that I have no choice but to stand with religions that are marked as ugly, offensive, and intolerant. Rather than join the anti-Satanist outrage and try to convince Christians that Muslims deserve to be included as "children of Abraham" or whatever, I would suggest that Muslims take a radical stand on behalf of the religious freedoms that we claim for ourselves.
Framed thusly, the tension is palpable. Should American Muslims (and Western Muslims at large) side with Satanism in the name of religious freedom or should they abide by established tenets of Islamic Law, in effect supporting Christian groups who, in other contexts, oppose Muslim rights and rail against the mere presence of Islam in the West ?
Rocks and Hard Places
This is the same tension Western Muslims feel on the question of gay rights. Many Western Muslims remain religiously opposed to homosexuality, let alone "gay marriage." At the same time, Muslims are a beleaguered minority, struggling for a place at the societal table. Ostensibly, gays are also a rising minority, striving for public acceptance. So, in this sense, opposition to gay rights is, at least in some sense, also opposition to Muslim rights.
Of course, the analogy may not be perfect. Is discrimination on the basis of religious affiliation really the same as that for sexual orientation? One could argue that religious affiliation is fundamentally dissimilar to sexual orientation in just such a way that Muslims can remain opposed to gay rights and not undercut their own interests, all the while maintaining a commitment to liberal norms of freedom of conscience and so on. (And, of course, the converse argument can be made too: committed liberals calling for curtailment of Muslim rights while simultaneously championing gay rights.)
This is why the Black Mass event is such an interesting test case for Muslims. Unlike with sexual orientation, it is difficult to argue that Satanism does not fall in the same category as Islam. In other words, from the lens of secular liberalism, there is no functional difference between Islam and Satanism and Catholicism, or any other religion for that matter.
Orthodox Paradox
And so, here is yet another example of traditional norms butting heads with liberal values. What is the way out of this "Orthodox Paradox," as Noah Feldman puts it? Feldman himself provided no decisive answer and seemed to have resigned himself to a "life of contradiction." Other believers, like Michael Muhammad Knight, fall strongly on the side of liberalism. Prior to the Black Mass kerfuffle, it may have been hard to imagine a scenario where, implicitly, Muslims would be pressured to support Satanic ritual. Then again, liberalism does have this tendency to push the boundaries of traditional proprietary to blasphemous proportions. Which raises the question, what is the line? For those simultaneously committed to liberalism and religious faith, how far is too far? Is there anything left that is sacred, in the truest sense of that word?
Liberally Confused
In the US, we have already seen federal courts rule that businesses do not have the right to refuse service to gay patrons. And religious colleges are being pressured to accommodate LGBT employees, even if their official religious doctrine opposes homosexuality. It is not difficult to imagine the same kinds of arguments — perhaps in a different context but still under the umbrella of religious tolerance/freedom — being used to argue that denominational institutions must facilitate Satanist religious needs and preferences. Not to be outdone, Europe over the past decade has unleashed all manner of liberal secular argumentation to justify everything from the banning of mosque minarets, the banning of hijab in public, the banning of religious symbols generally, the banning of halal meat, the curtailing of religious assembly, and on and on. In the Muslim world, too, it is no secret, as the aftermath of the Arab Spring amply demonstrated, that liberal secular regimes can be more than a little harsh in disenfranchising Muslims in the political and legal domain, even when the latter profess their commitment to secular norms.
Predictably, most liberal-leaning Muslims (with some exceptions) will protest that what is happening in Europe or the Arab world is not consistent with liberalism. After all, liberalism stands for freedom of religion, freedom of expression, freedom of conscience, a vibrant and open public domain dictated by democratic pluralism and mutual reasonableness. As it turns out, all these liberal concepts are radically subjective — as subjective, ironically, as secularists believe religion to be. So, maybe European hardline legislators banning the hijab, minarets, halal meat, facial hair, etc., are acting perfectly in accordance with liberalism, and it is just that liberalism is so indeterminate and content-less that literally any kind of legislation can be argued to conform to it. Even many hardcore Islamists actively claim that the principles of Islamic Law are inherently compatible with liberal values like freedom and democracy. For example, the Muslim Brotherhood officially calls its political wing "The Freedom and Justice Party." Even Ayatollah Khomeini after the Iranian revolution used the language of liberalism to describe the revolution and his government as fundamentally pro-freedom (i.e., "azadi" in Farsi) and pro-democracy.
So, perhaps, that is the answer to the Orthodox Paradox. Perhaps the true paradox lies at the heart of liberalism. The claim that liberal secularism is inherently problematic and even self-contradictory is not new. Numerous prominent philosophers, intellectual historians, anthropologists, political scientists, and legal theorists have remarked at length on the essential emptiness of liberalism. Reviewing all these works in detail is not the goal of this post, but, to whet the appetite, we can broadly introduce a few of the main ideas from the literature.
The Fickle Nature of Liberal Tolerance
Ought a democratic government ban political parties not committed to democracy? Ought a liberal legal system, otherwise committed to freedom of belief, proscribe illiberal beliefs? In a phrase, is a "discriminatory tolerance" truly tolerance?
Many of the religious bans against Muslims in Europe are done using this type of rationale. The historical banning of Islamist political parties in countries like Egypt and Turkey are also done on this basis. The argument is often made that Islamic practices and beliefs are uniquely antithetical to a free, democratic society, and, therefore, for the sake of the public good, must be prohibited. Yet, by secularism's own lights, what is inherently good, evil, beneficial, or harmful is not definitively knowable and certainly is not for the state to set in stone. The implication is that liberalism and secularism's appeals to the public good are fundamentally unprincipled and often serve to manipulate the populace so as to serve the interests of power.
As a straightforward example, consider the US security state and its virtually endless surveillance power. State officials justify their highly invasive surveillance methods by claiming they are necessary for maintaining public safety. This means that the "right to safety" requires citizens to simultaneously forego their "right to privacy." This kind of impasse between mutually contradictory rights is ubiquitous in secular society, and the Orthodox Paradox is but one subclass of many such conflicts. We have already discussed the "right to religion" vs. the "right to sexual autonomy" or the "right to free expression." How about the topic of wealth redistribution, i.e., increasing the taxes on the wealthy to support welfare programs? The Right argues that all citizens, including the wealthy, have a "right to property" in that the government cannot arbitrarily impose taxation to usurp people's property/wealth, while the Left argues that all citizens have, say, a "right to healthcare." Obviously, free healthcare for all is impossible without significant taxation, so there is a contentious conflict here. (The underlying issue is that all rights have concomitant duties and costs. Universal security costs everyone universal privacy. Universal health care requires universal taxation. Universal freedom of speech attenuates universal freedom of religion, and so on.)
The obvious question, then, is: Who is the state to decide which of those rights — and the underlying human interests entailed by those rights — ought to be protected at the expense of other competing rights? And on what principled basis could such decisions be made in the first place? Would not such a basis — call it a "theory of the public good" — have to make many assumptions about good, evil, benefit, harm, and human nature itself? And here is the kicker: At what point would this theory of the public good just be, essentially, another religion or, at least, share many of the normative features of religion? After all, if nothing else, religions theorize about what is ultimately good, bad, beneficial, or harmful for individuals and society and establish normative directives on, among other things, that basis. If establishing the public good is ineluctably normative in the same way religion is normative, is separation of church and state, as liberal secularism professedly requires, even possible?
Liberalism or Theocracy: A False Dilemma
No doubt, the preceding was a fast and furious introduction to a complicated and contentious topic. The takeaway is that liberal secularism as a philosophy about the regulation of a pluralistic society and the place of man within that collective has at least several important questions to contend with, questions increasingly many academics and laymen are beginning to ask, alhamdulillah.
But, for the sake of argument, if it is determined, either practically or theoretically, that liberal secularism is not a viable system, what is the alternative? Authoritarian theocracy?
The above comments were meant to show that the distinctions between theocracy and liberal secularism are not as stark and definitive as have been conventionally understood. In any case, the decision between liberal secular democracy and authoritarian theocracy is a false dilemma. There are numerous alternative ways to organize society other than what is currently on offer in the modern world. The nation-state, after all, in its current form is a product of hegemonic modernity — going back as little as 100 years, one finds a diversity of systems. The modern nation-state, of course, is nothing more than a geopolitical meta-institution that seeks to regulate and organize a large population by way of widely applied legal and executive power. In the modern nation-state, everything from the economy, education, healthcare, food production, housing, child care, religious practice, etc., are overtly controlled by or ultimately fall under the jurisdiction of state institutions and, hence, state power. If the recent financial disasters rocking the world have taught us anything it is that the interconnectedness and broad reach of state power is dangerously fragile and inevitably corruptible. Under what other system could the misdeeds of a handful of banking institutions cause a domino effect resulting in wide scale "austerity measures" and the plunging of millions into poverty all the way across the globe?
So what are the alternatives?
Millet
More on the state and its discontents can be read in "anarchist" literature. Wael Hallaq's recent The Impossible State is a quick read that also provides valuable insights. As for specific alternatives, commentators have pondered historical precedents as well as imagined future models. The "Millet system" is a particularly noteworthy historical example. It is a vision of a pluralistic society, inclusive of people of multiple ethnic and religious backgrounds, that consists of large communities, i.e.,millets, that self-regulate and are otherwise loosely tied together through the shared use of limited "public" services as well as commitment to a very thin set of meta-regulations that apply to the millets. The self-regulation is what sets the Millet system apart from the modern nation-state. Each millet is defined by its commitment to a normative vision and a philosophy of life, in so many words, a religion, and its legislation, adjudication, and local governance is based on that religion. Obviously, individuals are able to be a part of the millet of their choice.
In contrast, nation-states are typically organized on the basis of incredibly broad ethnic and cultural lines and regulate the population using a unitary system of "universally"-applied laws ("universally" is in scare-quotes because, of course, some segments of the population are wealthy and powerful enough to entirely circumvent laws that are, nonetheless, brutally applied to lower socioeconomic classes). As we have seen, conflicts of conscience abound in this system, and, besides, normative theories of the good are smuggled into supposedly secular political institutions and secular law despite the outward commitment to separation of church and state. The burning question that the nation-state system and liberal secularism cannot answer or even address is, why should a diverse population committed to multifarious theories of the good be coerced into subscribing to one set of laws? When Western political philosophers like John Rawls ponder how a pluralistic society can negotiate their differences using a robust discourse of public reason to determine fair laws of governance, they are attempting to solve a contrived problem. If one throws out the requirement for a unitary, universally-applied legal and political system exercising power over hundreds of millions and, even, billions of people, the question of secularism, public reason, and separation of church and state unceremoniously dissolves.
But, of course, no state would ever relinquish its exercise of power and control over hundreds of millions and billions of people. In reality, that is true "freedom" — in the universal, not liberal sense — i.e., not being under the thumb of a muscular state that dictates one's entire life through an expansive legal code and a strong police and military presence ensuring compliance with brutal force. In this way, liberalism serves state power against the interests of individuals and communities by taking attention away from the inherent authoritarianism of the nation-state and redirecting it to superficial non-issues like, is a government a "democracy" or not, is there adequate "free speech," etc., issues that would not exist in the first place were the underlying nation-state paradigm eclipsed or fundamentally revised.
Orthodox Paradox Revisited
If nothing else, Islam's apparent conflict with Western liberalism has caused no shortage of undue psychological stress to well-meaning Muslims. Beyond curtailing of Muslim rights, liberal secularism has caused a crisis of faith for many Muslims around the world who are surprised to discover that a 1400 year old religion does not perfectly mirror the idiosyncrasies of a particular modernist political and moral philosophy. The crisis becomes especially acute when this political philosophy is embedded into the modern ethos so deeply that it is taken by the masses as universally and exclusively good, leaving no room to imagine, let alone pursue, alternatives. In sum, this is the Orthodox Paradox, and it can be resolved by problematizing the liberal secular paradigm and the nation-state upon which it is premised.
To bring it full circle, Muslims and people of other faiths should not have to choose between staying committed to their deepest moral convictions, on the one hand, and the ability to live lives free of disenfranchisement, harassment, and the curtailing of rights, on the other. If the game requires us to choose between Satan and state oppression, there is something deeply wrong with the game.
Ya Qawmi: Strengthen Civic Roots In Society To Be A Force For Good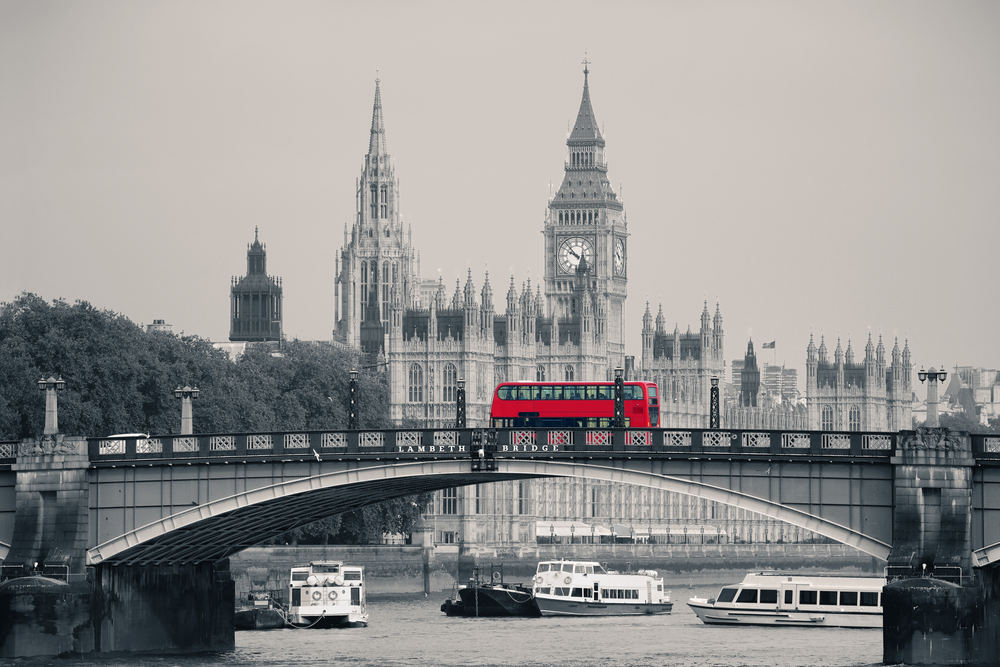 For believers the traditions and teachings of the Prophets (blessings on them), particularly Muhammad

, are paramount. Each Prophet of God belonged to a community which is termed as their Qawm in the Qur'an. Prophet Lut (Lot) was born in Iraq, but settled in Trans-Jordan and then became part of the people, Qawm of Lut, in his new-found home. All the Prophets addressed those around them as 'Ya Qawmi' (O, my people) while inviting them to the religion of submission, Islam. Those who accepted the Prophets' message became part of their Ummah. So, individuals from any ethnicity or community could become part of the Ummah – such as the Ummah of Prophet Muhammad.
Believers thus have dual obligations: a) towards their own Qawm (country), and b) towards their Ummah (religious companions). As God's grateful servants, Muslims should strive to give their best to both their Qawm and Ummah with their ability, time and skillset. It is imperative for practising and active Muslims to carry out Islah (improvement of character, etc) of people in their Ummah and be a witness of Islam to non-Muslims in their Qawm and beyond. This in effect is their service to humanity and to please their Creator. With this basic understanding of the concept, every Muslim should prioritise his or her activities and try their utmost to serve human beings with honesty, integrity and competence. Finding excuses or adopting escapism can bring harm in this world and a penalty in the Hereafter.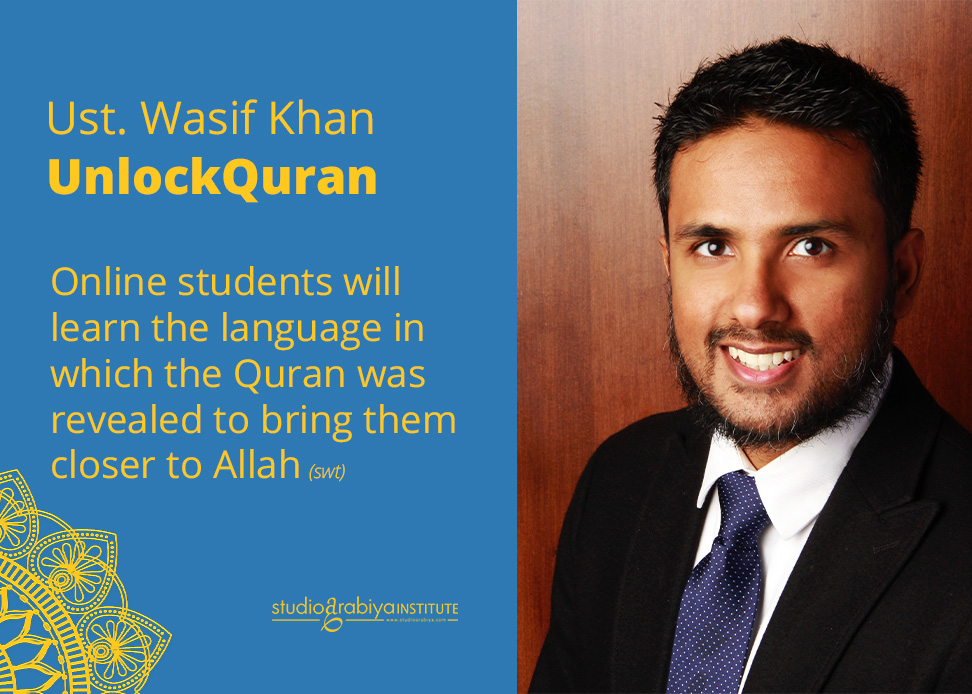 Like many other parts of the world, Britain is going through a phase lacking in ethical and competent leadership. People are confused, frustrated and worried; some are angry. Nativist (White) nationalism in many western countries, with a dislike or even hatred of minority immigrant people (particularly Muslims and Jews), is on the rise. This is exacerbated through lowering religious literacy, widespread mistrust and an increase in hateful rhetoric being spread on social media. As people's patience and tolerance levels continue to erode, this can bring unknown adverse consequences.
The positive side is that civil society groups with a sense of justice are still robust in most developed countries. While there seem to be many Muslims who love to remain in the comfort zone of their bubbles, a growing number of Muslims, particularly the youth, are also effectively contributing towards the common good of all.
As social divisions are widening, a battle for common sense and sanity continues. The choice of Muslims (particularly those that are socially active), as to whether they would proactively engage in grass-roots civic works or social justice issues along with others, has never been more acute. Genuine steps should be taken to understand the dynamics of mainstream society and improve their social engagement skills.
From history, we learn that during better times, Muslims proactively endeavoured to be a force for good wherever they went. Their urge for interaction with their neighbours and exemplary personal characters sowed the seeds of bridge building between people of all backgrounds. No material barrier could divert their urge for service to their Qawm and their Ummah. This must be replicated and amplified.
Although Muslims are some way away from these ideals, focusing on two key areas can and should strengthen their activities in the towns and cities they have chosen as their home. This is vital to promote a tolerant society and establish civic roots. Indifference and frustration are not a solution.
Muslim individuals and families
Muslims must develop a reading and thinking habit in order to prioritise their tasks in life, including the focus of their activism. They should, according to their ability and available opportunities, endeavour to contribute to the Qawm and Ummah. This should start in their neighbourhoods and workplaces. There are many sayings of the Prophet Muhammad on one's obligations to their neighbour; one that stands out – Gabriel kept advising me to be good to my neighbour so much that I thought he would ask that he (neighbour) should inherit me) – Sahih Al-Bukhari.
They must invest in their new generation and build a future leadership based on ethics and professionalism to confidently interact and engage with the mainstream society, whilst holding firm to Islamic roots and core practices.
Their Islah and dawah should be professionalised, effective and amplified; their outreach should be beyond their tribal/ethnic/sectarian boundaries.
They should jettison any doubts, avoid escapism and focus where and how they can contribute. If they think they can best serve the Ummah's cause abroad, they should do this by all means. But if they focus on contributing to Britain:

They must develop their mindset and learn how to work with the mainstream society to normalise the Muslim presence in an often hostile environment.
They should work with indigenous/European Muslims or those who have already gained valuable experience here.
They should be better equipped with knowledge and skills, especially in political and media literacy, to address the mainstream media where needed.
Muslim bodies and institutions
Muslim bodies and institutions such as mosques have unique responsibilities to bring communities together, provide a positive environment for young Muslims to flourish and help the community to link, liaise and interact with the wider society.
By trying to replicate the Prophet's mosque in Madinah, they should try to make mosques real hubs of social and spiritual life and not just beautiful buildings. They should invest more in young people, particularly those with professional backgrounds. They should not forget what happened to many places where the Muslim presence was thought to be deep-rooted such as Spain.
It is appreciated that the first generation Muslims had to establish organisations with people of their own ethnic/geographical backgrounds. While there may still be a need for this for some sections of the community, in a post-7/7 Britain Muslim institutions must open up for others qualitatively and their workers should be able to work with all. History tells that living in your own comfort zone will lead to isolation.
Muslim bodies, in their current situation, must have a practical 5-10 year plan, This will bring new blood and change organisational dynamics. Younger, talented, dedicated and confident leadership with deep-rooted Islamic ideals is now desperately needed.
Muslim bodies must also have a 5-10 year plan to encourage young Muslims within their spheres to choose careers that can take the community to the next level. Our community needs nationally recognised leaders from practising Muslims in areas such as university academia, policy making, politics, print and electronic journalism, etc.
#UnitedForOmar – Imam Omar Suleiman Smeared by Right-Wing News After Opening Prayer at US House of Representatives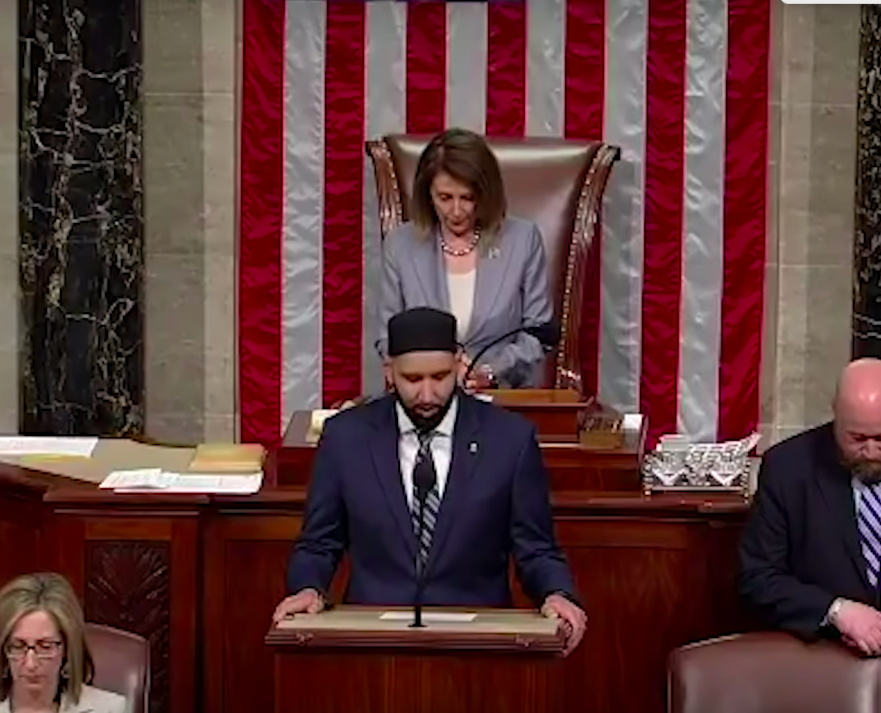 Sh. Omar Suleiman delivered the opening prayer in the US House of Representatives yesterday, May, 9th, 2019  at the invitation of Rep. Eddie Bernice Johnson (D) of Dallas.
Immediately since, right wing media platforms have begun spreading negative coverage of the Imam Omar Suleiman – calling him anti-semitic, a common tactic used to discredit both Muslim activists as well as criticism of Israel policies.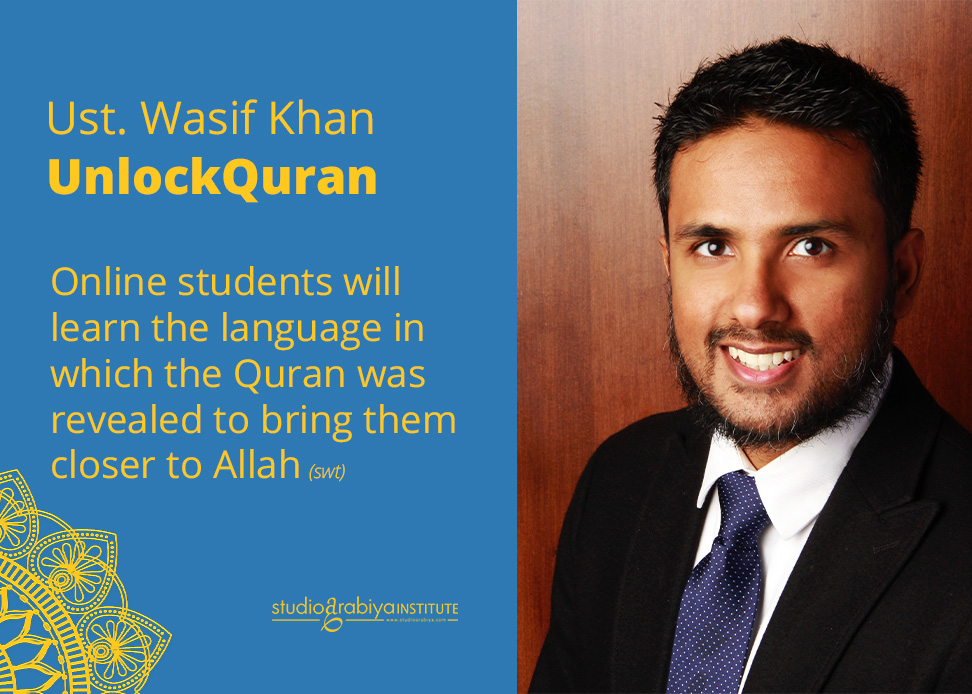 News outlets citing the criticism have pointed to a post from The Investigative Project on Terrorism or ITP, as the source. The  ITP was founded by and directed by noted Islamophobe Steven Emerson. Emerson's history of hate speech has been documented for over two decades.
Since then, the story has been carried forward by multiple press outlets.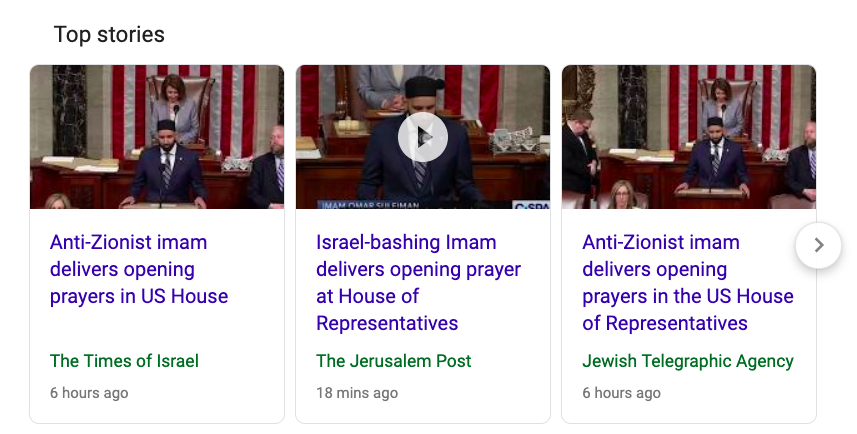 The immediate consequence of this has been the direction of online hate towards what has been Imam Omar Suleiman's long history of preaching unity in the US socio-political sphere.
"Since my invocation I've been inundated with hate articles, threats, and other tactics of intimidation to silence me over a prayer for unity," Imam Omar Suleiman says. "These attacks are in bad faith and meant to again send a message to the Muslim community that we are not welcome to assert ourselves in any meaningful space or way."
MuslimMatters is proud to stand by Imam Omar Suleiman, and we invite our readers to share the evidence that counters the accusations against him of anti-semitism, bigotry, and hate. We would also encourage you to reach out, support, and amplify voices of support like Representative E.B.Johnson, and Representative Colin Allred.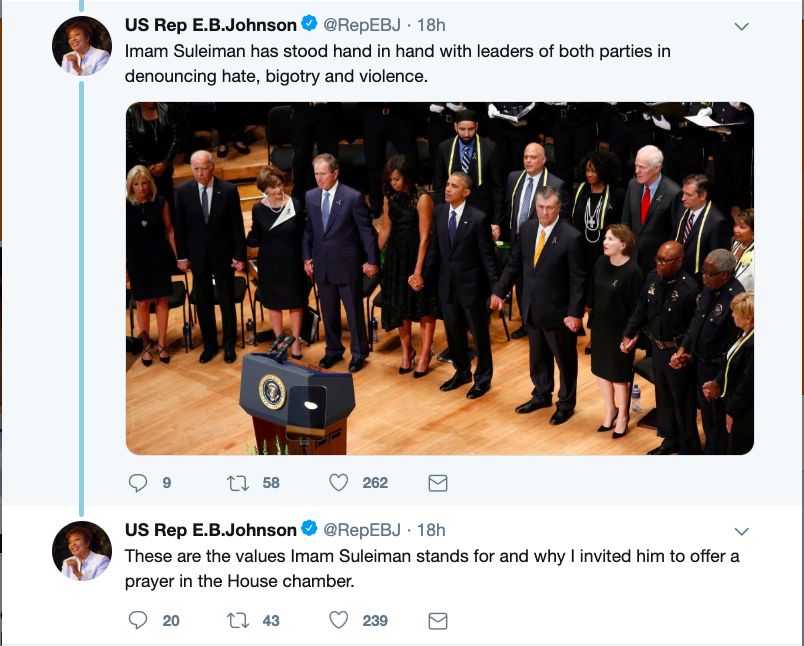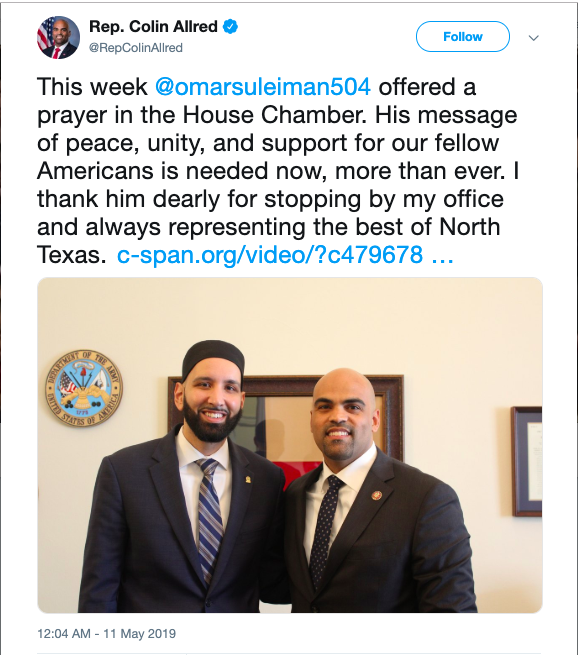 You can help counter the false narrative, simply by sharing evidence of Imam Omar Suleiman's work. It speaks for itself, and you can share it at the hashtag #UnitedForOmar
JazakAllahuKheiran
---
At an interfaith panel discussion, three North Texas religious leaders promoted understanding and dialogue among Muslims, Jews, and Christians. Amid a vexed political and social climate, three religious leaders in North Texas—a priest, an imam, and a rabbi—proved it's possible to come together in times of division. Source: DMagazine.com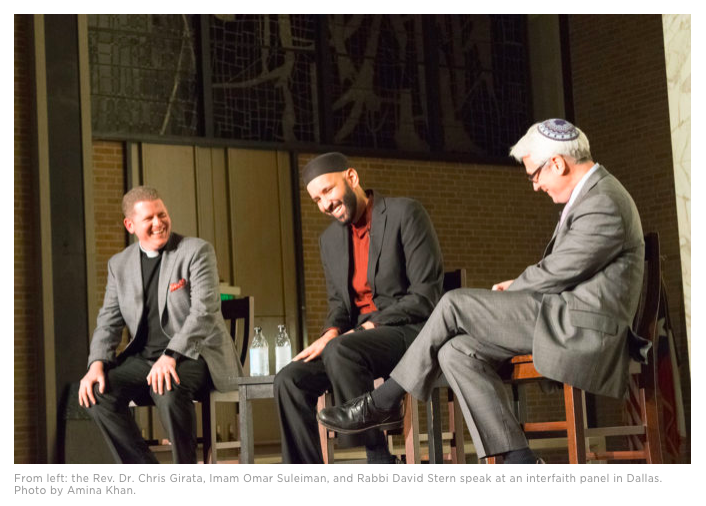 ---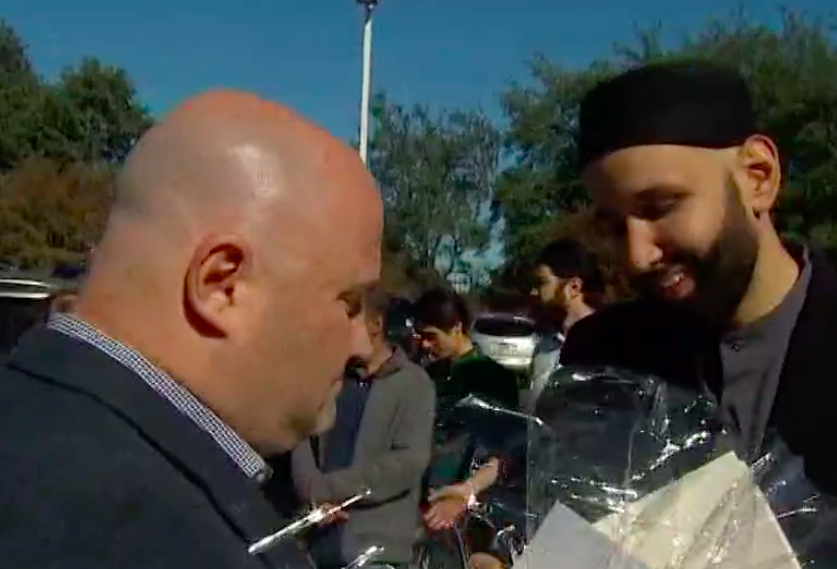 The congregation, led by Imam Omar Suleiman, penned more than 150 cards and letters. source: WFAA News
---
"We must recognize that the white supremacy that threatens the black and Latino communities, is the same white supremacy that spurs Islamophobia and antisemitism," -Imam Omar Suleiman
Source: Bend The Arc
---
"When any community is targeted, they need to see a united faith voice — that all communities come together and express complete rejection of anything that would pit our society against one another more than it already is." -Imam Omar Suleiman
Source: Kera News

---
Source: The Carter Center
---
Imam: After devastating New Zealand attack, we will not be deterred
"My wife and I decided to take our kids to a synagogue in Dallas the night after the massacre at Tree of Life in Pittsburgh to grieve and show solidarity with the Jewish community. My 5-year-old played with kids his age while we mourned inside, resisting hate even unknowingly with his innocence…" Source: CNN
From Sri Lanka – The Niqab Ban and The Politics of Distraction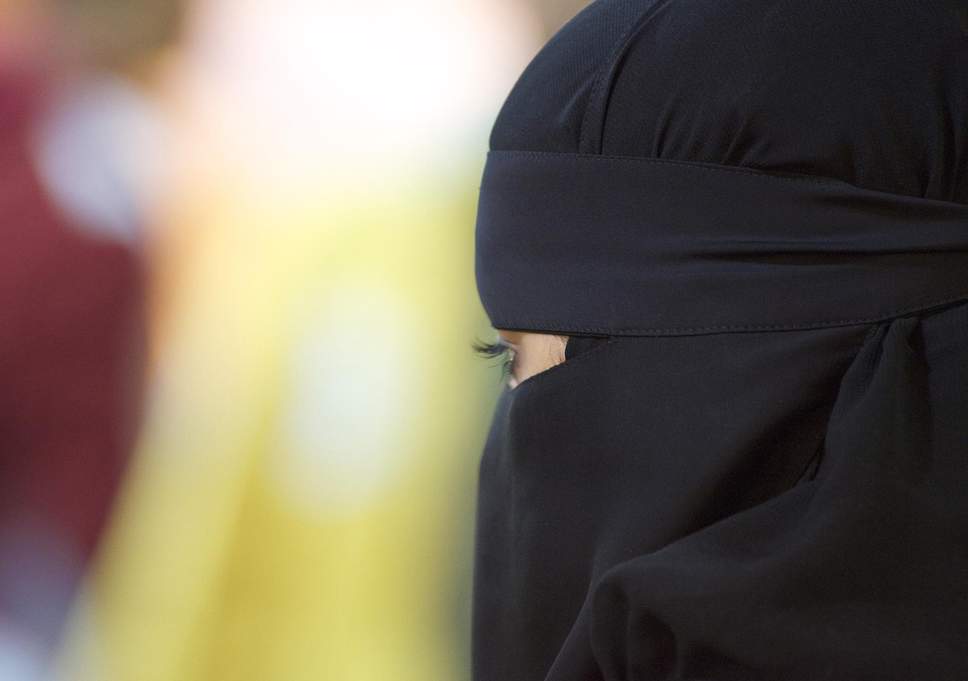 This article was originally published on Groundviews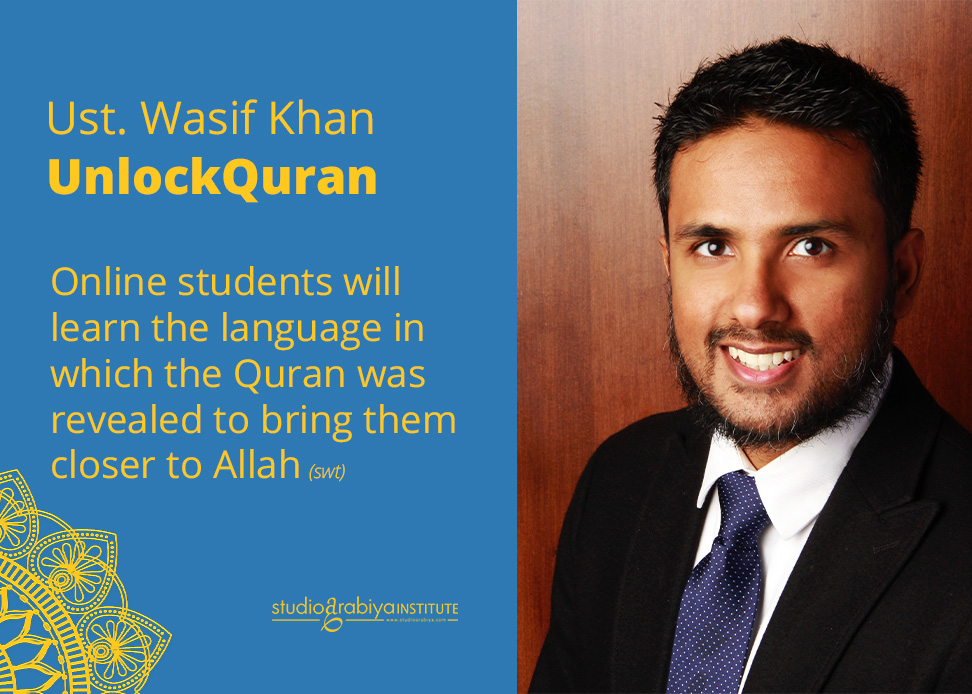 As of last Monday, Sri Lanka is taking a seat at the table next to a list of 13 other countries from across the world who have passed legislation banning the niqab or face veil.
Amidst incensed murmurs from certain parliamentarians, and following a discussion with the country's main Islamic theological body, the All Ceylon Jammiatul Ulema (ACJU), the President's office has announced that 'any garment or item which obstructs the identification of a person's face would be barred.' Sri Lanka has been under emergency regulations following the Easter Sunday attacks which killed over 250 people. The ban will hold until emergency regulations are lifted.
Ever since the identification of the all-male terrorists behind the massacre as members of militant group ISIS, Muslim women -for some inexplicable reason- were to bear the hardest brunt. Instances of headscarved Muslim women being refused entry at various supermarkets and prominent establishments, was followed by the usual scaremongering via alarmist infographics doing the rounds yet again 'educating' the public of the differences between the burqa, hijab, and chador.
A victory indeed for both anti-Muslim voices, as well as to many within the Muslim community seeking to audibly amputate themselves from a supposedly dated form of Islam – one that they claim has no bearing to inherent Sri Lankan Muslim identity.  A view that discards the notion that any religious or ethnic identity is fluid, in flux, and subject to constant evolution.
The grand slam however is primarily for the current political establishment, members of whom are probably high-fiving each other as a result of this kneejerk symbol-politics manoeuvre on having supposedly successfully placated the public of their fears of homegrown terrorism. A move that bleeds hypocrisy for it comes at the cost of subliminally 'othering' an already marginalized segment of a minority community, while at the same time PSA'ing for peace and coexistence in this time of crisis.
What is most insulting to the intelligence of our society however, is that amidst all this brouhaha, only few have questioned the actual relevance of this new ban to the current state of our security affairs.
No eye witness report nor CCTV footage showed that any of the suicide bombers from any of the coordinated attacks across the country were on that day wearing the niqab/burqa/chador at the time of inflicting their terror. The men were in fact dressed in men's attire, with faces completely exposed. It might serve to add here also that they weren't dressed in traditional Muslim man garb either.
How then did the face veiling Muslim woman get pushed under the bus as the most identifiable sign of radicalism?
It is obvious that the government was cornered into passing this legislation, as was the ACJU too in having to support this move. While all communities have only their praises to sing for the exceptional work of the security forces in tracking down the attackers within only just hours, the country's elected leadership was in dire need of respite following what many experts claim was a massive intelligence failure, a blunder involving the wrongful identification of a terror suspect, and incompetence in the handling of events overall. A distraction was desperately required. Something needed to give, and it just so happened that the niqab-donning Muslim woman was the easiest scapegoat.
To an outsider unfamiliar with Muslim religious symbolism, the face-veil can come across as alien, even unnerving. And while our first instinct is to otherize in an attempt to help deal with the discomfort of dealing with any unknown, a woman out in the street in a niqab is -for as long as anyone can remember- most certainly not an oddity that has compelled anyone to stop and recite their final rites.
The misguided belief that the face veil is a marker of extremism isn't and hasn't ever been based on any empirical research. If studies were to be carried out, results would show that Muslim women in general -let alone those with a face cover- have a little role to play, if any, for acts of terror committed in all the countries that have banned them.
Contrarily, there is a clear proven relationship between terrorist attacks and increases in recorded Islamophobic incidents against Muslims, with women being disproportionately targeted. One can then dare infer that being visibly Muslim carries a greater risk to oneself, than to the people around them.
The niqab ban has been put in place as a security measure they say – a flexing of muscles towards any semblance of radicalization that will deter any future acts of terror in the country. Naturally, the perpetuating of this ideological hegemony is doing Muslim women no favors. If anything, the ban is a wholly counterproductive one, in that it ostracizes an already marginalized segment of a minority community – a sliver of a percentage out of the 10% that is the country's Muslim population.
If -as commonly believed- veiled Muslim women are being hopelessly persecuted, the ban will serve only to increasingly confine these women to their homes, under the control of the men accused of governing their lives, and further disconnected from being able to assimilate with society. Even more dangerous, there are studies which prove that having to live in an environment that is aggressively policed on the basis of belief is more likely to harbour radicalization.
Absurdity of the non-connection of the attacks with the niqab ban aside, this in itself should be a war cry for secular feminists advocating for everyone's basic right to the civil freedoms of a liberal society. Where now are the proponents and ambassadors so wholly soaked in the 'Muslim woman saviour complex?' A segment of Muslim women has been forbidden from wearing what they feel best represents their Sri Lankan Muslim identity. They were not consulted before this legislation was passed, nor were they given the chance to show their willingness to cooperate on instances where identification was required.
Ludicrously, discourses surrounding veiled Muslim women are paradoxically lobbed back and forth according to the convenience of the times. In times of world peace, they are oppressed and subservient to patriarchal whims and fancies, while in the immediate aftermath of a terror attack there are hostile and threatening, capable of devising all kinds of evil. They are either victims of violence or the perpetrators of it.
This age-old preoccupation with Muslim women's attire is in actuality a gross conflation of conservatism with extremism. In claiming that a strip of cloth holds the answer to combatting a severe global threat is trivialising the greater issues at hand. If there was a direct correlation between the attacks and veiled individuals, legislation forbidding the covering of the face in public would be wholly justified. But there is none.
Muslim women shouldn't be faulted for the cracks in the state's china. In not being able to answer the hard questions of accountability, lapses in acting on available intelligence, and general good governance, those at the top should leave well alone and consider hiding their faces instead.