LES: Tahir al Qadri Issues "Fatwa", Stereotypes Deobandis & "Wahhabis"
Recently, this century's "shaikh-ul-Islam" (an affront to the title itself), Tahir al-Qadri, issued a fatwa against terrorism. MSM covered it as if it was a eureka moment, even though scholars have routinely issued edicts against terrorism, from around the world [see this from 20,000 deobandi scholars, this from Saudi scholars, etc.].
Br. Yusuf has a good post on this, extracting Tahir's own agenda against deobandis (and of course the "wahhabi bogeyman"). See source below. Tahir's quote against deobandis reminds me of the typical assertion by the Islamophobe, "all Muslims are not terrorists, but all terrorists are certainly Muslim". This quote is as much a lie as is Tahir's conclusion.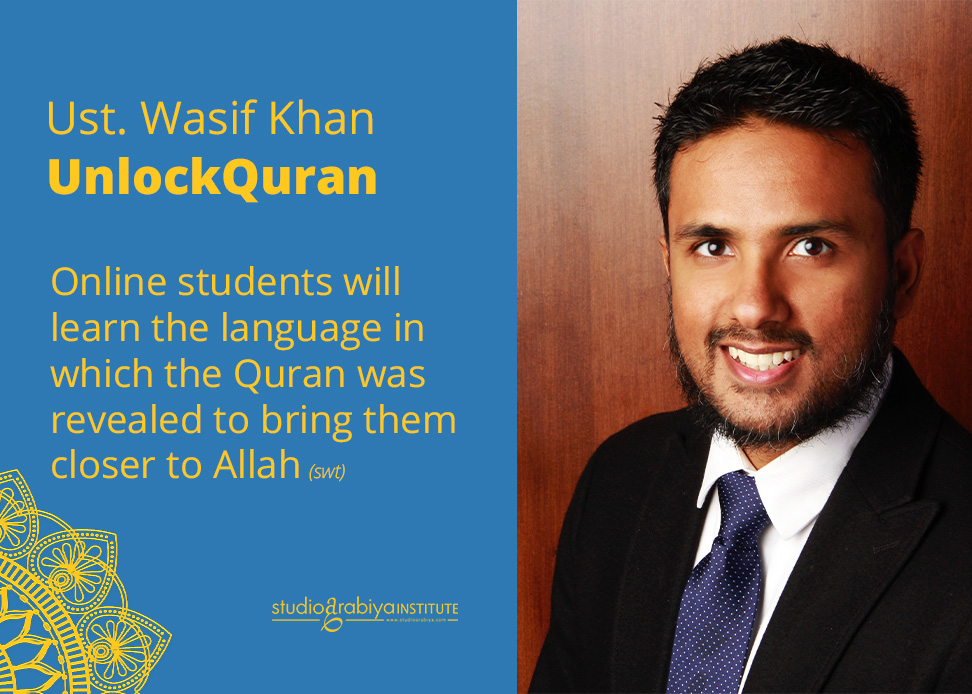 Tahir al-Qadri is hardly uncontroversial, the leader of the brelwi sect in Pakistan, not quite mainstream as the press would like you to be believe. This makes the fatwa even more of a non-event for Muslims. In his free-time, Tahir al-Qadri appreciates a good qawali. His followers love to adorn their houses with his pictures, as I myself observed in the house of my uncle, in addition to kissing his feet- see video below. The rafidahs love him and Quilliam Foundation, the British-adopted, government-financed, Muslim poodle, can't say enough good things about him.  I wonder how much foot Ed got??
Is this a triumph for the Islamic peacemakers?
Allegra Mostyn-Owen
26.02.10

What is Islam?

On Tuesday in London, a revered Muslim scholar will announce a fatwa against suicide bombing in the name of Islam. Here, Allegra Mostyn-Owen talks exclusively to Dr Tahir ul-Qadri as he outlines his historic vision…

I meet Dr Tahir ul-Qadri in a neat, terraced house in Barking where he emerges from his studies resplendent in an elegant silk striped grey and white juba and a black woollen hat.

I am honoured to be in his presence because he is considered a living saint by his followers. All Sunni and mainly Pakistani, they celebrate his birthday and his photograph adorns all the mosques which are part of Minhaj-ul-Quran, the movement which he has spent years raising into an international organisation. It now operates in 33 countries and advises the British Government on how to combat youth radicalisation.

Minhaj-ul-Quran welcomed, for example, the news last month that plans to build Europe's biggest mosque close to the Olympic site had been blocked. Weeks earlier, the group urged police to prevent Islamic extremists marching through Wootton Bassett. "These kind of extremists do not represent the British Muslims," they said. Dr ul-Qadri is impressively ecumenical in his relations with other faiths such as Shia and Christian. He gets a lot of flak for this from those who do not agree with his views.

On Tuesday, in central London, Dr ul-Qadri, friend of former prime minister of Pakistan Benazir Bhutto who was assassinated in 2007, will declare suicide bombings and terrorism un-Islamic. Taken from a 600-page document published in Pakistan last month, Dr ul-Qadri will use texts in the Koran and other Islamic writings to argue that suicide and terrorist attacks are "absolutely against the teachings of Islam and that Islam does not permit such acts on any excuse, reason or pretext".

I first met Dr ul-Qadri five years ago at his headquarters in Lahore, where I was for a wedding. I was recently married myself for the second time — as the former wife of Mayor Boris Johnson I'd wed again in secret to my 23-year-old Muslim lover, himself from Lahore. His parents knew nothing about it. Since 2005, I have been giving art classes for women and children at the Minhaj-ul-Quran mosque in Forest Gate.

Today, in Barking, Dr ul-Qadri is focusing on the problems of how many young British Pakistanis are being radicalised. Although the Government is working hard, says Dr ul-Qadri, they are working on the wrong lines. In other words, he believes, that the Government has not kept abreast of the multi-culturalism of its own people. "England is the hub of the Western world. There is a big community here of around two million with a Pakistani background. The communities are in great numbers." As Dr ul-Qadri sees it, no terrorists have emerged from a Sunni or Sufi background: instead, they have come from the Salafis (Wahhabis) or Deobandis. The Deobandis are a South Asian variant which is close to the Gulf-orientated Wahhabis.

"Every Salafi and Deobandi is not a terrorist but I have no hesitation in saying that everyone is a well-wisher of terrorists and this has not been appreciated by the Western governments," he said.
Dr ul-Qadri, who has the authority of a Sheikh–ul-Islam, a title given to those who have superior knowledge of the principles of the faith, is coming out with his statement now because the Wahhabis and Deobandis have been silent in condemning the killings in Pakistan and abroad.

They dominate much of the apparatus of state in Pakistan — as well as most of the mosques in London — which is why in the West we receive mixed messages: the military launches vast offensives while the religious and education ministries say nothing. As a result, many in the West believe that the church in Pakistan is not doing enough to counter the violence.

British-Pakistanis lured into extremism present a peculiar problem because, when they go to Pakistan to further their murderous ambitions, they have mixed loyalties. They do not feel British but nor do they feel wholly Pakistani and yet they are a diplomatic nightmare for both countries. Terrorism is, Dr ul-Qadri says, an intellectual phenomenon as it applies to British-Pakistanis. They have been groomed from an early age in their Deobandi-leaning mosques where they are taught that they are living in a kafir society where they cannot integrate.

It is an "us and them" way of thinking and the narrow-mindedness starts when children attend mosque from the age of five. But, as Dr ul-Qadri says: "isolation is not the Islamic model — integration was the practice of the Holy Prophet in the society of Medina".

The maulvis (untutored clerics) give a misguided concept of Jihad: "This is the burning issue of the whole world," says Dr ul-Qadri. Once these children have been groomed into intellectual conservatism, they are very susceptible to extremism especially if they are not attached to society by a job. "Those who still have contact with [such clerics], whether they act out their ideas or not, they will be well-wishers of the Taliban," he says. Since the governments and agencies working on anti-terrorism are not brought up in Muslim culture, Dr ul-Qadri believes they do not understand. "Still their policies are not on the right track." I ask him about the role of art in children's education. It is commonly thought that Islam is contrary to art. He has no quibbles: he sees art as helping to satisfy one aspect of the human personality. "Islam wants a balanced personality," he says.

"We teach children intellectually and academically. The fight against the darkness of ignorance, the fight for charity: this is the true jihad."
[Source]
[youtube]http://www.youtube.com/watch?v=uUI0aNEuEBU[/youtube]
My Heart Shook In New Zealand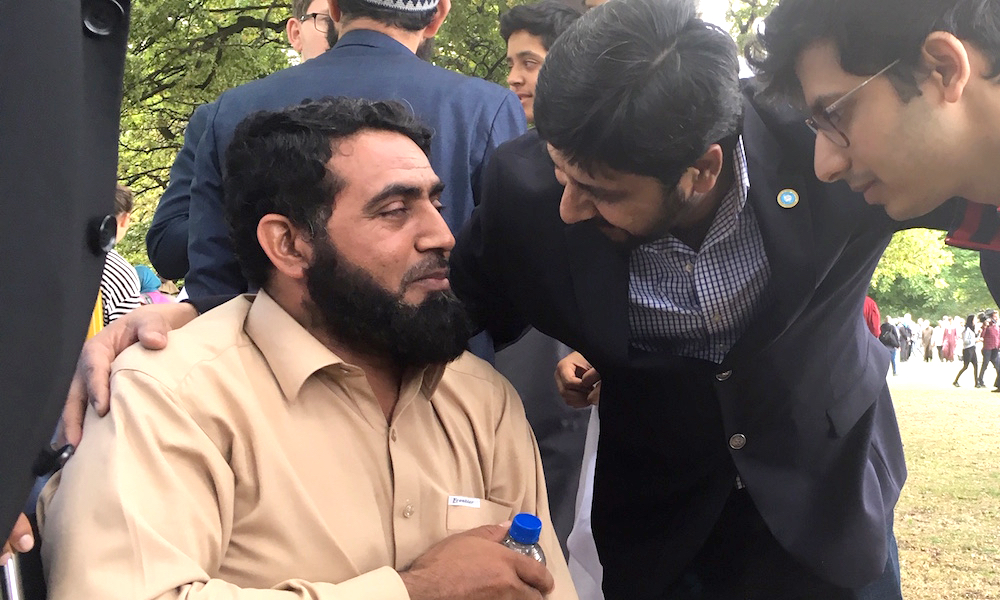 One would imagine that a person would be dead-tired and ready to crash in his bed after a grueling, 36-hour journey from Christchurch, New Zealand to Washington, DC. And I will admit, that was the way I felt. Yet somehow, all my somnolence vanished as soon as my head rested on my pillow and I closed my eyes to rest. A wave of recollections fell over me: memories of the survivors, the emotions they expressed, and their feelings of an uncertain future as they planned their lives after the loss of their family members. These feelings instantly took away all the desire to get rest and sleep. I sit upright now and begin writing this reflection of a once in a lifetime experience- a voyage of grief and hope to Aotearoa- land of the white cloud as the indigenous people call New Zealand.
With lost baggage, long flights and too many connections, at times it seemed unlikely that my eldest son Moaz and I would make it to Jumm'ah and Janazah prayers in Christchurch, New Zealand. But Allah

accepted our prayers so that we could fulfill the guidelines set by our beloved, the Prophet Muhammad

. We were able to fulfill one of the rights of a Muslim over the others; that when he is sick visit him, and when she dies, offer her funeral and be part of her burial.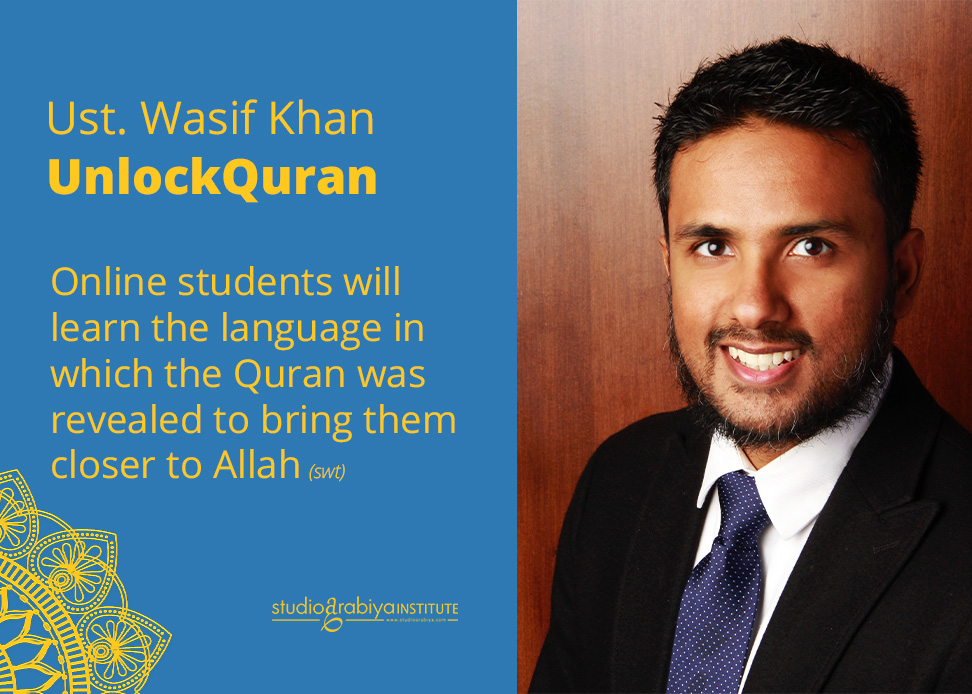 Hagley Cricket Ground was supposed to have a cricket test match between Bangladesh and New Zealand that Friday. Commentators reckon that it would have been the final day of that test match. But the 22nd of March 2019, brought a much bigger crowd to this world-famous cricket ground than what anyone would have seen on the final day of that test match.
Officials and security directed us towards the VIP area as they wanted to pay respect to the guests who traveled all the way from the USA, Canada, and Australia. The environment of love, solidarity, and respect, coupled with the hijab-clad women standing in solidarity with Muslims in that enormous crowd, created an impact which cannot be articulated by mere words. Every single uniformed female officer was carrying their firearm while donning a hijab; creating a welcoming gesture in a rather somber and gloomy atmosphere.
I do not have the words to thank the leadership of Charity Australia and the Islamic Forum of Australian Muslims (IFAM) for providing us with logistics, facilitating meeting the families of the "shuhudaa" (martyrs) and arranging to visit those injured in the tragedy. ICNA, Helping Hand, and Charity Australia banners highlighting the slogans of "American Muslims stand in solidarity with Victims of Christchurch New Zealand" were the center of attention for thousands of local New Zealanders gathered in solidarity that day. Their hugs, sincere prayers and tearful eyes were the greatest gift that I want to share with everyone reading these reflections.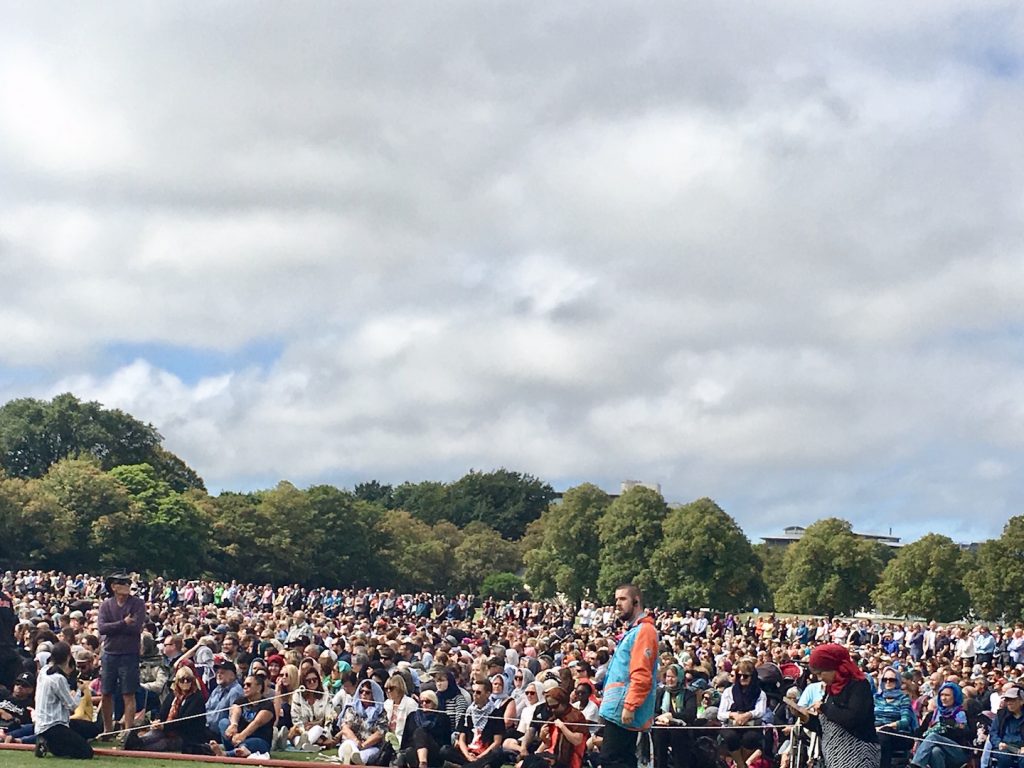 Right after Jumm'ah, the majority of the crowd attended the collective Janazah prayer of 27 of the martyrs. In those emotional moments, I met with the most courageous woman on earth, the wife of 51-year-old Shaheed Naeem and the mother of 21-year-old Talha Naeem, the two spirited souls who gave their lives to save others in the mosque that day. She is one of the strongest women I have ever met. She mentioned that her husband, Naeem, was a person who lived the life of a man of service, always ready to help others. She described Talha as an angel who was too pious and too noble to be away from Jannah too long. We heard similar feelings from Naeem's mother (grandmother of Talha) the next day when we visited their home.
The visit to the home of New Zealand's national soccer team player, Atta Elayyan (33), was not only emotional but also deeply inspiring. Atta lost his life and his father (the founder of Al-Noor Masjid) was severely injured during this brutal and hateful attack. There were several scholars from the United States, including Sheikh Omer Suleiman, in the visit to Atta's home. We could offer nothing to console the brave mother of this shaheed, who greeted us with words of courage and wisdom. We had no words to accompany the tears in our eyes, except prayers for the most noble young man who helped so many in coming close to Allah

.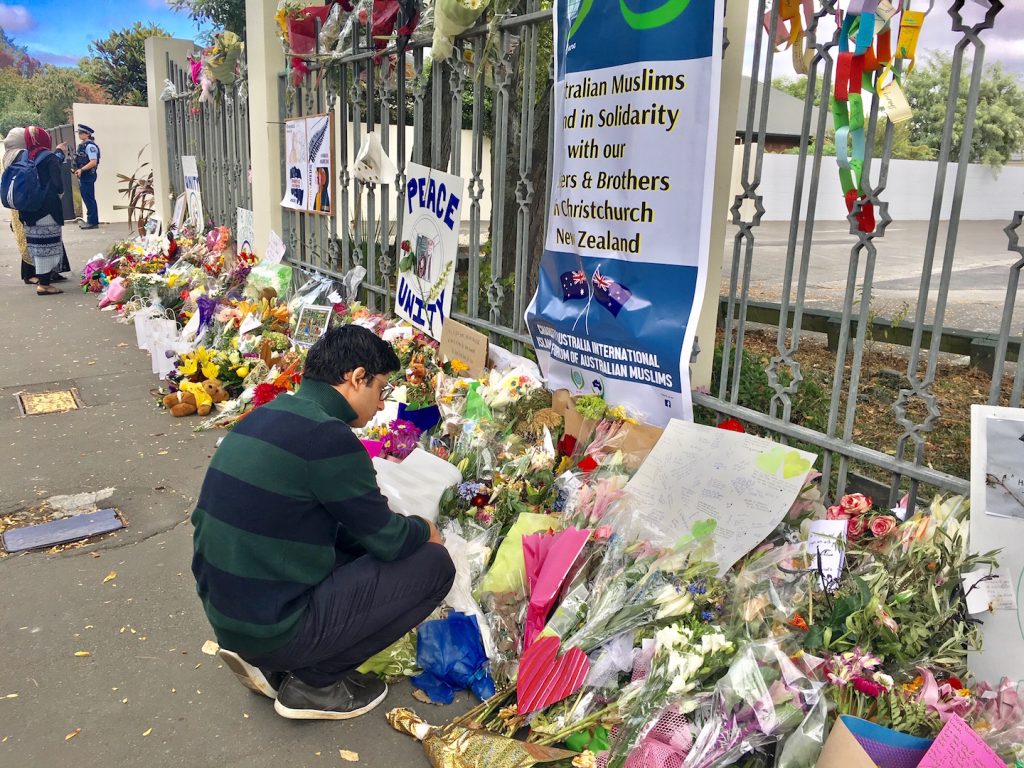 Our visits to Al-Noor Masjid and the Linwood Islamic Center were also filled with memories of love, harmony, and reverence. There was a continuous influx of hundreds of visitors, not only from New Zealand, but also from different countries including, but not limited to, Australia, Fiji, and Canada.  Thousands and thousands of flower bouquets and other items of love were left by these visitors. I was really thrilled to see that local Muslims left many Qur'ans and flyers with basic concepts of Islam and addressing the common misconceptions about Islam for those visiting. I witnessed many people visiting these mosques were taking those Qur'ans and other books with them in order to learn more about Islam.
We also met Mr. Aziz, the unsung hero who repeatedly attacked the killer with different objects including an empty gun —which the killer had discarded. The terrorist fired on Aziz multiple times, but Allah

not only saved him, but he also forced the killer to flee from the Linwood Islamic Center. Mr. Aziz was one of the reasons why the number of casualties in this mosque was only seven, compared to the 43 martyrs in Masjid Al-Noor. We also met certain individuals whom Allah

saved miraculously. A young man showed his trousers fenestrated with holes of bullets but had no signs of injury. The husband and wife who entered the premises of the mosque and only to be showered with a burst of 26 bullets while in their car, leaving it completely destroyed. Yet Allah

saved both of them while they took shelter in their vehicle.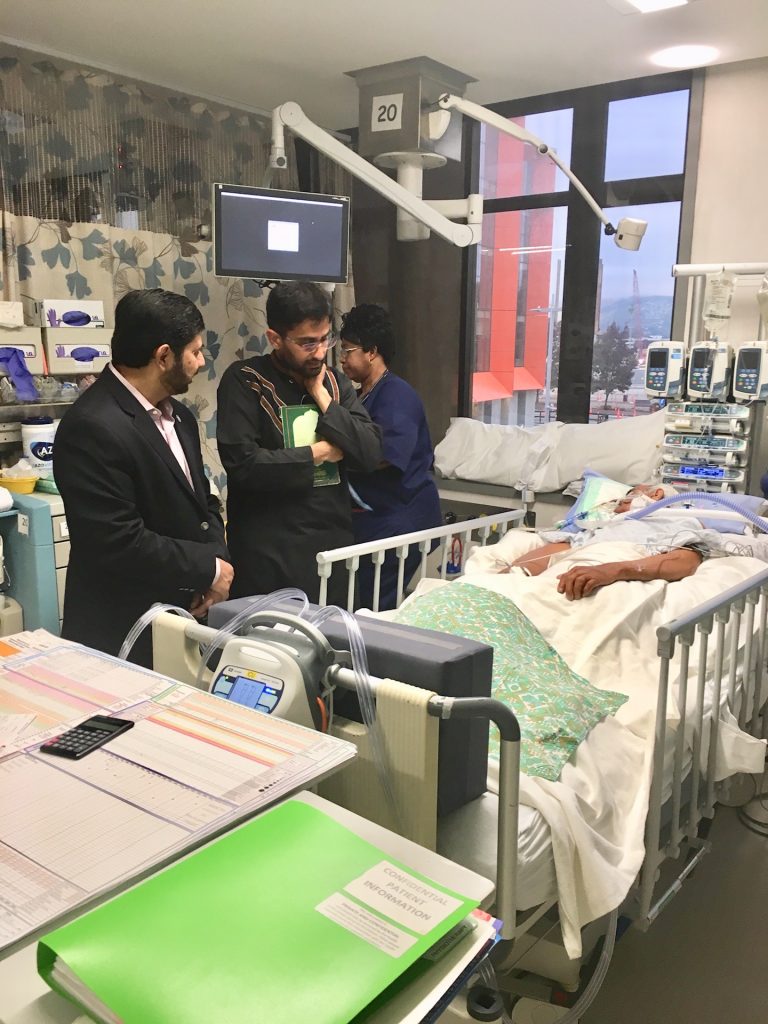 The visit to the hospital's ICU was simply heartbreaking but at the same time increased our resolve and commitment to help these families as much as possible. We encountered a Turkish brother who was in a coma for nine days and met his elderly parents, who spoke to us in the very little English they knew. The only thing which we could understand from their hushed voices was the request for du'a and tears of helplessness in their eyes. The 71-year-old father of a local Pakistani from Hafizabad, who had arrived two weeks ago to visit his son, was now on a ventilator fighting for his life. As a physician who has worked in ICU settings for a long time, I simply did not have enough medical reasoning which could have provided him any words of hope!! Similarly, I was not able to provide any glimmer of hope to a brother from Bangladesh whose wife will never be able to walk again and will be paralyzed for the rest of her life.
While I saw hope and felt resilience from every victim in that hospital, this hospital visit was brutally heartbreaking.
Lastly, I cannot imagine the pain, agony, and helplessness that the father of Mucad Ibrahim must feel after losing his 3-year-old son in his own arms. I gave him the longest hug possible, as he taught the whole world the meaning of Beautiful Sabr (Patience).
After seeing the devastation caused by the terrorist attack, and the work that must still be done to heal the community, Helping Hand USA, ICNA Relief Canada, and Charity Australia have formed an organization called the "Christchurch Family Support Network". The operations have already begun, and our team is on the ground. The first group of mental health professionals with a background in Islamic Integrated counseling are set to leave to provide victims and their families immediate psychological assistance.
We ask Allah

to accept our work, bring healing to the community, protect our brothers and sisters, and accept the shuhadaa' in the highest level of Paradise.
Dr. Mohsin Ansari is the Vice President Islamic Circle of North America (ICNA) and the Chairman of Helping Hand USA (HHRD)
Because Muslims Matter | Honoring The Martyrs Of #Christchurch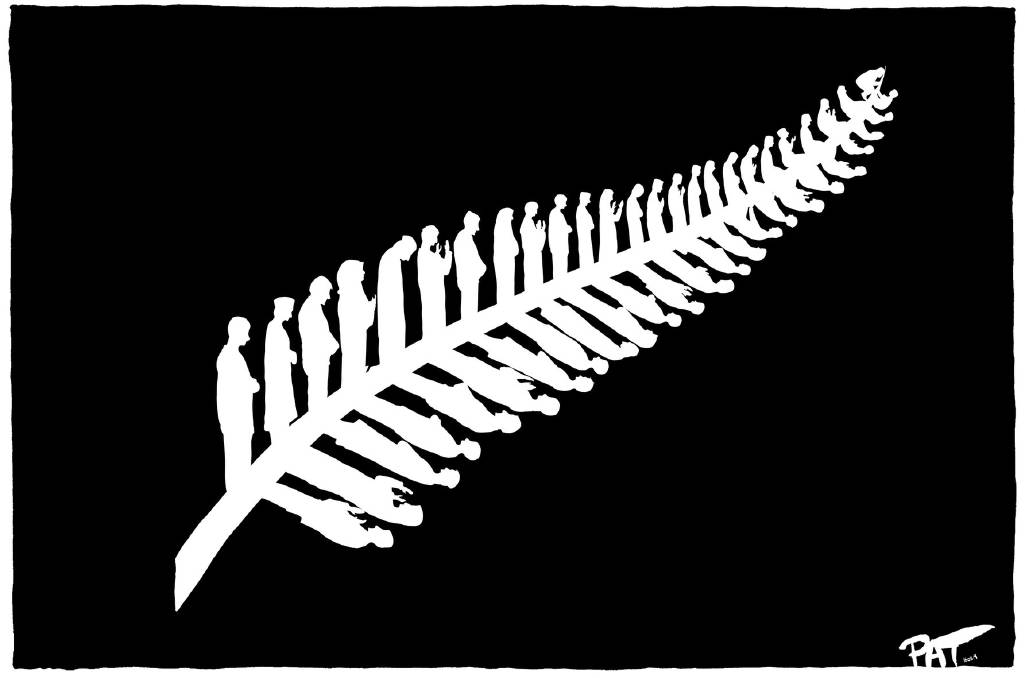 As the days go by, it is easy to forget the names and faces of the people who passed away. The horror of the act eclipses their memories. We do not want that to happen to our brothers and sisters in New Zealand.
اللهُـمِّ اغْفِـرْ لِحَيِّـنا وَمَيِّتِـنا وَشـاهِدِنا ، وَغائِبِـنا ، وَصَغيـرِنا وَكَبيـرِنا ، وَذَكَـرِنا وَأُنْثـانا. اللهُـمِّ مَنْ أَحْيَيْـتَهُ مِنّا فَأَحْيِـهِ عَلى الإِسْلام ،وَمَنْ تَوَفَّـيْتَهُ مِنّا فَتَوَفَّـهُ عَلى الإِيـمان ، اللهُـمِّ لا تَحْـرِمْنـا أَجْـرَه ، وَلا تُضِـلَّنا بَعْـدَه
Allaahum-maghfir lihayyinaa, wa mayyitinaa, wa shaahidinaa, wa ghaa'ibinaa, wa sagheerinaa wa kabeerinaa, wa thakarinaa wa 'unthaanaa..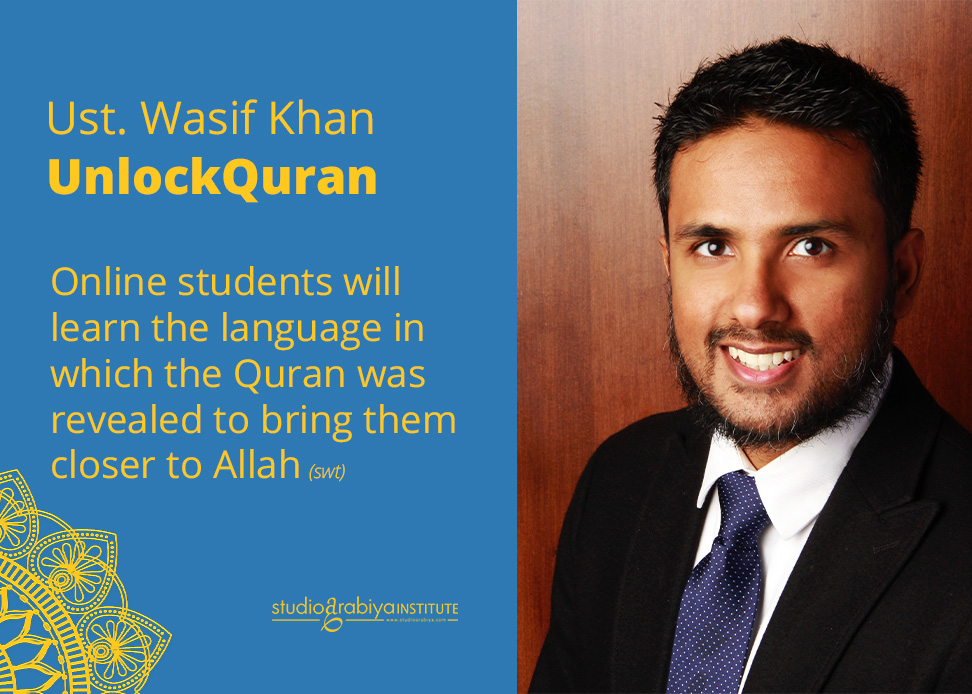 O Allah forgive our living and our dead, those who are with us and those who are absent, our young and our old, our menfolk and our womenfolk… [7]
Shaykh Yahya Adel Ibrahim's Message in the Wake of the #ChristChurchMosqueShooting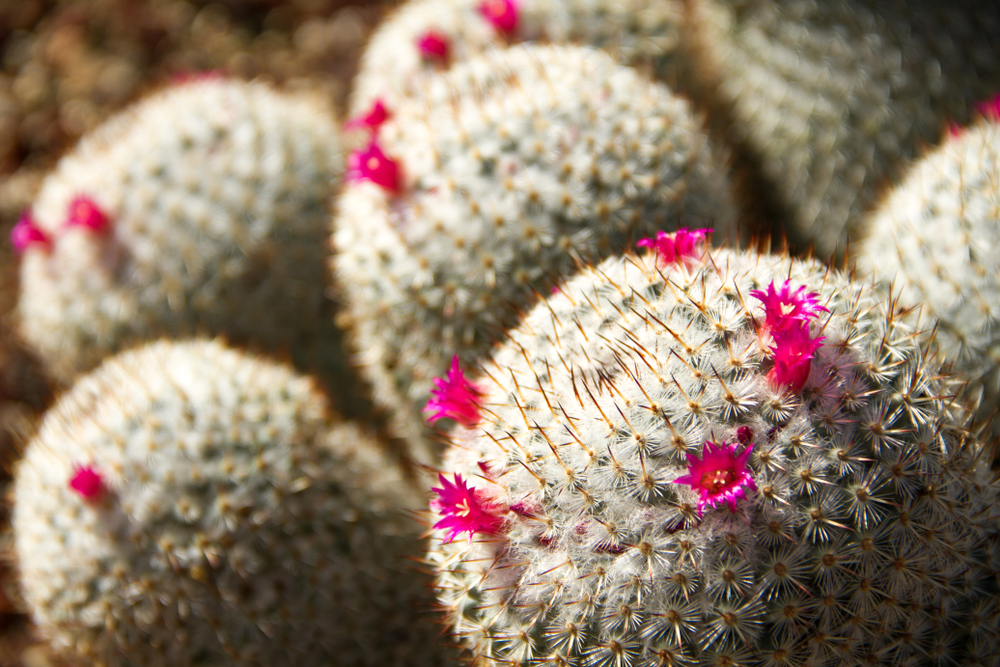 We offer our condolences to our Muslim brothers and sisters in New Zealand and to all Kiwis. We feel your pain. We see your tears. We hear your cries and we mourn with you. The Ummah is with you- Editor's note