Veiled Muslim Women Rally Against Alleged "Pakistan Taliban" Flogging of Women
The photos below say it all, but obviously you won't be seeing Faux Noise or any of the other MSM pick up these pictures  anytime soon. It just doesn't fit the "official narrative".
If you don't know what this is about, then this should help. The "Pakistan Taliban" reps are denying it, saying that it wasn't a 17-year old but a 34-old woman. I guess these clueless PR folks believe that the age of the woman really makes a difference! And to be honest, while I mantain some scepticism about its origin, the video does seems quite real, especially in the face of red-faced weak denials from the Taliban officials. I am no scholar of shariah, but it doesn't take a scholar to see so much wrong with the "punishment" that was meted out in the video.
My point of this post was not to go into the politics of what is so messed up with the situation in this part of Pakistan, but rather to show Muslim women on the forefronts of condemning such actions. In fact, the rally was organized by a Pakistani religious party.
Pakistani women protest in Lahore on April 4, 2009, against the public flogging of a woman. Pakistan's top judge has ordered a court hearing into the public flogging of the woman, filmed on an amateur video, that has raised alarm about the tightening grip of Islamist hardliners. (AFP/Arif Ali)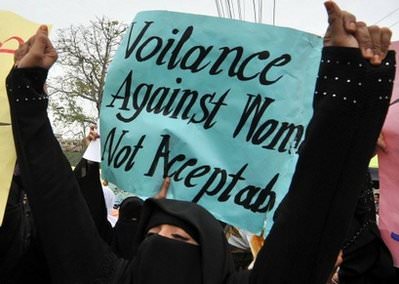 Veiled women supporters of a Pakistani religious group chant slogans during a rally to condemn flogging of a woman, Saturday, April 4, 2009 in Lahore Pakistan. Pakistani authorities ordered inquiries into a video showing the public flogging of a screaming woman in a northwestern valley where officials have yielded to Taliban demands for Islamic law. (AP Photo/K.M. Chaudary)