Update#2: MM's 2008 Presidential Elections Post-Mortem: Yes We Can, Insha'Allah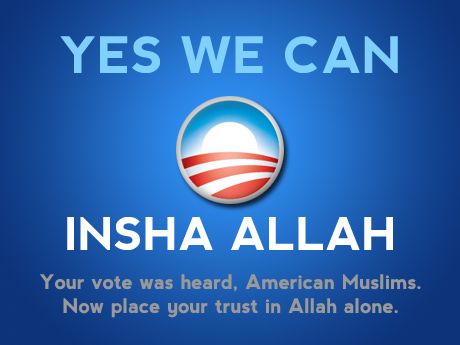 Updated#2 (Nadim's input)- The following is the MM's team thoughts and views on the Elections. After my intro, don't miss the pieces by Yasir Qadhi, Yaser Birjas, Navaid Aziz, Abdul Nasir, others – Amad
DIGG this post. And StumbleUpon (see tutorial)

Comments CLOSED. Time to focus on what the Shayookh said, instead of arguing.
My fellow Muslims, especially my fellow American Muslims, Assalam Alaikum.
We are now passing from election hype to a surreal sense of what just happened in American history– a black man with none of the "required pedigree" taking over the leadership for the most powerful nation in the world. We all know that Obama really had no "business" running for the Presidency as a viable candidate, let alone winning it. But he did, and he nailed a slogan that will go down in history as one of the most genius political creations ever, "Yes, we can".
What happened on November 4, 2008 will be discussed, argued, and deciphered for ages. The pundits and academics will make a living out of this election for decades to come. So, this "citizen-journalist" won't bore you much more with more of the same. Rather, I want to take you through a quick journey of politics on MM:
Political discussions on MM have brought out the worst and best among us. We saw the entire spectrum of Muslims commenting on these grounds, from those who wanted Muslims in the West to live as if they were really not living here (i.e. completely divorcing themselves from society), to those who cannot have enough of the American dream, soaking it up as if they were given the keys to Jerusalem.
After we got past the voting-blocK, we heard from both sides of the McCain and Obama camps, truly an opportunity for Muslims to grow beyond sloganeering, and looking at the issues.
I know there are many of you who would prefer an apolitical Islam-only MM, and I respect your desire for that. At the same time, there are many others, including me, who have found this political awakening of sort quite rewarding; what we believe is our own little way of contributing to the Ummah in the West. So, I want to take this opportunity to apologize to the first group for the high-dose of politics over the last few weeks, and want to thank the second group for the encouragement and the support for MM-politics.
A few final thoughts before I leave you with the words of those whose opinions far outweigh mine, in both value and quality.
As I left for work in the morning, my feelings of happiness were all relative: relative to what could have been had it not been Obama. I know that the "Muslim" mistake with Bush in 2000 has been rubbed in at every opportunity. But as Muslims, we learn from our mistakes; we don't stop trying. And perhaps this is a mistake again, wallahu 'alam, but I would rather try and make a mistake, than not try at all.
And so, I leave you with two words regarding Obama: cautious optimism. Obama's choice for Chief of Staff has served well to emphasize the need for caution, and for tempered expectations. Studies in human psychology have shown that a sense of loss is much harder to take than a sense of gain, e.g. losing money that you possessed feels much worse than not gaining the same amount that you were expecting to receive.
I urge you to not put political participation behind you, not to leave it for a short sprint every 4 years. If we continue to depend on political chicken-feed every presidential elections, then we will never get to a point where the politicians will actually start paying attention to us. I cannot but emphasize the importance of involvement in local politics, the city councils, the civic clubs, the school boards, and so on. This is where things happen, and where we can make a difference, and where we can go in with the motto:
"Yes, we can insha'Allah (God-willing)"
And then perhaps by the next election, we will also be able to say,
"Yes, we did mash'Allah (God willed it)"
May Allah forgive me for all my errors.
Your brother, Amad S.
Enough of me, time for the REAL deal…
Yasir Qadhi tells us not to be guilty of hope [Jump to his piece]:
How much more so, then, are we deserving of feeling hope and optimism, when a candidate who WILL directly affect our lives and the lives of millions of people across the world has been elected.
Navaid Aziz, watching from up above (Canada that is), is pleasantly surprised [Jump to his piece]:
Besides all of the hype involved, it was nice to see that American Muslims seem to have a genuine concern for their country and its well being
Yaser Birjas shares a short, but deep thought [Jump to his piece]:
Many people such as Martin Luther King died dreaming for something even less than that, and now here I am living to see some history in the making.
Abdul Nasir Jangda is relieved [Jump to his piece]:
NO MORE SARAH PALIN! Well at least not for a couple of years.
IbnAbeeOmar shares a more interesting story, his struggles between a mother's order to vote, and a desire not to [Jump to his piece]:
She [mom] said go, the lines are short. I said ok, I'll see, I have some work to do. A few minutes later she called again.
SaqibSaab, a true Chicagoan at heart, revels in Obama's ascension, though he treads with caution [Jump to his piece]:
For one, they should've had the starting lineup intro for the Chicago Bulls play, with an all-star Chicago "starting lineup". Oprah, Rev. Jesse Jackson, Kanye West, Michael Jordan, and finally, the man of the hour, Barack Obama.
Abu Bakr doesn't buy the hype [Jump to his piece]:
I believe in the principle of voting in order to avert the greater of two evils, however I chose not to vote in this election.
Neither does Ahmad Al-Farsi [Jump to his piece]:
I was more afraid of, if I voted for him, thereby endorsing him, and he went off and killed many more Muslims in Afghanistan or Pakistan or elsewhere, that I would feel quite accountable for having voted for him. So, Alhamdulillah, I decided to protest the election by not voting.
Tariq Ahmed (AbuAbdullah-the Houstonian) takes a more philosophical approach [Jump to his piece]:
Take note of the moment in history. As Rome turned the tide against Persia, so America has reached a milestone in its continuing epilogue to the end of slavery in these lands.
Siraaj Muhammad mixes up the optimism and the caution perfectly [Jump to his piece]:
Obama's victory over McCain last night was an emotional one on many levels. There is now hope at the end of the dark tunnel that was George Bush's presidency these past eight years
Nadim reminds us to be realistic [Jump to his piece]:
Let's be realistic, in politics, nothing is what it seems. America has a new leader, but can the winner change the rules of the game?
And finally, here's a special short one-liner from the other Canadian, AnonyMouse (who also tells us that she checked the news on Obama after brushing her teeth and before breakfast, which is a big deal) :
My summary: Everyone is way too excited, and we're all going to be disappointed no matter who's elected… The End :D

signed Zainab bint Younus
Yes, "AnonyMouse" is anonymous no longer. Is this bigger news than Obama winning or what??
__________________________________
Indeed, all praise is due to Allah, and may peace and salutations be upon the prophets of Allah.
When the Muslims were in Makkah, there was a major war raging in a nearby land; a war that was, relative to its time, of cataclysmic proportion. It was being fought out between the only two super-powers of the era. And even though the Muslims themselves had nothing at stake in that war, even though any win or loss to either side would cause no immediate change in their lives, the Muslims were emotionally attached to one side against the other. Their spirits, their hopes, their optimism, all centered on the army of Heraclius, the emperor of Rome, as he fought against Khusrau Parvez, the King of Sassanid Persia. These early Muslims felt an affinity for the Christian Heraclius as he fought against the fire-worshiping Zoroastrians. So, when the news came that Heraclius had been defeated, the Muslims were in fact dejected, and the pagans of Makkah boasted to the Muslims that their 'team' had lost. It was at this occasion that Allah revealed the first few verses of Surah al-Rum, which gave them the optimistic prophecy that even though Heraclius had lost this battle, he would win a future one, in a few years. Many years later, the Prophet wrote a letter to Heraclius, and Heraclius heard the message of Islam. While respectful of it, he did not convert. Throughout this entire time, the Muslims were not reproached or reprimanded for their feelings of hope towards Heraclius and the Roman Empire.
How much more so, then, are we deserving of feeling hope and optimism, when a candidate who WILL directly affect our lives and the lives of millions of people across the world has been elected. For those who wish to make Muslims even feel guilty for this hope, I say that our religion is a religion of optimism and a religion of reality. We should feel optimistic, at all times, and take the best from every situation. And between the two candidates that were running for the highest office in the most powerful country in the world today, it was clear in the eyes of many, which of these two was more inclined to peace, and which was more inclined to war. It was clear who was able to inspire with hope and optimism, and who was more inclined to inspire through fear and hatred of 'the other'. It was clear who had more intelligence and common sense, and who could not even think clearly enough to choose a qualified running mate.
Make no mistake about it, though. Barack Obama is no messiah, and, as an American political leader, he will inevitably do things that will enrage people around the world, and yes, sometimes even us. But looking at the alternative, in my opinion and the opinion of many in the know, the message was clear: he was the better candidate overall, at this time and place, for Muslims, for America, for the world. And if it so turns out that those who voted for Barack Obama were wrong, well, they can say, in full conscience and with no fear of reprimand, 'O Allah, this is what was apparent to us when we chose, and only You knew the future and what it held.'
Indeed, we thank Allah who will judge us for the sincerity of our intentions rather than the unintended consequences of our actions.
It is indeed an historic moment for this country, when a black leader, with the middle name of Hussein, the son of an African visitor to this land, raised far away from the bastions of political power, can actually win the highest office. It is an historic moment, and I am proud to have witnessed it. But the election yesterday was not about supporting the persona of Barack Obama as much as it was about the scathing indictment of the previous administration. When people voted yesterday, they voted not for Barack, but against the current administration. Obama did not win because he was Obama, but rather because he was for change. And to me, that is huge reason to be optimistic about this country.
There is much good in America, and we need to channel that good and help it overcome the bad. Keep in mind that while Obama won a resounding victory in the electoral votes, he only had a slight lead in the popular vote (52% to Obama, 46 % to McCain). And while it is overly simplistic and wrong to claim that all those who voted for McCain were supportive of the current administration's policies, it is not an exaggeration to state that a fairly large percentage of them would be averse to the positive vision of change that Obama claims to want. And that is a scary thought, one that sobers us up the reality, and shows us that there is a lot of work to do ahead.
As an American, I cannot help but feel a sense of joy, a sense of optimism for the future, and the work ahead for all of us. And as a Muslim, I sincerely pray that Allah wants good for this country, and that He places people in power that will bring about that good through them, and through all of us. The Obama campaign might have stopped now, but our campaign as Muslims, in spreading the truth and calling for justice, never stops as long as we remain in this world.
In this moment of elated happiness, when the nation itself seems swept away with the raw emotion of victory, let us remember that true victory is one's spiritual victory in winning the pleasure of Allah. Let us keep in mind that leaders come and go, nations rise and fall, and one day, after having witnessed much happiness and sorrow, we too shall depart, leaving this world with only our deeds to show.
May Allah make us all beacons of light, calling people to the truth, and being a shining example for others to follow.
Yasir Qadhi
New Haven, CT
Nov 5th, 2008
__________________________________
One of the more appealing Muslim authored articles I stumbled upon during the whole election fiasco was the article written by Br. Zaid Shakir entitled: "Vote for me and I'll set you free". Not wanting to focus so much on the content of the article, it basically summarized all the things that the up and coming president would need to say, and more importantly do, to get the affairs of the country in order. What I would like to focus on is the title of the article itself, and how it relates the mindset of the average Muslim American voter.
Now, Br. Shakir may have not necessarily been thinking about the frame of mind of the average Muslim American voter when he wrote the article, but I believe the title is nonetheless very applicable. After having observed all the debates and discussion surrounding the two respective candidates one thing that definitely stuck out, like a sore thumb, was how Muslims actually believed that it was this up and coming president that would change their lives, and basically "set them free." Now such sentiments are not only understandable, but perhaps also expected after GW Bush's eight years in power that have left the country in shambles. Amongst all of those sentiments the greater picture faded away and perhaps was even lost. What is that greater picture? You need not look further than the American dollar bill: "In God we trust". Yes, with a new president comes great hope and possibly great change, but at the end of the day nothing happens except by the will and power of the almighty. So why is it we witnessed debates about which candidate we should vote for, and heard khutbahs about why we need to be more politically aware, yet nowhere in those lengthy sermons and debates did anyone mention putting our trust in Allah and supplicating that He grant victory to the one that will be the most beneficial for Islam and the Muslims in America. The president is just a means. God is the one that controls your fate.
"Over all those endowed with knowledge is the All-Knowing" (12:76)
Not wanting to be a total cynic, I was pleasantly surprised at the interest that Muslim Americans showed during these elections. Besides all of the hype involved, it was nice to see that American Muslims seem to have a genuine concern for their country and its well being. It is such glimpses of hope that allow me to believe that American Muslims will one day unite under a centralized opinion and use that united voice to fight for justice, human rights, and a rectification of domestic and foreign policy. When one is living in a land of democracy, it is only foolish not to make the best of it when one can, while never forgetting that there is no replacement or second to the sharee'ah of Allah.
"And who is better in judgment than Allah for a people who have firm Faith." (5:50)
May Allah rectify the affairs of Muslims in America and everywhere else, and return this Ummah to the honor and respect it once had.
__________________________________
YASER BIRJAS

I truly felt more republican on some issues than democrat but couldn't imagine McCain-Palin in the White House. The only thing that struck me while I was watching both McCain and Obama's speeches, that I was watching a truly historical event. Many people such as Martin Luther King died dreaming for something even less than that, and now here I am living to see some history in the making.
How positive or negative the impact of this in the future was not really an issue to me at that moment. The issue was to believe that with hard and sensible work, with enduring prejudice and all kind of stereotypes things by the will of Allah can happen. Silence or negativity during those difficult moments of our time were definitely not an option.
__________________________________
This was a very interesting and important election for many reasons that have been elaborated upon. I found this election to be of special interest to me, primarily due to the thumping the republican party received both locally here in North Texas and of course nationally. We have been suffering locally, nationally, and even worldwide on the republican watch. So it was nice to see them deal with the consequences of their actions and policies.
NO MORE SARAH PALIN! Well at least not for a couple of years. She's saying she wants to run for president. Looks like Tina Fey doesn't have to worry about a job. :)
Another point that struck me was how far the African American community has been able to come in half a century, despite all the challenges and adversity they faced. It was fascinating to see how things have developed.
Lastly in deciding whether or not to participate in the voting process, we should remember to be respectful towards each other and treat others the way you would like to be treated.
Allah knows best.
__________________________________
I have perhaps one of the most interesting journeys of the 2008 election (of the MM staff maybe anyways). I have struggled to some extent with where I stand on voting, ultimately deciding that I was not going to partake in the election. My only reason for participating would be with the premise of choosing which candidate would be better for the Muslim Ummah – if such a conclusion could be reached. While debating the issue of who was really the lesser evil, I could not decide. I feel Obama is better for America, but I don't know that it translates into who is necessarily best for Muslims everywhere. And while I understand the arguments of those opposing voting on Islamic grounds, I also personally feel that those allowing it in our situation – using the tools available to you to better your situation until you have a better alternative – have the more compelling argument.
While trying to come to grips with who was better for the Muslims, my gut told me Obama was. I could not help shake my guilty conscience though, that still gnaws at me from 8 years ago. If you recall, back then the "Muslim thing to do" was to vote for Bush. I did my civic duty as a Muslim and made sure I voted for him. I have regretted it every day since.
I learned that while it's important to be involved in society, I concluded that voting didn't need to be one of the ways – legitimate an option for us it may be. I realized that I simply could not identify the lesser of two evils simply based on campaigning and empty stances on canned issues, especially when despite Obama's anti-war stance he is still anti-Palestine. Therefore, I decided to abstain from voting in this election, as I did in the previous election.
Then, in the span of 30 minutes, everything got turned upside down. Parents have a tendency to do that. My mom, of all people, called me while I was working asking me if I had voted. I said no. She said go, the lines are short. I said ok, I'll see, I have some work to do. A few minutes later she called again. I again made some excuse. Then she called a third time, and I said I would see about it after going to the Masjid – except this time she got frustrated and said to go ahead and go now and not to miss out.
I am now in what you might call a predicament, a conundrum of sorts. She's not ordering me with something I consider to be blatantly haram, and having an argument with my parents about voting is not my idea of a nice evening at home. So I said khayr, I will obey my mother and go out and vote. Birr al-walidayn overrides an issue of ijtihad such as this in my mind (I have a tendency to create fatwa situations in real life that others would never even think of hypothetically).
The story doesn't end there. I walk in and feel uncomfortable just being there. I made a quick du'a, something along the lines of being guided to whatever was going to be best for me in my affairs. I go to the table, whip out my registration card, and hand it to them. My registration card is from around 1999-2000 (wow I feel old). My name is not in their list. The address on my card was from when I lived at home and was going to college. No problem they said, they'd find where I could go vote and started checking my previous address. That didn't help much because in the last 5 years I have moved probably 4 times, including a 2 year stint in another state. And that's what got me. My registration expired while I was in the other state, and the post office is not allowed to forward mail for voter registration, so I never received my renewal notice. My 'civic duty' when I moved back to my present state would have been to re-register as a resident of the state and be eligible to vote. So I re-registered, but I was not allowed to vote today. So Alhamdulillah, I made my mom happy, and I feel at ease for not voting for someone that I might regret later.
As I write this, Obama looks like a run-away winner. I'm happy that he won as opposed to McCain, but what I have learned from 2000 is not to get too excited. Make dua' for the Ummah, it's much more important. I pray that Allah (swt) makes our affairs easy here, puts barakah in our dawah efforts, makes it easy for us to combat the negativity spread about us here, and saves the Muslims from the disasters we have seen abroad in the past 8 years.
__________________________________
As a Chicagoan, it was something else to see Obama take the victory right in my own home city. I knew people who went to Grant Park for his victory speech and even saw some Muslims I knew on TV. This election and the events that led up to it were truly something else. On a humorous note, my wife and I jokingly kinda wished they would've increased the "Chicagoness" of the celebration. How so? For one, they should've had the starting lineup intro for the Chicago Bulls play, with an all-star Chicago "starting lineup". Oprah, Rev. Jesse Jackson, Kanye West, Michael Jordan, and finally, the man of the hour, Barack Obama. The bench would consist of Common, Derick Rose, Roger Ebert, Mike Ditka, Al Bundy, Bill Murray, Lupe Fiasco, the Perfect Strangers, Steve Urkel, Christian Bale as Batman from The Dark Knight, okay now I'm just getting carried away.
As a recent college graduate looking for a job in a recession, I'm both relieved the republican party of McCain lost and the democratic Obama team took the stage. As Imam Suhaib said, Obama's more about socializing the benefits for the masses, not privatizing them. I personally like Obama's constant focus on the middle to lower class of America and not on supposed plumbers making $250,000+ a year.
As a Muslim, I have two feelings. Firstly, I'm relieved McCain and Sarah Palin weren't elected. Besides the fact that Palin is a walking embodiment of epic fail, their campaign carried a lot of blatant much anti-Muslim baggage. I'm glad the likes of Gayle Quinnell, the McCain supporter that didn't trust Obama because he was "an Arab," won't have any more say in things than they deserve.
The other feeling I have is of concern for all Muslims in their support for Barack Obama. Most Muslims I know voted and supported Obama, either on the basis of his superior domestic policies or the negative characteristics of McCain and his ilk. Obama's the candidate who explicitly stated supporting the closing of Guantanamo Bay. That, amongst other reasons, is why we can consider him a lesser of two evils. However, I really advise us Muslims to take Obama's victory with a grain of salt.
Obama has stated he wants to send forces into Pakistan, as well as increase focus in Afghanistan. This is very worrisome for me as a Muslim, because with the way US Foreign policy goes, invading primarily Muslim lands has been nothing short of disastrous.
So while we may get excited and get somewhat emotional of having the candidate we voted for win, I want to remind everyone that Barack Obama is not perfect. He is not a savior or Mehdi for us, and he is not our avenue for sole trust in all affairs. He's a human being, and a politician at that. Therefore, he is going to make mistakes. Better to believe this now, and remember it when conflicts between the US' interests come between ours, especially on a foreign level.
We ask Allah protect us and bring us justice.
__________________________________
I believe in the principle of voting in order to avert the greater of two evils, however I chose not to vote in this election. The following are my concerns about Obama:
It seems he will be continuing the war in Iraq for the foreseeable future.
He is pro-Israel.
He is indicated his readiness to expand the Afghanistan war into Pakistan.
On the domestic front, he approved the Patriot Act.
I would honestly like to believe that with a Democratic Congress and President, there will be an improvement on the civil rights front, but the Democratic Party has been complicit in the gross civil rights violations of the Bush Administration.
I hope I am wrong and that the two wars come to an end soon, but I think that the ongoing economic troubles in the US and the tenacity of the military insurgencies in Afghanistan and Iraq will have more to do with it than the election of Obama.
I think if the economic troubles continue to grow, the government will be under more and more pressure from the public to end the war. This would be a dilemma however for Muslims in America because the public will also be more receptive to anti-Muslim demagoguery of the sort that has already been seen in many European countries.
__________________________________
For a while before the election, I was seriously contemplating voting for Obama, simply because I was quite scared of what McCain would do to the Muslim world, were he to be elected. However, as days got closer to the election, I began to think to myself that, in spite of his rhetoric, Obama probably would not be that different from the status quo. Sure, he said he wants to end the war in Iraq (and I'm not sure if I even trusted him on this one), but he said that in conjunction with saying that he will re-double the military effort in Afghanistan, which implies North Pakistan as well. In addition, hearing Joe Biden's excessive drooling over Israel, and Obama's approval (and many times outright praise himself), made me think that basically, although we might see SOME slight improvements under Obama, things would basically stay the same.
At the end of the day, I was not really 100% convinced that Obama would be the lesser evil… maybe 50% sure, but not sure enough to give my endorsement… and I was more afraid of, if I voted for him, thereby endorsing him, and he went off and killed many more Muslims in Afghanistan or Pakistan or elsewhere, that I would feel quite accountable for having voted for him. So, Alhamdulillah, I decided to protest the election by not voting. To those who would criticize my action as "inaction," I remind that in many countries, people purposely do not vote as a way of voicing their disapproval of the system, and as a way of showing that whoever is elected does not hold the support of the people. Sure, that lack of support did not occur from Americans this election cycle (as people came out in record numbers), but it occurs from the individual, Ahmad AlFarsi, who refused to show his support for either candidate. I think if Ron Paul, or someone who held his non-interventionist views on foreign policy, were running, I would have voted for that candidate.
Although I did not vote, as I did not wish to give my official endorsement, I was closely following the results of the election, still hoping that McCain would lose. I don't have a TV, so I followed on CNN.com. I saw Pennsylvania go Obama, then Ohio, and saw that he had 207 votes without counting any of the west coast states, so at that point I knew he had it in the bag. When CNN officially announced that Obama won, despite my serious doubts about him, I couldn't help but feel happy… if for no other reason, then simply because a presidency by a man named Barack Hussein Obama, who has three very foreign sounding, and two Arabic names, would mean that no matter how racist or prejudiced other Americans wanted to be, they would have to swallow the fact that their president has the middle name Hussein and has close family ties to Muslims, and that his name doesn't sound white or European in the least bit. That in and of itself, is seen by me as form of progress in this country, and it's a true, "in your face" to all the racist rednecks that still live here. Of course, I'm still hoping that the ultra-right wingers were correct, and that Obama has been a closet Muslim this whole time… who knows, Insha'Allah, on inauguration day, maybe he will pick up the mic, and begin his speech with "Inna al-hamdalillaah, nahmaduhu wa nasta'eenuhu wa nastaghfiruh…" :) too bad that's not happening … unless we start giving him some serious dawah starting now… get his half-brother Malik Obama in on this, Insha'Allah :)
As a side note, I do have one criticism of Muslim groups that have been advocating Muslim voting. I believe that at times it is being done in such a way that an average Muslim who knows little about his religion will be misled into thinking that secular democracy is legitimate from an Islamic point of view. We should be able to advocate voting, while still mentioning the disclaimer that we do not believe that secular democracy is Islamically-legitimate form of government for Muslims; rather, we are only picking the lesser evil. wa Allahu a'lam.
__________________________________
Innalhamdolillah. There is no deity worthy of worship other than Allah. The Lord of Abraham and Isaac. The Lord of Moses and Jesus. The Lord of Muhammad and of every human being. May prayers and blessing be on all the Prophets of Allah.
Indeed Allah is the One Who Rewards, and He is the One Who Advances and the One Who Delays. And Allah does no injustice, ever, to anyone. Allah has taught us in the Qur'an that the wakeels of those who defy Him, the ones in whom the ingrates place their trust, are false idols. While Allah is the One on Whom believers rely. But more than that, Allah is our Mawla, the One Who Can Act on our behalf, while the disbelievers who call on other than Him, have no one to answer them. Yet Allah answers the prayers of anyone who calls on the Lord alone.
The Prophet salallahu alahi wasalam taught us that no one knows what future Allah has Decreed for him until he witnesses it, so a person must strive all the time for what is good and place his trust in Allah. That is tawakkul, that is reliance on Allah: striving combined with trust. Verily, the Prophet taught the truth, Alhamdulillah.
So there is no people on earth who should believe more than Muslims that righteous works will be rewarded. And there is no people on earth who should be more steadfast in good works than the Muslims. So how is it that we are a people who constantly say what cannot be done? We have become a people in need of a reminder.
Allah does not disdain to use even a mosquito as an example. And He has used mighty nations who were in Kufr as examples to all the Muslims, and I remind you now of the Surah revealed about the Romans. How Allah told of the loss that Byzantine Rome was suffering against the armies of the Persian Empire. The example is important for us for many reasons: the Muslims were disheartened at the plight of the Romans because the Muslims loved the Christians who also worshipped Allah. And the idolaters of Makkah who persecuted the Muslims were glad for the Persians who were also engaged in shirk, taking false deities besides Allah.
And in that surah, Allah uplifted the Muslims with the foretelling of a Roman victory in the years to come. That bears highlighting, too, Allah uplifted the Muslims with a Promise of victory for the Christian empire.
So, I pray that Allah will accept my joy for America on the occasion of the outcome of its Presidential Election.
In electing a black man, the son of a black Kenyan Muslim and a white Kansan Christian, America has done something good. Something on the scale of the defeat of Persia by Rome. And all Muslims should take note, and take heart.
Take note of the accomplishment. A man whom other black politicians had judged as brash for wanting to seek the office he has now won, did not constantly seek out reasons for failure. He sought out the means to succeed. Did he call out to Allah, perhaps by other names such as "God"? I do not know, and only Allah Knows. And I do not want any of the rights of Allah, among them Allah's Sovereign Right as Lord of All Creation to dispense sustenance, victory, and acclaim to Whomever He Wills. Verily Allah Does as He Pleases, and for me is only to accept His Will with humility.
Take note of the moment in history. As Rome turned the tide against Persia, so America has reached a milestone in its continuing epilogue to the end of slavery in these lands. America was torn apart by a Civil War largely over chattel slavery, which in America had become the most vile incarnation of slavery in history. Before the Civil War, the Supreme Court of the United States in Dred Scott v. Sanford would declare that slaves were not people. And a president from Illinois would emancipate all the slaves. And one hundred years after that president was assassinated, an iconic black preacher would be assassinated for continuing to dream of racial equality in America. We are now some 400 years after the first Africans were brought to Colonial America, and a descendant of their free cousins in Kenya has been elected President of the United States because he and millions of Americans never gave up hope.
Take heart. For Allah has given us an example of His willingness to reward the persistence of hope, and our hope is in Allah. As Muslims, we must never forget the lessons of our Lord. And we must always strive to do what is good. Take heart from the victory of this nation over its own worst demons, and commit yourselves as I do myself to increasing justice for Muslims and all peoples in every corner of the world.
And always, always remember, with the Mercy of Allah, yes, we can.
__________________________________
When I began watching the primary debates what seems like ages ago, I made two picks, one for the Democrats and one for the Republicans – I believed this race would be between Barack Obama and Mitt Romney, the two most telegenic and oratorically formidable candidates in the race, not to mention strongly competent on the issues facing the nation.
What I did not anticipate were the obstacles both candidates would face about their backgrounds and positions, nor did I properly estimate John McCain's resilience and wider appeal to moderates as I had thrown him in with the rest of the neo-cons due to his position on the Iraq War. Obama persevered and Romney fell, while McCain found new life away from what is often called "The Base".
Obama's victory over McCain last night was an emotional one on many levels. There is now hope at the end of the dark tunnel that was George Bush's presidency these past eight years. A non-caucasion was finally president, and one could not help but feel emotional watching so many black americans in tears.
Listening to McCain's concession speech, I thought to myself, had this man speaking now been the one running the race throughout, respectfully and dignified, rather than the gnashing at the teeth campaign reminiscient of George Bush's Rove run campaigns, he most likely would have faired better and perhaps even won.
And Obama's speech…that was one for the books (and youtube replays). It struck the right chord at a time when people are so desparately in need to believe that whatever challenges they face now, they have an opportunity to rise to the occasion and do and be better than they had been these past 40 odd years.
One final note of caution – though I'm sure you'll have read many posts already on being wary of Obama, I would additionally add that Muslims now more than ever have to be vigilant of their interests domestically and globally. The Muslim community supported Bush precisely because it viewed Clinton and his actions in the way we are now viewing Bush (Iraq sanctions, Afghanistan sanctions, etc). The democrats are now the majority in the House, the Senate, and of course, they run the White House as well. My experience has been thus far that it is always good to have a balance between the two parties rather than an imbalance, otherwise, the government abuse runs rampant, and we do not want Muslims to be one of the casualties as a result of that.
__________________________________
Obama has turned a page in the American history. He was able to get people united around a central simple idea: yes, we can change the world, if we want to. Above all the debates of ideas and political readiness, Obama has embodied the power of the will. However, let's not fool ourselves by the euphory of the moment. The first Afro-American President in the history must also have taken some positions against his owns, change some of his ideals, work with the dark side to be where he is today. Let's be realistic, in politics, nothing is what it seems. America has a new leader, but can the winner change the rules of the game? I doubt…
Zahra Billoo Responds To The Women's March Inc. Voting Her Off The New Board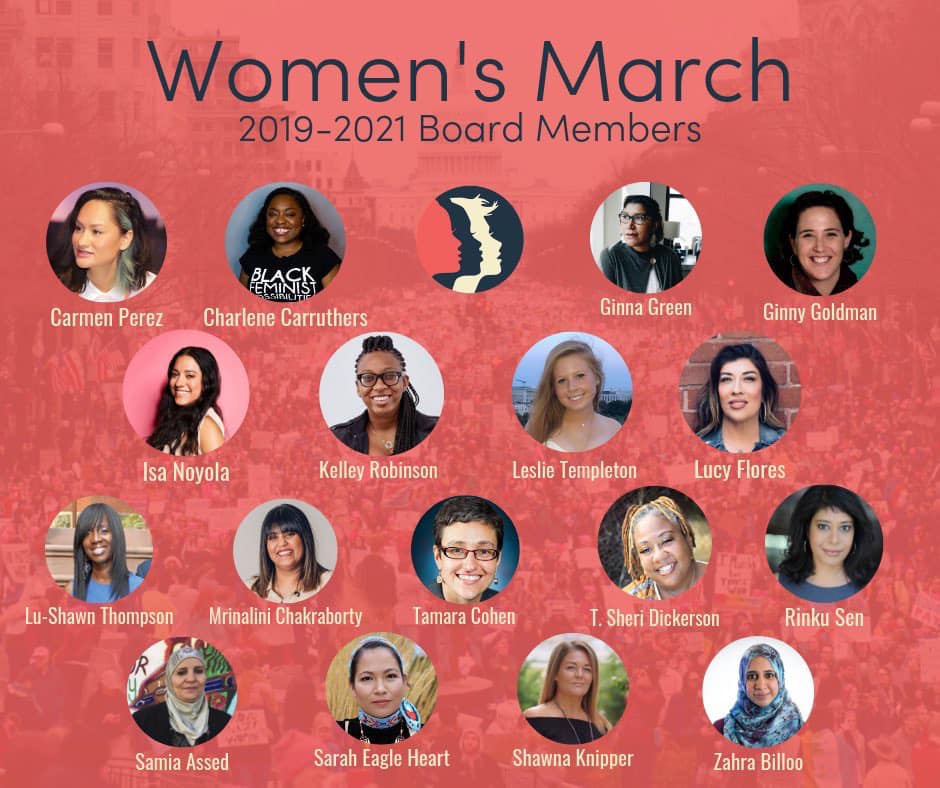 Earlier tonight, I was voted off the Women's March, Inc. national board. This followed an Islamophobic smear campaign led by the usual antagonists, who have long targeted me, my colleagues, and anyone else who dares speak out in support of Palestinian human rights and the right to self-determination.
The past 48 hours have been a spiral of bad news and smear efforts. Part of the smear campaign is motivated by opponents of the Women's March, because the organization has traditionally challenged the status quo of power and white supremacy in our country. However, much of the campaign is driven by people who oppose me and my work challenging the occupation of Palestine, our country's perpetuation of unjust and endless wars, and law enforcement operations targeting the American Muslim community.
The Women's March, Inc. is an organization I once held dear. I spoke at the first march, spoke at regional marches every year after, spoke at the convention, participated in national actions including the original Kavanaugh protests, and worked to mobilize Muslim women for their efforts.

During the past few years right-wingers, from the President's son to the Anti-Defamation League and troll armies, have targeted the Women's March, Inc. For so long, I've admired their resilience in speaking truth to power, in working together, and in never cowering. Over and over again, the co-founders of Women's March, Inc. put their lives on the line, winning power for all women in all of our diversity. The Women's March, Inc. that voted me off its board tonight is one that no longer demonstrates the strength that inspired millions of women across the country.
To see and experience its new leaders caving to right-wing pressure, and casting aside a woman of color, a Muslim woman, a long-time advocate within the organization, without the willingness to make any efforts to learn and grow, breaks my heart. This isn't about a lost seat, there will be many seats. The Women's March, Inc. has drawn a line in the sand, one that will exclude many with my lived experiences and critiques. It has effectively said, we will work on some women's rights at the expense of others.
To be clear, anti-semitism is indeed a growing and dangerous problem in our country, as is anti-Blackness, anti-immigrant sentiment, Islamophobia, ableism, sexism, and so much more. I condemn any form of bigotry unequivocally, but I also refuse to be silent as allegations of bigotry are weaponized against the most marginalized people, those who find sanctuary and hope in the articulation of truth.
In looking at the tweets in question, I acknowledge that I wrote passionately. While I may have phrased some of my content differently today, I stand by my words. I told the truth as my community and I have lived it, through the FBI's targeting of my community, as I supported families who have lost loved ones because of US military actions, and as I learned from the horrific experiences of Palestinian life.
In attempting to heal and build in an expedited manner within Women's March, Inc., I offered to meet with stakeholders to address their concerns and to work with my sisters on the new board to learn, heal, and build together. These efforts were rejected. And in rejecting these efforts, the new Women's March, Inc. demonstrated that they lack the courage to exhibit allyship in the face of fire.
I came to Women's March, Inc. to work. My body of work has included leading a chapter of the nation's largest Muslim civil rights organization for over a decade, growing it now more than six-fold. In my tenure, I have led the team that forced Abercrombie to change its discriminatory employment policies, have been arrested advocating for DACA, partnered with Jewish organizations including Bend the Arc and Jewish Voice for Peace to fight to protect our communities, and was one of the first lawyers to sue the President.
It is not my first time being the target of a smear campaign. The Women's March, Inc., more than any place, is where I would have expected us to be able to have courageous conversations and dive deep into relationship-building work.
I am happy to have as many conversations as it takes to listen and learn and heal, but I will no longer be able to do that through Women's March, Inc. This action today demonstrates that this organization's new leadership is unable to be an ally during challenging times.
My beliefs drive my work, and I am not seeking accolades or positions of power. These past few days have been the greatest test of that. My integrity, my truth, and my strength comes from God and a place of deep conviction. I will continue my work as a civil rights lawyer and a faith-based activist, speaking out against the occupation of Palestine and settler-colonialism everywhere, challenging Islamophobia and all forms of racism and bigotry in the United States, and building with my community and our allies in our quest to be our most authentic and liberated selves.
Onward, God willing.
Obituary of (Mawlana) Yusuf Sulayman Motala (1366/1946 – 1441/2019)
Monday, September 9, turned out to be a day of profound anguish and sorrow for many around the world. In the early morning hours, news of the death of Mawlana* Yusuf Sulayman Motala, fondly known as "Hazrat" (his eminence) to those who were acquainted with him, spread. He had passed away on Sunday at 8:20 pm EST in Toronto, after suffering a heart attack two weeks earlier.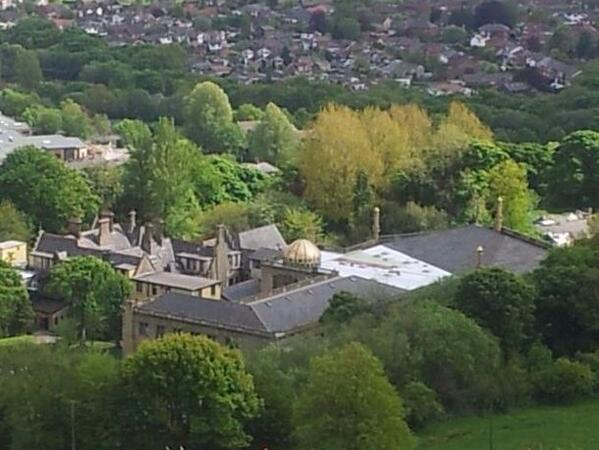 A master of hadith and Qur'an. A sufi, spiritual guide and teacher to thousands. A pioneer in the establishment of a religious education system. His death reverberated through hearts and across oceans. We are all mourning the loss of a luminary who guided us through increasingly difficult times.
Monday, September 9, turned out to be a day of profound anguish and sorrow for many around the world. In the early morning hours, news of the death of Mawlana* Yusuf Sulayman Motala, fondly known as "Hazrat" (his eminence) to those who were acquainted with him, spread. He had passed away on Sunday at 8:20 pm EST in Toronto, after suffering a heart attack two weeks earlier. (May the Almighty envelope him in His mercy)
His journey in this world had begun more than 70 years ago in the small village of Nani Naroli in Gujarat, India, where he was born on November 25, 1946 (1 Muharram 1366) into a family known for their piety.

His early studies were largely completed at Jami'a Husayniyya, one of the early seminaries of Gujarat, after which he travelled to Mazahir Ulum, the second oldest seminary of the Indian Sub-Continent, in Saharanpur, India, to complete his 'alimiyya studies. What drew him to this seminary was the presence of one of the most influential and well-known contemporary spiritual guides, Mawlana Muhammad Zakariyya Kandhlawi (d. 1402/1982), better known as "Hazrat Shaykh." He had seen Mawlana Zakariyya only briefly at a train stop, but it was enough for him to understand the magnitude of his presence.
Mawlana Yusuf remained in Saharanpur for two years. Despite being younger than many of the other students of Shaykh Zakariya, the shaykh took a great liking to him. Shaykh Zakariya showered him with great attention and even deferred his retirement from teaching Sahih al-Bukhari so that Mawlana Yusuf could study it under his instruction. While in Saharanpur, Mawlana Yusuf also studied under a number of other great scholars, such as Mawlana Muhammad 'Aqil (author of Al-Durr al-Mandud, an Urdu commentary of Sunan Abi Dawud and current head lecturer of Hadith at the same seminary), Shaykh Yunus Jownpuri (d. 1438/2017) the previous head lecturer of Hadith there), Mawlana As'adullah Rampuri (d. 1399/1979) and Mufti Muzaffar Husayn (d. 1424/2003).
Upon completion of his studies, Mawlana Yusuf's marriage was arranged to marry a young woman from the Limbada family that had migrated to the United Kingdom from Gujarat. In 1968, he relocated to the UK and accepted the position of imam at Masjid Zakariya, in Bolton. Although he longed to be in the company of his shaykh, he had explicit instructions to remain in the UK and focus his efforts on establishing a seminary for memorization of Qur'an and teaching of the 'alimiyya program. The vision being set in motion was to train a generation of Muslims scholars that would educate and guide the growing Muslim community.
Establishing the first Muslim seminary, in the absence of any precedent, was a daunting task. The lack of support from the Muslim community, the lack of integration into the wider British community, and the lack of funds made it seem an impossible endeavour. And yet, Mawlana Yusuf never wavered in his commitment and diligently worked to make the dream of his teacher a reality. In 1973 he purchased the derelict Aitken Sanatorium in the village of Holcombe, near Bury, Lancashire. What had once been a hospice for people suffering from tuberculosis, would become one of the first fully-fledged higher-education Islamic institutes outside of the Indian-Subcontinent teaching the adapted-Nizami syllabus.
The years of struggle by Maulana Yusuf to fulfil this vision paid off handsomely. Today, after four decades, Darul Uloom Al Arabiyya Al Islamiyya, along with its several sister institutes, also founded by Mawlana Yusuf, such as the Jamiatul Imam Muhammad Zakariya seminary in Bradford for girls, have produced well over 2,000 British born (and other international students) male and female 'alimiyya graduates – many of whom are working as scholars and serving communities across the UK, France, Belgium, Holland, Portugal, the US, Canada, Barbados, Trinidad, Panama, Saudi Arabia, India and New Zealand. Besides these graduates, a countless number of individuals have memorized the Qur'an at these institutes. Moreover, many of the graduates of the Darul Uloom and its sister institutes have set up their own institutes, such as Jamiatul Ilm Wal Huda in Blackburn, Islamic Dawah Academy in Leicester, Jami'ah al-Kawthar in Lancaster, UK, and Darul Uloom Palmela in Portugal, to just mention a few of the larger ones. Within his lifetime, Mawlana Yusuf saw first-hand the fruit of his labours – witnessing his grand students (graduates from his students' institutes) providing religious instruction and services to communities around the world in their local languages. What started as a relationship of love between a student and teacher, manifested into the transmission of knowledge across continents. In some countries, such as the UK and Portugal, one would be hard-pressed to find a Muslim who had not directly or indirectly benefited from him.
Mawlana Yusuf was a man with deep insights into the needs of Western contemporary society, one that was very different from the one he had grown up and trained in. With a view to contributing to mainstream society, Mawlana Yusuf encouraged his graduates to enter into further education both in post-graduate Islamic courses and western academia, and to diversify their fields of learning through courses at mainstream UK universities. As a result, many 'alimiyya graduates of his institutes are trained in law, mainstream medicine, natural medicine and homeopathy, mental health, child protection, finance, IT, education, chaplaincy, psychology, philosophy, pharmacy, physics, journalism, engineering, architecture, calligraphy, typography, graphic design, optometry, social services, public health, even British Sign Language. His students also include several who have completed PhDs and lecture at universities. His vision was to train British-born (or other) Muslim scholars who would be well versed in contemporary thought and discipline along with their advanced Islamic learning, equipping them to better contribute to society.
Despite his commitment to the establishment of a public good, the shaykh was an immensely private person and avoided seeking accolade or attention. For many decades he refused invitations to attend conferences or talks around the country, choosing to focus on his students and his family, teaching the academic syllabus and infusing the hearts of many aspirants with the love of Allah through regular gatherings of remembrance (dhikr) and spiritual retreats (i'tikaf) in the way of his shaykh's Chishti Sufi order.
During my entire stay with him at Darul Uloom (1985–1997), I can say with honesty that I did not come across a single student who spoke ill of him. He commanded such awe and respect that people would find it difficult to speak with him casually. And yet, for those who had the opportunity to converse with him, knew that he was the most compassionate, humble, and loving individual.
He was full of affection for his students and colleagues and had immense concern for the Muslim Ummah, especially in the West. He possessed unparalleled forbearance and self-composure. When he taught or gave a talk, he spoke in a subdued and measured tone, as though he was weighing every word, knowing the import it carried. He would sit, barely moving and without shifting his posture. Even after a surgical procedure for piles, he sat gracefully teaching us Sahih al-Bukhari. Despite the obvious pain, he never made an unpleasant expression or winced from the pain.
Anyone who has listened to his talks or read his books can bear testimony to two things: his immense love for the Messenger of Allah

and his love for Shaykh Mawlana Muhammad Zakariya Kandhlawi (may Allah have mercy on him). It is probably hard to find a talk in which he did not speak of the two. His shaykh was no doubt his link to the Messenger of Allah (Allah bless him and give him peace) in both his hadith and spiritual transmissions.
Over the last decade, he had retired from most of his teaching commitments (except Sahih al-Bukhari) and had reduced meeting with people other than his weekly dhikr gatherings. His time was spent with his family and young children and writing books. His written legacy comprises over 20 titles, mostly in Urdu but also a partial tafsir of the Qur'an in classical Arabic.
After the news of his heart attack on Sunday, August 25, and the subsequent effects to his brain, his well-wishers around the world completed hundreds of recitals of the Qur'an, several readings of the entire Sahih al-Bukhari, thousands of litanies and wirds of the formula of faith (kalima tayyiba), and gave charity in his name. However, Allah Most High willed otherwise and intended for him to depart this lowly abode to begin his journey to the next. He passed away two weeks later and reports state that approximately 4,000 people attended his funeral. Had his funeral been in the UK, the number of attendees would have multiplied several folds. But he had always shied away from large crowds and gatherings and maybe this was Allah Most High's gift to him after his death. He was 75 (in Hijra years, and 72 in Gregorian) at the time of his death and leaves behind eight children and several grandchildren.
Mawlana Yusuf educated, inspired and nourished the minds and hearts of countless across the UK and beyond. May Allah Almighty bless him with the loftiest of abodes in the Gardens of Firdaws in the company of Allah's beloved Messenger (Allah bless him and give him peace) and grant all his family, students, and cherishers around the world beautiful patience.
Dr Mufti Abdur-Rahman Mangera
Whitethread Institute, London
(A fortunate graduate of Darul Uloom Bury, 1996–97)
*a learned Muslim scholar especially in India

—

often used as a form of address
Sherman Jackson, CVE, UAE and some questions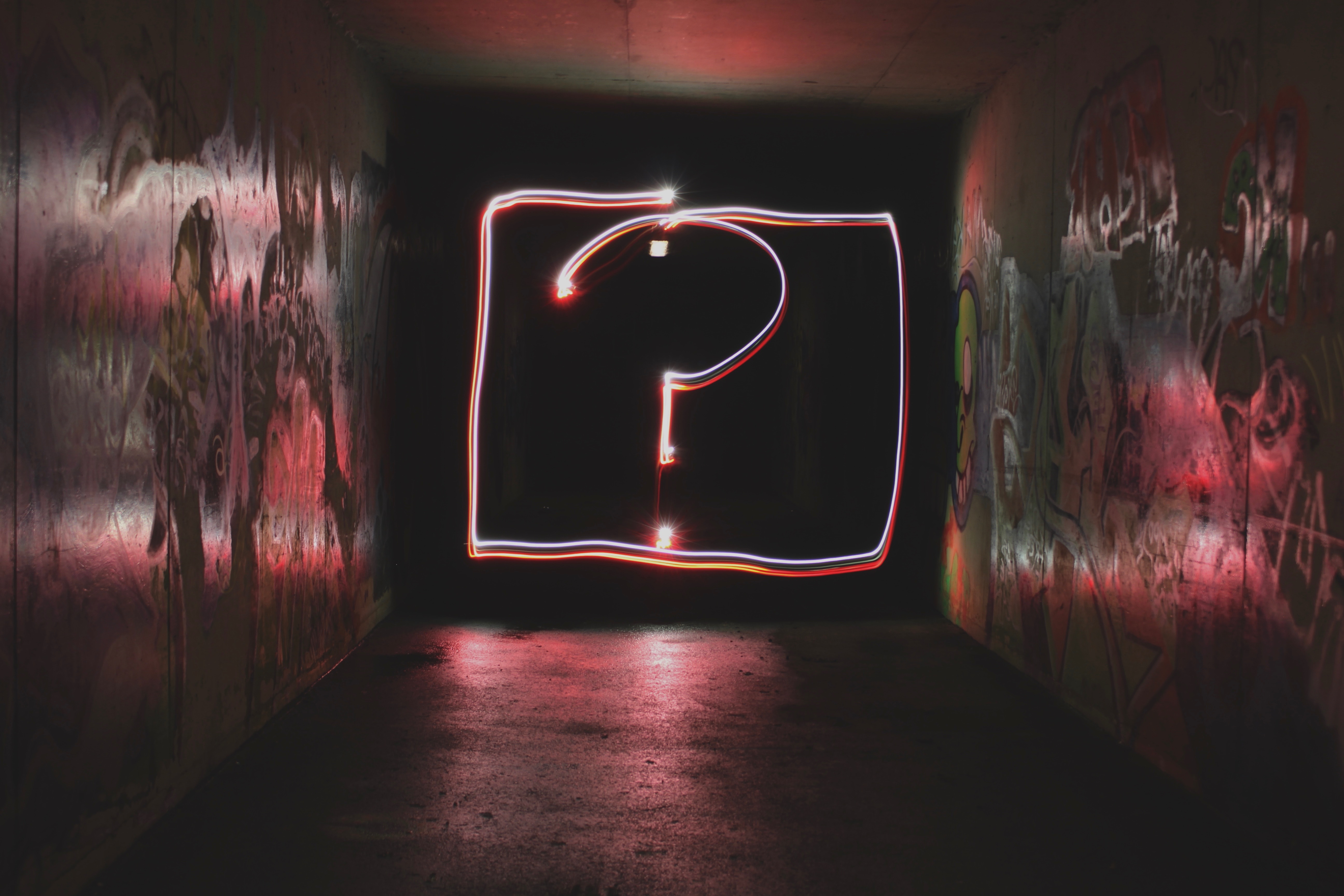 For Muslims in the United States, it is easy to fall for the fallacy of "American Muslim exceptionalism." Some Muslims view Muslim-majority countries as dark, corrupt, and authoritarian places while we in the United States are the light. As we have written about in various contexts, including Zakat abuse and Countering Violent Extremism (CVE), the Muslim community's leaders are capable of corruption and other abuses. There is no reason to believe  Muslims in the United States are any better than Muslims anywhere else.
A few years ago, the federal government started to offer ways for Muslims to profit from the global war on terrorism. It started a race among the unscrupulous to show national security-focused agencies and even foreign governments, how they are best qualified to tame Muslims and Islam. In CVE, Muslims were singled out as a problem religion and a problem community, though they did not start out being explicit about this.  There was strong opposition to CVE from Muslim communities and others and those who organized and worked hard to oppose it found success.
One group of Muslims that for the most part, we did not see participate in CVE were our students of knowledge, our Islamic teachers. Many cared about the dignity of their community and their religion. We can be grateful for this. Unfortunately, there were exceptions.  As a community, it is vital we hold our leaders accountable and correct things when they are wrong. Ali Al-Arian recently called attention to the CVE work of Dr. Sherman Jackson which was uniquely troubling among various CVE ventures for reasons I will discuss below. Jackson's response was inadequate, and he needs to do better.

Sherman Jackson in the CVE racket
Dr. Sherman Jackson has been a player in CVE (Countering Violent Extremism) for several years. Unlike other CVE proponents in the Muslim community, Jackson did not speak in American Muslim spaces on the subject as best as I am aware.  CVE is the now widely discredited, (yet somehow still very much alive in various forms) project to move the war on terrorism to Muslim spaces, in schools, and in mental health.  Jackson was a commissioner in the Council of Strategic and International Studies (CSIS) CVE Commission in November 2016.  You can read their CVE report online.  
Former British Prime Minister Tony Blair and former CIA Director and Defense Secretary Leon Panetta co-chaired this CVE Commission.   The report represents a consensus view of all commissioners.  Jackson was only one of two known Islamic scholars who lent their name to this project.  
This "comprehensive new strategy" was meant to be for the benefit of the next President of the United States, assumed to be Clinton. The person who ended up as President seemed uninterested in the advice provided mainly by supporters of his opponent.  
Ali Al-Arian and Sherman Jackson 
Al-Arian's description of Jackson's CVE efforts and UAE collaboration is sparse.   Most of his article is not really about Jackson's CVE work and UAE connections and outside my scope. Though it clearly made a big impact on Jackson.
Dr. Sherman Jackson corrects a few of Al-Arian's minor mistakes and offers an emotional rebuttal.  He was not an "advisor" to the commission, but a commissioner himself. The product of the commission is Jackson's product, however. Putting his name on it was his choice.  CSIS is not a "right-wing" organization. They are worse than that, something I will get to below.
Other claims by Jackson were speculative at best (Tony Blair would not have wanted him on the commission) or require clarification.  I hope Sherman Jackson will be able to clarify these from the questions below.
White Supremacy
I am not interested in engaging on Dr. Sherman Jackson's racial politics and views on immigrants or Al-Arian's preferred framing in the context of global empire and white supremacy as a system. Instead, it is more useful to look at white supremacy in the context of CVE.  In the national media, CVE has come back into vogue as a way to address mass-shootings by white-nationalists. It has come up recently after the El Paso shooting, for example.    
Those who want to look to CVE as a way to prevent ideological violence in the name of white supremacy will find no help from the CVE Commissioners. The only CVE Dr. Sherman Jackson co-signed is interested in is targeting Muslims. The CVE Commission Report helpfully tells us what a "violent extremist" is. On page 2 of the report, the commissioners (including Dr. Jackson) tell us:
Throughout this report, we use the general term "violent extremism" to refer to the subset of violent extremist organizations that claim the religion of Islam as their motivating source and to justify their nefarious goals, and the term "extremist" to describe the ideologies and narratives deployed by these groups. 
Quite simply, for purposes of US Government policy, the CVE Commission was advocating that Muslims and Muslims alone can be capable of violent extremism. Nobody from any other religion or anyone with a secular ideology could be a violent extremist.  
A stylistic departure for CVE
For the CVE Commission, this was a stylistic departure from the Obama Administration CVE policy, which claimed to address other forms of extremism. However, it was always clear that while there was no real intention to address white supremacy. The war on terror involved spying on Muslim students going rafting but the government did not even know who the armed white supremacist groups were. CVE was always meant to single out the Muslim community, like the rest of the war on terror.  
The CVE Commission would have done away with any Obama-era window dressing. Leaving CVE as the preferred term to not offend partners, who may not sign up for a program called "Countering Islamic Extremism" (a term Republicans would prefer). In a sense, it was more honest than the Obama Administration policy. Another bout of honesty from the CVE Commission is that CVE is not an alternative to the war on terror. It is part of the war.  
Dylann Roof was not a violent extremist because he was not Muslim
In 2015, the year the work of the CVE Commission started, Dylann Roof walked into a black church in Charleston, South Carolina and murdered nine worshipers.  Violence by white supremacists had a long history in the United States before 2015, a fact Dr. Jackson had known. White nationalist violence has continued since.   
Dr. Jackson, who has proclaimed himself to be the most "explicit" and "eloquent" on white supremacy, somehow managed to co-sign a report that failed to include the murder of black people in a church by a white supremacist in the definition of "violent extremism." Indeed the document with his name on it failed to mention white supremacy even once while claiming to be a "comprehensive new strategy."  It appears Dr. Jackson was unable to be either "explicit" or "eloquent" on white supremacy when it may have mattered.  
The co-chairs dismissed "extremism" by non-Muslims as something we should worry about by stating that "we must be clear-eyed about the nature of the enemy." That makes sense, CVE is an extension of the war on terrorism.  
The Value Proposition 
The CVE Commission report, other than to commit exclusively to the perceived Muslim problem, something Republicans already did in the CVE Grants Act in 2015, was not groundbreaking.  The document recycled tropes and jargon from prior CVE documents.  The commissioners failed to offer any solutions other than providing more funding to programs that are "proven."   Objectively, there have never been any proven CVE programs. The report included "enlisting" technology, religious and other sector leaders, getting the White House to lead, and other meaningless gobbledygook. None of this was actionable as policy, except the funding part.  
How do governments fight ideologies they don't like without getting into thought policing? Is there a way to know if someone is about to become a terrorist in the future? How do we prevent CVE from merely becoming code for political repression? You won't find answers to any of this in the CVE Commission report.  
CVE was never able to live up to its promise of being a solution to anything. According to an FBI study, for example, there is no way to tell by looking at someone's ideology that they are more likely to commit violence.  CVE was always a corrupt and fraudulent enterprise. It was junk science attempting to convince policymakers and the public that soothsaying can be actual public policy.  
It seemed clear that for CSIS, the CVE Commission was mainly a fundraising play. The donors were getting something though: a narrative that reflects their values, and loyalty. The UAE, for example, engages in thought policing and political repression. In the UAE, peaceful protest of government policies falls under the terrorism law and can lead to the death penalty. If the UAE or other seriously sick regimes fund you, it makes sense to sidestep difficult issues and discuss the things they want to hear. 
The CVE Commission report was emphatically not scholarship. It was political hackery for money. Dr. Jackson stated he consulted with "Washington insiders" before accepting. The end product seems to reflect the quality of the counsel he sought. It was garbage in, garbage out.  
Why Credibility with the UAE matters
It is impossible to separate Sherman Jackson's work on the CVE Commission from his UAE affiliation. To CSIS's credit, they disclose the United Arab Emirates is one of their largest government donors. Though CSIS credits funding for the report itself to Mark Penn, a Clinton pollster who has since become a pro-Trump pundit on TV, and Fred  Khosravi, a businessman who reportedly once told his cellmate he was a "freelance consultant for the FBI." Both of these individuals were also commissioners alongside Jackson.  Defense contractors and oil companies are also prominent funders for CSIS. That guy from your local masjid who generously donates every Ramadan is likely not on CSIS's fundraising mailers.  
If you are going to fundraise for a commission report, you want to name commissioners the donors like and trust. Tony Blair is best known for lying his country into a war that killed hundreds of thousands of people, nearly all of them Muslim. For the funders, he had the requisite credibility and moral authority to co-lead his fellow commissioners. This seems especially true when it comes to the UAE.  
Islamic Scholars "clean and…vetted"
In 2015, we learned the UAE donated $1,000,000 to the NYPD's Intelligence Division through a foundation three years earlier. This agency had an aggressive anti-Muslim surveillance operation. In 2014, the UAE, through a cabinet-level decision, absurdly designated the Council on American-Islamic Relations (CAIR) and the Muslim American Society (MAS), "terrorist" organizations. Both are entirely American organizations that have nothing to do with the UAE.  
In the years since, the UAE has prosecuted an aggressive and unflinchingly violent foreign policy in Libya, Egypt, and Yemen. In Yemen, the UAE reportedly operates a network of dozens of sites dedicated to engaging in systematic rape and torture. Moreover, it has been a champion of domestic political repression and oppression of the Uighurs and Kashmiris. Indeed, Indian Prime Minister Narendra Modi, the butcher of Gujarat and currently in the midst of shocking actions in Kashmir, was just given the UAE's highest honor. India's fascist government and the UAE's rulers deserve each other. More troubling is that some prominent American Muslim scholars, including Sherman Jackson, appear to have no problem with the honor of being considered "clean and…vetted" by the UAE so that their actions are consistent with UAE's overall foreign policy goals.  
A Question of Values 
When Muslim scholars find reasons to affiliate with such a foreign government so dedicated to oppression, it deserves some communal self-evaluation.
US Muslim scholars, including Dr. Sherman Jackson, continue to attend a conference hosted by the UAE's government on, and this is seriously the name, "Promoting Peace in Muslim Societies." Getting American Muslim scholars in the UAE's corner to grant themselves religious legitimacy is part of UAE foreign policy. That all of this seems cartoonishly absurd mockery of their religion does not stop Muslim scholars from collaborating with the UAE's government. Worse though, Muslim scholars in the United States who have nothing to do with the UAE have not done anything to self-police this servile and propagandistic sham.
It is not at all surprising someone like Tony Blair aligns perfectly with CSIS donor UAE's values. But do Islamic scholars in the United States have values similar to the UAE's shaykhdom?  Do American Muslims? 
I don't agree with everything the mafia does
Dr. Jackson notes he spoke twice about the problem of religious violence as well as "the problem of government repression, mass imprisonment, and torture." Neither the CVE Commission or the MCE has any project to address these things. Reciting platitudes about human rights is not synonymous with moral courage. The UAE itself publicly and repeatedly proclaims itself as a champion of human rights. That does not make it one.      
In his post, Dr. Jackson notes that just because he works with a UAE sponsored entity, it does not mean he agrees with everything the UAE does. Dr. Jackson wants the Muslim community to hold him to a meaningless ethical standard. Nobody agrees with everything anyone does. 
If a scholar joined a Mafia-sponsored effort to give itself religious legitimacy, "I don't agree with everything the mafia does" won't work as a moral defense.  It should not work when collaborating with the UAE government either. Dr. Sherman Jackson gets to decide who he associates his name with. That is a moral choice.  
Benefit and Harm
What we need to do is evaluate the benefit to be gained by the community versus the harm Dr. Jackson may be causing. 
There is significant harm from scholars to providing religious legitimacy to regimes that have foreign policies dedicated to oppression and murder in multiple countries.    There is further harm because the UAE stages it's religious scholars as props in a way that makes a mockery of religion and religious authority. It is undignified and far below the station of any scholar of Islam to play in such farces, yet,  there they are.
The CVE Commission in the United States was merely an extension of this game.  Use religious leaders to give cover to policies meant to harm people who follow that religion. Dr. Jackson's participation in the CVE Commission shows there is virtually no bottom to what you can get a prominent Islamic scholar to co-sign. Islamic Scholars willing to collaborate with war criminals to make Muslims less violent are little more than dancing bears for the national security state. The dignity of the religion of Muhammad

deserves better.      
Benefits of this display to the Muslim community are not clear, at least not to me.  I hope Dr. Jackson can explain why the immense cost of his participation is worth it. 
If I act wrongly, correct me
An Islamic Scholar is someone who holds a position of a sacred public trust.  That requires public integrity. According to a hadith of Muhammad

, ulema (not all religious leaders qualify here) are heirs of the Prophets.  However, that does not mean they are infallible and somehow incapable of making serious mistakes.  
Abu Bakr

, in his inaugural speech as Khalifah, reportedly said:
"O people, I have been appointed over you, though I am not the best among you. If I do well, then help me; and if I act wrongly, then correct me."
Those who honor our tradition should not merely be deferential to scholars and leaders when they start doing things that make no sense or are objectively harmful.  They should correct them and not be afraid of asking difficult questions.  
Some Muslims, including some leaders and scholars, seem to think of Dr. Sherman Jackson as the Muslim ummah's grandmaster chess player (something he alluded to in his post). We may not understand what he is doing, but that is only because he must be several moves ahead of what our brains can process. I do hope those Muslims can stop thinking this way. Sometimes, even people whose work you admire can make severe errors in judgment.   
Nobody likes to have their integrity questioned. Sherman Jackson would plainly prefer the Muslim community see him as above reproach. But if a scholar collaborates with human rights abusers and mass-murderers to make the world a more peaceful place, a few Muslims may start raising their hands to ask a few questions.  
Some Questions
I have a few questions for Dr. Sherman Jackson, but if readers have their own,  leave them in the comments:
Do you agree with any portion of the CVE Commission Report?  If so, please share with the Muslim community what parts you agree with and why. If you repudiate this report in full, please tell us. 

I understand you signed on to the CVE Commission to prevent a product with undue bias. However, why did you agree to include your name on the final product that excluded Dylann Roof from the definition of "violent extremist"? 

Do you believe CVE is not fraudulent and actually works? If so, do you have any evidence of this?  

You mentioned in your post you told scholars that people who disagree with CVE should protest outside. Did you ever inform them or anyone about where and when the largely secret meetings were so that they can organize protests?

Have there been any concrete benefits to oppressed Muslims anywhere because of your affiliation with the UAE-based MCE?  

What benefits have you personally enjoyed as a result of your affiliation with the CVE Commission and the UAE? 

Do you believe Tony Blair should be charged, and tried for war crimes and crimes against humanity for his role in Iraq? 

Do you believe the senior leadership of the United Arab Emirates should be charged for war crimes and crimes against humanity?  

What value do you believe you are offering the government of the UAE's rulers by serving on the MCE?