Reinstate Debbie AlMontaser as Principal of KGIA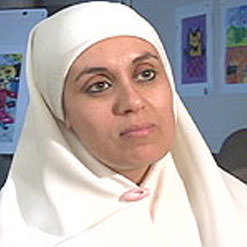 *If you and your blog (if you have one) supports this call, then we'll add you to the list of supporters at the bottom of this post. Cross-link and cross-post! Cross-posted on DailyKos & StreetProphets*
We, at MuslimMatters.org, call upon Mayor Bloomberg and Chancellor Klein to reinstate Debbie AlMontaser as the Principal of Khalil Gibran International Academy (KGIA). We cannot let bigotry and right-wing conspiracy allow a respectable and qualified candidate to be forced out of her rightful position.
According to AlMontaser,
"In early August of this year, under pressure from The New York Post, The New York Sun, and right-wing bloggers, representatives of the Mayor, the Chancellor, and New Visions demanded that I resign as KGIA's principal," said Almontaser in a prepared statement to the press and public. "They threatened to close down KGIA if I refused. The next day, I submitted my letter of resignation."
Rabbi Michael Feinberg is quoted as saying:
KGIA was Ms. Almontaser's vision and she was unarguably the right person to lead it…That she is not principal today is solely the result of attacks upon her by marginal, right- wing groups, who charged her and KGIA with hostility to Israel and Jews. We state emphatically that those groups do not represent the views of the mainstream Jewish community in New York City.
See also:
Related Posts:
Blog Partners: