Presenting the Shaykh 'N Bake: A critical analysis of the utilization of shame grenade discourse by Muslims on the internets and its efficacy.
Please watch the following video along with the written explanation immediately after.
Definition of Terms
Shaykh 'N Bake: To reverse a regular conversation into something serious, religious, or self-righteous. Characteristic of manipulative behavior.
In other words, to lob a shame grenade.
\'shām grə•nād\ noun - A rhetorical object hurled into a conversation to compel someone into a certain action via complete embarrassment. When detonated it makes everyone within its "shame radius" want to give up on life.
Usage
Commonly occurs online. Utilized most often by overzealous people online under the guise of "da'wah" or "naseehah," but accounts to little more than a feeble attempt at self-importance and humiliation of others. The phenomenon is not unique to the Muslim community (see: Jesus Juke), but we do have our own distinct flavor of it.
The easiest way to shame grenade someone is to conflate two situations that are not mutually exclusive (or sometimes even related) in an attempt to guilt someone into a desired action. "How dare you spend $3 on coffee instead of donating $3 to my project." Or, "how dare you watch a movie in Ramadan, you should spend that time in ibadah." Also, "if you love Islam and want people to stop starving, share this photo on Facebook otherwise you are complicit in their oppression."
Please see video above for more detailed real life examples.
Characteristics
If I haven't seen it, it must not exist.
We sometimes confuse having Google with having access to the angels recording everything (or rather, the angels on the shoulders of whoever we want to attack). I once engaged someone in this type of discussion and asked them, "have you listened to every single lecture of theirs both online and in person to know they've never spoken about this topic?" And they said something along the lines of no, but it should show up when I google it.
What's ironic is the same people want you to make 70 excuses for them or their cause, but they can't give you more than 1.5 seconds of Google.
Guilty until proven innocent. 
Because their cause is so important, it somehow gives them free reign to throw out accusations against people. It is okay to be rude, abrasive and offensive – because attacking people is for a greater good of clarifying the truth. And because these are scholars/speakers/activists, it is okay to assume they're guilty first. The burden of proof and good manners are thrown in the trash in the name of the truth and the "good" of "the ummah."
And the qualifications of those shaming the speakers? Often, nothing aside from feeling entitled to throw around accusations of guilt.
Polarized Us vs. Them Cult Mentality

They think whatever issue they are shaming others on is a clear, unequivocal truth. And not only a truth, but a truth that trumps any other issue of concern. Therefore, if you're not with them, you're against them.
This leads them to make personal attacks against whoever they are 'advising' and feel it is completely justified. Priorities will always differ by context and circumstance. But you know what? Most of these people will acknowledge that point and then argue that they are the exception. Mark my words, it will probably happen in the comments section of this very article.
Advice is a Duty Upon Muslims
We have something in Islam called hikmah (wisdom). An example of this is Aisha
saying if the prohibition of alcohol was the first commandment given, no one would have followed it. Another is the hadith mentioning that gentleness is not put into something except that it beautifies it [reference].
Even Musa [as] was told to speak to Fir'awn in a kind way.
They think just because what they are saying is technically "true," it somehow absolves them of context, good manners, and common sense. It's kind of like being in the ER because you just had a heart attack, on the brink of death, and then kicking the Muslim physician out of the room for not having a beard. You may win the battle, but..
False Humility
This is my favorite one. This is when someone feels they are right, but they know if they insist upon it, they will sound arrogant. So they put on the cloak of false humility and act like they don't know anything and ask questions to cause fitnah. This is unbelievably common. If you have an opinion or understanding, there is a way to express it and ask a question. People do it all the time. But donning the false humility persona is usually an indicator that they're gearing up to attack someone but want to appear polite.
Part of false humility is claiming they are acting for the "good of the ummah" – as if their comment on a YouTube video will somehow save thousands of people from falsehood.
It's very much a Fox News style tactic (that was also parodied quite well by Southpark - Disclaimer: link may have some inappropriate language).
Toxic Negativity
This is the worst consequence.
It seems people who do this are obsessed with determining who Allāh hates, why He hates them, and speaking on His behalf about it nonstop.
They show up online, shout venom at everyone, and then disappear. If you went to their local masjids, most people would not even know who they were. It's doubtful any of them have made a positive impact on anyone there. Rather, they're usually most likely known as troublemakers (if known to anyone at all).
They think they are doing good work online by somehow forbidding the evil, but all they do is alienate and drive people away from the religion. This type of negativity never results in anything positive. It doesn't result in changed behavior on the part of the one being "advised." It doesn't even motivate the one "advising" to actually do something productive.
A Zero-Sum Game
This is bigger than just being a characteristic of the Shaykh 'n Bake. It's an entire mindset. It's the incorrect understanding that everything in life is zero sum. It is about making things mutually exclusive when they aren't.
Zero sum is something normally applied to things like money. It's like the gas in your car, once it's out, it's out. But do you apply this principle to your kids? Do you have 2 kids, find out you're expecting a 3rd and say, "You know what, that's great but I'm just all out of love to give."
One of the ways these people operate is by convincing others that everything is zero-sum. If you comment on one tragedy, it means you've somehow taken away importance from another. If you make du'ā' for one thing, it means you can't make du'ā' for another.
This point is critical, because their entire paradigm hinges on it. They have to convince everyone that if a scholar comments about one thing, it means he is ignoring another – and therefore must be attacked.
Manipulation, Bullying, and Spiritual Blackmail
Yes, there is such a thing as spiritual blackmail. When someone is not able to articulate a point in an effective or persuasive manner, such that the one listening is actually affected by it – then they resort to this manipulation technique. I am right, and if you disagree with me, you're going to hell. Forget about my own akhirah, how are YOU going to answer to Allāh on the Day of Judgment when He asks you in front of all of mankind about your Facebook post??
In reality, this behavior is nothing more than good ole bullying – except under a religious guise. It's meant to manipulate others and try gain some type of upper hand.
They will never admit they are wrong. They get overly dramatic and give an exaggerated sense of importance to their issue.
Life is a game for them. In fact even the religion has some game like qualities for them. It's about proving you are right, that you're on the winning team. It's showing you held your ground and overcame your opponent. And in order to win, you may manipulate others.
People who cannot articulate their faults or mistakes see life as a game. They are keeping score and they intend to win. They want you to submit but have no intention of submitting themselves. Theirs is not a world where we are supposed to create intimacy and trust through grace, but a world where we are supposed to accumulate power and security by tricking the people around us (Donald Miller, The Single Defining Characteristic of a Manipulator).
All is fair when you are working for a higher purpose.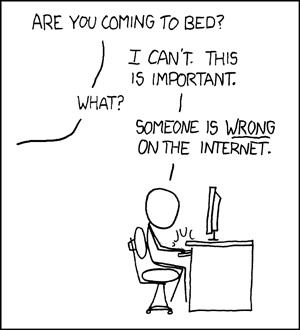 Perspective
The most important lesson I have learned is to simply block these people out. There was a time where I used to engage and debate with people on issues like this, but life is simply too short. In the end, you don't win anything. At most, you might change someone's mind, but even that is unlikely. The most likely consequence is that they will kill your positive energy. They will make you hate life. They will make you wish you had never opened your mouth, about anything. If these people had their way, no one would ever accomplish anything good. In their mind, unless something meets their arbitrary level of perfection, it is not worth being done.
Keep doing your work. Keep driving your bus, and don't let them get on it.
Anas ibn Malik reported: The Messenger of Allāh,
, said, "If you're about to plant a tree and the Day of Judgment commences, finish what you started" (Musnad Ahmed, sahih).
No matter what you work on, there will be haters. No matter what effort you make, someone will be there to criticize it. And while it may not be easy, you simply need to sniff out those trying to shame grenade you and block them out of your life. Unfriend them on Facebook, block them on Twitter, delete their contact from your phone, and don't let them get to you. Those who complain and criticize will disappear forgotten, but in the end the good work you do will remain and inshā'Allāh be a legacy.
Click the image below for an infographic of the video by Sketchy Muslim:
Humiliating people in the name of religion is the practice of someone deprived of the first fruit of religion, humility.

— nouman (@noumanbayyinah) August 29, 2013
"There are two types of people in this world: people who do things, and people who criticize those who do things."

— Ḥamza Yūsuf Quotes (@HamzaYusufQ) September 2, 2013
Insulting others is never a way of correcting them. Instead it causes more damage & proves that we need help ourselves.

— Mufti Ismail Menk (@muftimenk) September 2, 2013
7. Haters are life's truest losers. Do you want to end up losing everything that matters in life? Be a hater.

— umair haque (@umairh) September 1, 2013
Why do so many Muslims assume everything is forbidden, and look to deny and prohibit rather than encourage and inspire?

— haroon moghul (@hsmoghul) August 29, 2013
2. Be a creator, not just a critic. Otherwise, you'll always wonder.

— umair haque (@umairh) August 27, 2013
Do the hard work or support those doing it but dont hinder it. Some people neither do the work nor let others do it.

— Mufti Ismail Menk (@muftimenk) August 23, 2013
"Shame الحياء" is a believer's personal trait to introspect one's own words-actions, not something to bring upon others #shamegrenade

— Nomaan Baig (@ShaykhNBaig) September 2, 2013
I'm always uneasy about the concept of "speaking truth," as if we somehow know the truth and only have to enlighten others…

— Noam Chomsky (@daily_chomsky) September 11, 2013
…who have not risen to our elevated level.

— Noam Chomsky (@daily_chomsky) September 11, 2013
When you are blessed or successful in any way, you must expect a fair share of haters. How you react to them is a part of your test.

— Mufti Ismail Menk (@muftimenk) December 2, 2013