Update (11): Action Alert | Sindh Pakistan Floods 2011 | A humanitarian disaster the world is just waking up to
Last Updated: October 05, 2011
The floods that hit Pakistan in 2010 were the worst in the history of the country, submerging nearly a fifth of the country under water, affecting 20 million people, rendering over 400,000 homeless, killing around 2000 people, and ruining over 1.6 million acres of crops!
Relief agencies and private individuals in Pakistan and all over the world scrambled to provide aid to the affected. Newspapers were filled with photographs of the flood and its hapless victims, prompting people to do more.
Snap back one year later to the present, as the citizens had yet to return to some sense of normalcy, putting behind the haunting memories of the past year, the skies opened up again and the province of Sindh, specifically the central part of it (in the areas of Thatta, Badin, Tando Muhammad Khan, Tando Allahyar, Mirpurkhas, Tharparkar and Benazirabad) started being deluged once again. As rains continue the area being affected has widened.
Map of the flood affected area courtesy United Nations
Table of contents
The Eid that got washed away
As Muslims world over celebrated the end of Ramadan with a festive Eid celebration and buffets of food, the citizens of these areas left their homes and watched their belongings drown as the skies continued to pour torrents on them. Unfortunately, for them though, the world took time to wake up to their plight.
The ineffective and red-tape ridden government, as usual, was slow to respond and like the year before the responsibility for welfare and support of the affected was left to relief efforts by private agencies and individuals as had been the case the year before.

Springing into action
In the second half of Ramadan, I was contacted by fellow Bloggers Dr Awab Alvi and Faisal Kapadia asking for me to join in the fund raising efforts to support the people of Badin and surrounding areas where the rains had already started to cause damage. Members of PkRelief (a joint effort of Offroad Pakistan and SA Relief) had once again sprung into action and were gearing up for relief efforts. The initial plan was to adopt 3 camps in Badin with the support of Nishat Welfare Organization, an NGO already working in the area, to feed and house 1000 IDPs (internally displaced persons) and to eventually rehabilitate them once they move back after the rains. While the initial response to fund requests was great, as the scope of this disaster grows, the requirement for funds has grown huge. As the scale of this calamity grows, the response from the world and the news organization is slowly increasing.
The United Nations has launched an appeal to raise USD 357 million to provide food, water, sanitation services, healthcare and emergency shelter to the worst-hit families for six months.
Some facts
8,920,631 people

have been affected due to the rains and floods (

that's the population of New York City or the population of Chicago, Los Angeles, & Houston combined!

)

1,524,841 homes have been devastated

37,498 villages affected

6,791,067 acres (10,611 sq miles) of land

has been damaged (

that's an area bigger than the states of Connecticut, Delaware and Rhode Island combined

)

2,166,623 acres (3,385 sq miles) of crops has been wiped out

550,186 people have been provided space make-shift camps – the remaining remain in the open without a roof

450 people have lost their lives, 756 people have been injured
(Source: National Disaster Management Authority, 10 October 2011)
A food hamper (distributed by PkRelief) costs USD 15
and feeds a family of 04 for 08 days. It consists of:
10 kg wheat flour
10 kg rice
2 kg dal (lentils)
1 litre cooking oil
1 kg dates
A Relief pack distributed by Indus Foundation Trust costs USD 23:
10kg Flour
5kg Rice
2.5kg Ghee
1kg Sugar
1kg Channa Dal
1Kg Moong Dal
0.5Kg Milk Powder
1 Packet Matchbox
1 Packet Candles
1 Packet Tea
1 Packet Salt
Mix Masala
2 soaps
On Ground Videos
The following documentary made by the team of PkRelief during their post-Eid trip to the affected area shows the devastation, the situation on the ground, and the efforts of the PkRelief team.
[youtube]http://www.youtube.com/watch?v=_l5WV6hgawg&feature=player_embedded[/youtube]
While the documentary is in English, the testimonials are in Sindhi and Urdu. The first man in the line is being asked how many times a day they are fed. He responds twice a day but no medicines. He says there is no government presence. The second man in the village of Khoski says his Eid salat was performed in the rain. He works in the sugar mill on a salary of Rs 6000 (less than USD 70) per month. In addition, his family had crops on 5 acres of land which was completely wiped out. People who come from other areas are sitting on the sides of the road, their houses destroyed. There is no presence of any government, or the local landlords nor is there much presence of big name NGOs. Says most of them distribute in Badin and leave and never reach Khoski. He praises the Falah-i-Insaniyat Foundation (the welfare arm of the militant Lashkar-e-Tayyiba) which is the only organization actively working in Khoski at the moment ( incidentally FIF or Jamat-ud-Dawa as it was known earlier was prominent in the rescue efforts during the Earthquake in 2005, the Swat IDP crisis and last year's floods).
[youtube]http://www.youtube.com/watch?v=BaE2-gJKsMc&feature=player_embedded[/youtube]
[youtube]http://www.youtube.com/watch?v=T4VrXlFoUyw&feature=player_embedded[/youtube]
Pictures
The pictures have been provided by Faisal Kapadia and Fursid Photography.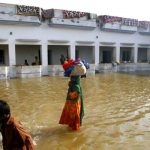 More Pictures
Sanghar Medical And Relief Camp
Young Doctors Association Relief Camp
Young Doctors Association Relief Camp 2
Medical Teams
I spoke to Dr Faraz Chaudhary, who is General Secretary of the Young Doctors Association of Rahim Yar Khan, and currently working as part of the Relief team from Young Doctors Association of Rahim Yar Khan. Their base is Kot Ghulam Muhammad about 40km from Mirpurkhas with 03 teams of 06 doctors each in different localities trying to provide medical relief.  Faraz told me
"I worked in the Bhong region last year and my team managed 07 camps and treated about 41000 patients but conditions here are 100 times worse."
Based on last year's experience Faraz gave a list of necssary medicines that would be required to carry out the relief efforts.
Ciprofloxacin
Levofloxacin
Eye drops for conjunctivitis which will soon become epidemic
Loads of Oral Rehydration Salts (ORS)
Flagyl
Ranitidine
Pain killers
Anti malarial medicines
Polyfax skin ointment
Pyodene and bandages
Surgical blades and gloves
Septran (not the first choice but is cheap and very effective)
Anti histamines
Oral hypoglycemics
Augmentin
Inhalors
Ventolin
It is recommended for donors outside Pakistan to send cash rather than kind while those in Pakistan may donate medicines in kind (depending on the relief agency they are donating to)

How may I help?
Donate your money: See the information below for the organizations working below and help them by donating generously.
Donate your time: start fund raising efforts among your friends and co-workers. Send it to one of the organizations listed below.
Share this article: Press Like on Facebook, Tweet it out, post it on Google, e -mail it to your friends.
For further information please email Dr Awab Alvi, Faisal Kapadia, Abdulrahman Rafiq, or Sabahat Ashraf at pkfloods@sarelief.com.
Funds are being collected by Paksef (Pakistan Science and Engineering Foundation) which is a 501(c)(3) tax-deductible non-profit Corporation in California. SA Relief operates under Paksef.
Local Pakistan residents can donate via our local Bank:
Bank: Bank Al Habib
Account Title: Abdul Rahim
Account#: 1078-0081-001670-01-4
Branch Code: 1078
Contact Person: Email Faisal Kapadia at pkfloods@sarelief.com
Donation through cheques can be made in favor of Karachi Relief Trust
You can also deposit donations directly to our account:
Title: Karachi Relief Trust
AC#: 0786-79007283-03
Bank: Habib Bank Ltd.
Address: Corporate Center, 2 HBL Plaza, I I Chundrigar Road, Karachi.
For those making payments from abroad:
Swift: HABBPKKA
Rotary Club of Karachi Charitable Trust
Standard Chartered Bank NY USA
ABA No 026002561, SWIFT Code SCBLUS – 33XXX  for credit to
Bank Al Habib Ltd Account No: 3582035242001 for further credit to
BAHLPKKAKHI for ultimate credit to
Rotary Club of Karachi Charitable Trust
Account No: 1001-0081-168218-01-7
Note: Please send an email to rotarykhi@gmail.com with the donation details so we may check with the bank and send you a receipt / accounts / pictures for your record. We can also provide you a Certificate for Income Tax exemption for use in Pakistan.
Please send your cheques to THE INDUS FOUNDATION TRUST, or if you have goods to deliver, please bring them to the collection point at 49 Old Clifton, Karachi. Phones 00 92 21 35834663/4   Fax: 00 92 21 35837201.
For those sending remittances from abroad please send to
FCY Acct Tameer Bank in HBM 20310-333-400598 for onward credit to
Acc no: 151006003997001 Habib Metropolitan Bank
Main Branch Swift Code MPBLPKKA001
USD Correspondent Habib American Bank
Swift Code HANYUS33
Related articles