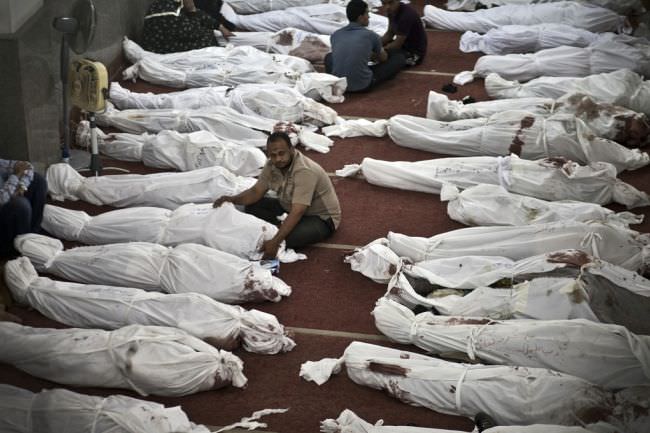 Over the past two and a half years, Egyptians have become fairly desensitized to violence on the streets of their capital. Prior to 2011, virtually any crime beyond petty theft – let alone violent flare ups in public squares or massive processions against the authorities du jour – grabbed the attention of the Egyptian populace; it was simply outside the norm. Today, lawlessness is rampant, a day without a "million man" protest is unusual, and "molotov" and "birdshot" are as ever present in the Egyptian lexicon as "fuul" and "ta3miyya."
Yet, even given this more jaded context, the events of the past few days were utterly shocking.
Rightful Indignation
The latest official figures, aggregated from Ministry of Health and newspaper sources, indicate nearly 1,300 people killed from August 14 – August 16 — the vast majority of whom were peaceful protesters in Cairo, Alexandria and other governorates.
1,300 people. Dead.
To put that in context, the death toll throughout the vaunted – and violent – eighteen days of the January 25 uprising didn't pass 850. The numbers are, as one can imagine, historic. As The Atlantic notes, August 14, 2013 was "one of the deadliest single-day instances of police-on-protester violence since Tiananmen Square."
There are, naturally, many who are rightly outraged by the crackdowns on anti-military protesters, particularly with regard to the Raba'a mosque sit-in. Governments around the globe condemned the excessive use of force, a sentiment echoed by human rights organizations and the United Nations.
This – let's just call it what it is – massacre has also triggered a crisis of conscience among at least two high profile figures that have adamantly supported the army's actions since the July 3 coup. On Wednesday, Mohamed ElBaradei resigned as interim vice president, saying that he "cannot bear responsibility for one drop of blood," while word came on Friday that National Salvation Front spokesman, Khaled Dawoud, resigned in response to his organization's failure to condemn the army's violence. Dawoud later clarified that the turning point for him came when he saw the scores of dead bodies at the Al Iman mosque, where victims of the Raba'a crackdown were sent when fires engulfed the makeshift hospitals and morgues.
One wonders, however, what exactly ElBaradei and Dawoud expected when they backed the military overthrow of a democratically elected president.
Blind Jingoism
While there are many individuals, organizations and countries that have taken a principled stand against the security forces' brazen disregard for innocent lives, these condemnations are largely – and sadly – falling on deaf ears in Egypt.
This is especially the case with the junta led government. Far from realizing the devastation their actions have wrought, officials have done away with any pretense of humanity and given security forces the green light to use live ammunition at will. This declaration has, of course, been roundly cheered throughout Egyptian media (which has served as a state mouthpiece since the coup) to the extent that each channel now displays banners (alternatively in English and Arabic) declaring variations of "Egypt Fights Terrorism."
Needless to say, the constant drumbeat of this Orwellian message has permeated deep into Egyptian society. It's likely that most Egyptians fully support the crackdown on the Muslim Brotherhood, their supporters, and anyone else who is against the current military-led regime. In fact, a sizable percentage of the population seems to want security forces to take an even harsher stance against the "terrorists." As disheartening as this circumstance is, the fact that generally respectable academics are whitewashing the military's actions while regional powers outright support the brutal assault on protesters makes it likely that more egregious crimes against humanity are yet to come.
One Foot Over the Brink
A sort of "exceptionalism" has taken hold of Egyptians recently. It's led them to believe that they can, for example, escape the laws of political science when it comes to the dismal repercussions of military coups. This "too big to fail" mentality has also led Egyptians to believe they are immune from the tumult that has engulfed other countries in the region.
Indeed, not long ago, if you mentioned "Egypt" and "civil war" in the same breath, you were assumed an alarmist with a penchant for sensationalism. Today, human rights experts proclaim that Egypt looks "depressingly like Iraq" while one of the premiere bloggers in Cairo compares the Egyptian army's strategy towards the Brotherhood to Bashar Al-Assad's approach to protesters early on in the Syria conflict.
So, to put it bluntly: Egypt is not special.
The sooner that all parties realize that the country doesn't have some magical immunity from catastrophe, the sooner we can perhaps pull back from a descent that could cripple the state and the region for a generation or more.
Until then, expect nothing but sloganeering and higher body counts.
White Activism Is Crucial In The Wake of Right-Wing Terrorism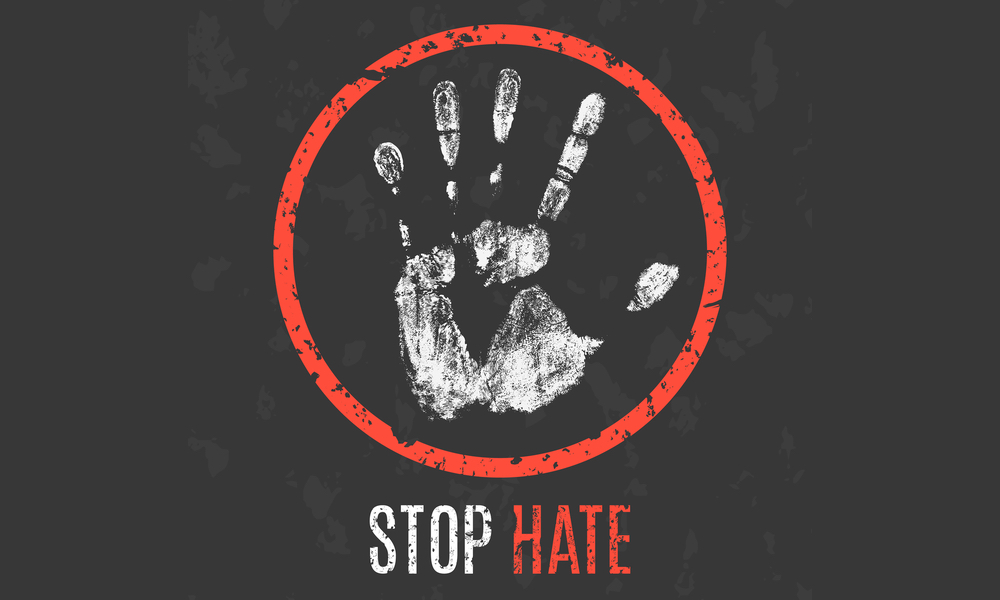 The vicious terrorist attacks at two mosques in Christchurch, New Zealand on March 15 were a punch to the gut for peace-loving people all over the world.  Only the most heartless of individuals could feel nonchalant about 70 innocent children, women, and men being killed or maimed mercilessly as they prayed. However, even a brief glimpse at comments on social media confirms that among the outpouring of sadness and shock, there are, indeed, numerous sick individuals who glory in Brenton Tarrant's deliberately evil actions. White supremacy, in all its horrific manifestations, is clearly alive and well.  
In an enlightening article in The Washington Post, R. Joseph Parrott explains,  "Recently, global white supremacy has been making a comeback, attracting adherents by stoking a new unease with changing demographics, using an expanded rhetoric of deluge and cultivating nostalgia for a time when various white governments ruled the world (and local cities). At the fringes, longing for lost white regimes forged a new global iconography of supremacy."
"Modern white supremacy is an international threat that knows no borders, being exported and globalized like never before," ADL CEO Jonathan Greenblatt said. "The hatred that led to violence in Pittsburgh and Charlottesville is finding new adherents around the world. Indeed, it appears that this attack was not just focused on New Zealand; it was intended to have a global impact." (link)
Many people want to sweep this terrifying reality under the rug, among them the U.S. President.  Asked by a reporter if he saw an increase globally in the threat of white nationalism, Trump replied, "I don't really. I think it's a small group of people that have very, very serious problems."
However, experts in his own country disagree.  A March 17 article in NBC News claims that, "The FBI and the Department of Homeland Security warned in a 2017 intelligence bulletin that white supremacist groups had carried out more attacks in the U.S. than any other domestic extremist group over the past 16 years. And officials believe they are likely to carry out more."
Although they may be unaware of — or in denial about –the growing influence of white supremacist ideology, the vast majority of white people do not support violent acts of terrorism.  However, many of them are surprisingly, hurtfully silent when acts of terrorism are committed by non-Muslims, with Muslims as the victims.
When a shooter yells "Allahu akbar" before killing innocent people, public furor is obvious and palpable.  "Terror attacks by Muslims receive 375% more press attention," states a headline in The Guardian, citing a study by the University of Alabama. The perpetrator is often portrayed as a "maniac" and a representative of an inherently violent faith. In the wake of an attack committed by a Muslim, everyone from politicians to religious leaders to news anchors calls on Muslim individuals and organizations to disavow terrorism.  However, when white men kill Muslims en masse, there is significantly less outrage.  People try to make sense of the shooters' vile actions, looking into their past for trauma, mental illness, or addiction that will somehow explain why they did what they did.  Various news outlets humanized Brenton Tarrant with bold headlines that labeled him an "angelic boy who grew into an evil far-right mass killer," an "ordinary white man," "obsessed with video games," and even "badly picked on as a child because he was chubby."  Those descriptions, which evoke sympathy rather than revulsion, are reserved for white mass murderers.
The media's spin on terrorist acts shapes public reaction.  Six days after the Christchurch attacks, millions were not currently taking to the streets to protest right-wing extremism.  World leaders are not linking arms in a dramatic march against white supremacist terrorism.  And no one is demanding that white men, in general, disavow terrorism.
But that would be unreasonable, right? To expect all white men to condemn the vile actions of an individual they don't even know?  Unreasonable though it may be, such expectations are placed on Muslims all the time.
As a white woman, I am here to argue that white people — and most of all white-led institutions — are exactly the ones who need to speak up now, loudly and clearly condemning right-wing terrorism, disavowing white supremacy, and showing support of Muslims generally.  We need to do this even if we firmly believe we're not part of the problem. We need to do this even if our first reaction is to feel defensive ("But I'm not a bigot!"), or if discussing race is uncomfortable to us. We need to do it even if we are Muslims who fully comprehend that our beloved Prophet

said,  "There is no superiority for an Arab over a non-Arab, nor for a non-Arab over an Arab. Neither is the white superior over the black, nor is the black superior over the white — except by piety."
While we might not hold hatred in our hearts individually, we do hold the power, institutionally.  If we truly care about people of color, peace, and justice, we must put our fragile egos aside and avoid "not me-ism."  The fact is, if we have white skin, we have grown up in a world that favors us in innumerable ways, both big and small. Those of us with privilege, position, and authority are the very ones who have the greatest responsibility to make major changes to society. Sadly, sometimes it takes a white person to make other white people listen and change.
White religious leaders, politicians, and other people with influence and power need to speak up and condemn the New Zealand attacks publically and unequivocally, even if we do not consider ourselves remotely affiliated with right-wing extremists or murderous bigots.  Living our comfortable lives, refusing to discuss or challenge institutionalized racism, xenophobia, and rampant Islamophobia, and accepting the status quo are all a tacit approval of the toxic reality that we live in.  
Institutional power is the backbone of racism.  Throughout history, governments and religious institutions have enforced racist legislation, segregation, xenophobic policies, and the notion that white people are inherently superior to people of color.  These institutions continue to be controlled by white people, and if white leaders and white individuals truly believe in justice for all, we must do much more than "be a nice person." We must use our influence to change the system and to challenge injustice.  
White ministers need to decry racial violence and anti-immigrant sentiment from their pulpits, making it abundantly clear that their religion does not advocate racism, xenophobia, or Islamophobia. They must condemn Brenton Tarrant's abhorrent actions in clear terms, in case any member of their flock sees him as some sort of hero.  Politicians and other leaders need to humanize and defend Muslims while expressing zero tolerance for extremists who threaten the lives or peace of their fellow citizens — all citizens, regardless of their religious beliefs, immigration status, or ethnicity.  New Zealand's Prime Minister Jacinda Ardern is an excellent role model for world leaders; she has handled her nation's tragedy with beautiful compassion, wisdom, and crystal clear condemnation of the attacker and his motives.  Similarly, Canadian Prime Minister Justin Trudeau demonstrated superb leadership and a humane, loving response to the victims in Christchurch (and Muslims in general) in his recent address to the House of Commons.  
Indeed, when they put their mind to it, people can make quite an impactful statement against extremist violence.  In January 2015 when Muslim gunmen killed 17 people in Paris, there was an immediate global reaction. The phrase "Je suis Charlie" trended on social media and in fact became one of the most popular hashtags in the history of Twitter.  Approximately 3.4 million people marched in anti-terrorism rallies throughout France, and 40 world leaders — most of whom were white — marched alongside a crowd of over 1 million in Paris.  
While several political and religious leaders have made public statements condemning the terrorist attacks in Christchurch, there is much less activism on the streets and even on social media following this particular atrocity.  Many Muslims who expected words of solidarity, unity, or comfort from non-Muslim family or friends were disappointed by the general lack of interest, even after a mosque was burned in California with a note left in homage to New Zealand.
In a public Facebook post, Shibli Zaman of Texas echoed many Muslims' feelings when he wrote, "One of the most astonishing things to me that I did not expect — but, in hindsight, realize that I probably should have — is how few of my non-Muslim friends have reached out to me to express condolences and sorrow." His post concluded, "But I have learned that practically none of my non-Muslim friends care."
Ladan Rashidi of California posted, simply, "The Silence.  Your silence is deafening. And hurtful." Although her words were brief and potentially enigmatic, her Muslim Facebook friends instantly understood what she was talking about and commiserated with her.   
Why do words and actions matter so much in the wake of a tragedy?  
Because they have the power to heal and to unite. Muslims feel shattered right now, and the lack of widespread compassion or global activism only heightens the feeling that we are unwanted and "other."  If 50 innocent Muslims die from terrorism, and the incident does not spark universal outrage, but one Muslim pulls the trigger and the whole world erupts in indignation, then what is that saying about society's perception of the value of Muslim lives?
To the compassionate non-Muslims who have delivered flowers, supportive messages, and condolences to the Muslim community in New Zealand and elsewhere, I thank you sincerely. You renew our hope in humanity.
To the white people who care enough to acknowledge their privilege and use it to the best of their ability to bring about justice and peace, I salute you.  Please persevere in your noble goals. Please continue to learn about institutionalized racism and attempt to make positive changes. Do not shy away from discussions about race and do not doubt or silence people of color when they explain their feelings.  Our discomfort, our defensiveness, and our professed "colorblindness" should not dominate the conversation every time we hear the word "racism." We should listen more than speak and put our egos to the side. I am still learning to do this, and while it is not easy, it is crucial to true understanding and transformation.
To the rest of you who have remained silent, for whatever reason:  I ask you to look inside yourself and think about whether you are really satisfied with a system that values some human lives so highly over others.  If you are not a white supremacist, nor a bigot, nor a racist — if you truly oppose these ideologies — then you must do more than remain in your comfortable bubble.  Speak up. Spread love. Fix problems on whatever level you can, to the best of your ability. If you are in a leadership position, the weight on your shoulders is heavy; do not shirk your duty.  To be passive, selfish, apathetic, or lazy is to enable hatred to thrive, and then, whether you intended to or not, you are on the side of the extremists. Which side are you on? Decide and act.
"A person may cause evil to others not only by his actions but by his inaction, and in either case, he is justly accountable to them for their injury."  — John Stuart Mill, On Liberty.  
For the past decade, writer Laura El Alam has been a regular contributor to SISTERS Magazine, Al Jumuah, and About Islam.  Her articles frequently tackle issues like Muslim American identity, women's rights in Islam, support of converts/reverts, and racism.  A graduate of Grinnell College, she currently lives in Massachusetts with her husband and five children. Laura recently started a Facebook page, The Common Sense Convert, to support Muslim women, particularly those who are new to the deen.
An Open Letter To All Islamic Organizations Regardless Of Their Mission
These conclusions are barriers to enjoining the good and forbidding the evil because the organizational missions become distractions, the conferences become bazaars, the speakers become celebrities, and the oppression becomes entertainment. The costs, the time, the subjects when not spent or aligned to act with a consciousness of the single Islamic mission is distraction. Furthermore, a time spent without redressing dehumanization, is money, hours, and agenda wasted. It is not to deny these separate issues need resolutions, and in the short term, Islamic organizations and nonprofits do fulfill that mission. However, Believers warrant a world view of Islam. The work is to recognize and remove the real cause of the oppression. This is the greater goal and the singular mission, since eradicating it will resolve all the crises that Islamic organizations address. The objective is to create a humane society where Islam is peace: violence, poverty, and oppression is relieved.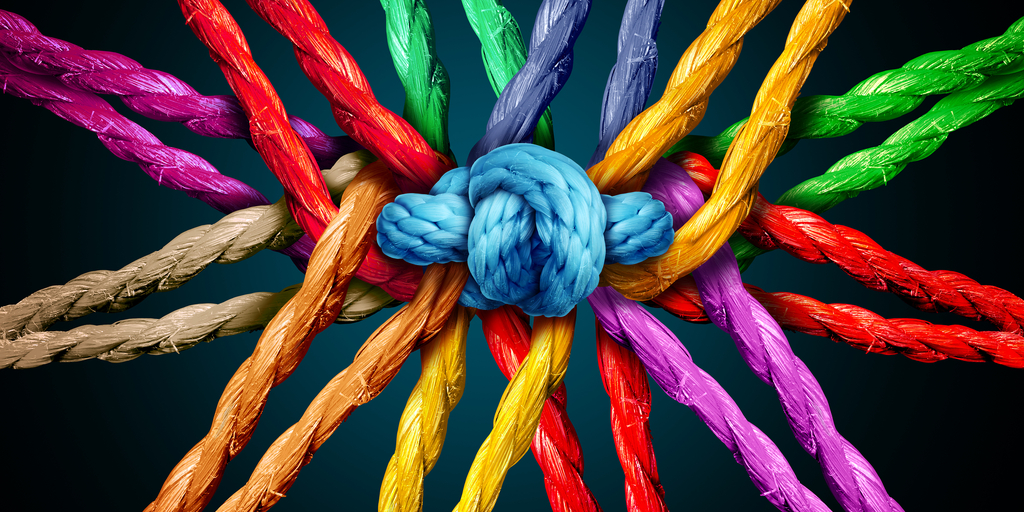 Assalaamu Alaykum wa Rahmatullahi wa Barakatahu,
Dear Brothers and Sisters:
We have a common enemy. It has been our enemy since the creation of Prophet Adam

. The perpetrator of all violence, and deceptions emanates from this evil force. It is the excuse Allah

has granted for struggle and success. It is an arena for human kind wherein Allah

separates the monotheist from the rest; wherein He has offered the reward to those who believe and destruction to disbelief, polytheism, and hypocrisy. By description, Allah

gives context to the relationship of humans and Iblis with multiple ayah from Quran. He says:

O you who believe! Enter perfectly in Islam (by obeying all the rules and regulations of the Islamic religion) and follow not the footsteps of Shaitan (Satan). Verily! He is to you a plain enemy. (2:208).

"And Istafziz [literally means: befool them gradually] those whom you can among them with your voice (i.e. songs, music, and any other call for Allah's disobedience), make assaults on them with your cavalry and your infantry, mutually share with them wealth and children (by tempting them to earn money by illegal ways usury, etc., or by committing illegal sexual intercourse, etc.), and make promises to them." But Satan promises them nothing but deceit. (17: 64)

Then I will come to them from before them and behind them, from their right and from their left, and You will not find most of them as thankful ones (i.e. they will not be dutiful to You)." (7:17)
And he (Iblis, Satan) had no authority over them, except that We might test him, who believes in the Hereafter from him who is in doubt about it. And your Lord is a Hafiz over everything. (All­ Knower of everything i.e. He keeps record of each and every person as regards deeds, and then He will reward them accordingly).
The Quran is an eternal miracle, with its text as relevant today as it was 1440 years ago when it was revealed to our Beloved Prophet Muhammad

. It is a "guidance for certain", which means it is the map to lead us toward success in this world and in the Hereafter. Then why do we separate it from our daily lives – moment to moment? Allah

provides fail-safes against forgetfulness, neglect, and laziness as He prescribes daily spiritual actions: salah, fasting, dhikr, da'wa, charity, instruction, so that we can remember our responsibility and duty to Him, and so we won't forget our purpose ("Enter perfectly into Islam—submission). And when we remember Him, He remembers us …

Therefore, remember Me (by praying, glorifying, etc.). I will remember you, and be grateful to Me (for My countless favors on you) and never be ungrateful to Me. (2:152)
He also says:

(The believers) who repent for their sins, worship God, praise Him, travel through the land (for pious purposes), kneel down and prostrate themselves in obedience to God, make others do good and prevent them from sins and abide by the laws of God, will receive a great reward. Let this be glad news for the believer. (9:112)
And

You [true believers in Islamic Monotheism, and real followers of Prophet Muhammad

and his Sunnah (legal ways, etc.)] are the best of peoples ever raised up for mankind; you enjoin Al-Ma'ruf (i.e. Islamic Monotheism and all that Islam has ordained) and forbid Al-Munkar (polytheism, disbelief and all that Islam has forbidden), and you believe in Allah. And had the people of the Scripture (Jews and Christians) believed, it would have been better for them; among them are some who have faith, but most of them are Al-Fasiqun (disobedient to Allah – and rebellious against Allah's Command). (3:110)
And reminds us to
Let there arise out of you a group of people inviting to all that is good (Islam), enjoining Al-Ma'ruf (i.e. Islamic Monotheism and all that Islam orders one to do) and forbidding Al-Munkar (polytheism and disbelief and all that Islam has forbidden). And it is they who are the successful.
Thus, the Quran exhorts individual responsibility, but Allah

also enjoins collective responsibility. (Even within the individual actions of Muslims, there is a collective good. Consider the pillars of Islam.) Keeping the two points in mind: (1) the Quran is timeless; (2) Islam is an individual and a collective task. Now, join the two claims with a third: (3) the Prophet

was the final prophet – a universal messenger. The weight of these truths is on the Muslims (Believers), and to neglect this bounty, is to deny the covenant made between Allah

and Prophet Ibrahim

That covenant was sealed by the final Messenger, Prophet Muhammad

when he was given and embodied the Quran by exemplifying his Sunnah – the pillars and principles Islam.
Furthermore, Allah

in the ayah from Sura Taubah, listed the tasks of Believers: repent (taubah), pray (salah), praise (dhikr), travel (seek knowledge), thank (shukr); enjoin the good and forbid the evil (establish justice and economy). However, these actions, which depend upon guidance from the Quran and sustenance by the character of the Prophet

require solidarity, unity, and support from the Ummah; meaning, those who Believe and adhere to the commands of Allah

Without bonds followed by harmony, Muslims are unprotected and prey to the machinations and evils of Iblis (a oozu billahi minashaitan ir rajeem).
Islam is lived by jamaat, not by individualism. Allah

follows the ayah of Sura Taubah with the consequences of inaction:

If only there had been among the generations before you, persons having wisdom, prohibiting (others) from Al-Fasad (disbelief, polytheism, and all kinds of crimes and sins) in the earth, except a few of those whom We saved from among them. Those who did wrong pursued the enjoyment of good things of (this worldly) life, and were Mujrimun (criminals, disbelievers in Allah, polytheists, sinners, etc.). (11:116)
"Allah said he saved the people because they were reformers (by enjoining the good and forbidding the evil), and didn't say He saved them just because they were righteous" (Hadith Commentary).
The Prophet

bears witness to these truths, when he is reported to have said:
The prophet said, "Allah does not punish the general masses for the sins of the few evil-doers, until they see the evil apparent and they are able to forbid it (but they don't). If they do that (not forbid the evil) then Allah will punish the general masses along with the few evil-doers" (Reported by Ahmad)
The prophet said, "By the one who my soul is in His hand, you shall enjoin the good and forbid the evil, or Allah will be about to send a punishment to you from Him, then you will call Him and He will not answer you" (Reported by Tirmidhi)
After this, there are some observations that disclose the scattered condition of this ummah and the resulting disunity that impairs our ability to fulfill this dire obligation of "enjoining Ma'ruf and forbidding Munkar.
According to the Guide Star Directory of (Islamic) Charities and Nonprofit Organizations, there are over 1200 Charity and Nonprofit organizations in the U.S., with each vying for followers and support. Notwithstanding the legitimacy and mission of them all, the number itself infers secularism and separatism as each organization does indeed have a different goal even though each may be categorized under a specific function.
The spread of Islamic organizations reflects a spread of diverse ideological principles, which, singularly, may or may not represent a common purpose – Islamically.
The organizations are individualistic with each identifying and persuading their own program to enjoin what is good and forbid what is evil, but in fact their efforts may or may not align with the end goal, which is Islamic monotheism.
The intention of these organizations may be simply to organize around a particular issue (a good thing), but does the organization recognize the one issue as a symptom of a larger "evil" that needs to be highlighted and eradicated? Do these organizations intend to bring that solution or merely repeat a process, which may not originate from an Islamic principle?
While a few of these organizations have aligned as "councils" or "groups" to coalesce and advocate for the larger Muslim community, are these coalitions authentic or exemplary of the larger Muslim communities and the communities of the Prophet
Islamic organizations and nonprofits have become polarized and popularized; persuading the audience by rhetoric rather than real actions against oppression, which exists here and around the world.
These conclusions are barriers to enjoining the good and forbidding the evil because the organizational missions become distractions, the conferences become bazaars, the speakers become celebrities, and the oppression becomes entertainment. The costs, the time, the subjects when not spent or aligned to act with a consciousness of the single Islamic mission is distraction. Furthermore, a time spent without redressing dehumanization, is money, hours, and agenda wasted. It is not to deny these separate issues need resolutions, and in the short term, Islamic organizations and nonprofits do fulfill that mission. However, Believers warrant a world view of Islam. The work is to recognize and remove the real cause of the oppression. This is the greater goal and the singular mission, since eradicating it will resolve all the crises that Islamic organizations address. The objective is to create a humane society where Islam is peace: violence, poverty, and oppression is relieved.
The emergence of Islamic organizations and nonprofits in the U.S. was at first to provide a single jamaat wherein all Muslims could converge and unify. Muslims found Islam from the Civil Rights Movement. While Muslims arrived from foreign countries, these newly converted Believers preceded the communities of immigrants, and they became political movements, or legitimate practitioners of Quran and Sunna (according to their understanding, their readings, and sporadic teaching). Others converged on college campuses as students, still other Muslims from foreign lands were invited to America. Certainly, the intent of the MSA and ISNA was to become an umbrella organization for all Muslims. Indeed, most Muslims found commonality with them. At the same time, those Islamic governances within the American grassroots communities, founded by "ex-slave" generations of convert Muslim men and women failed to garner support even though the development of these communities represented the authentic evolution of Islam necessitated for dawah in this country.
Two characters generally distinguish these indigenous Muslim men and women:
(1) Love for Islam, and  (2) a desire for Muslim unity. Although these distinguishing characters are separate by explanation, they are joined for action.
They loved one another because they internalized what Allah

said:

And hold fast, all of you together, to the Rope of Allah (i.e. this Quran), and be not divided among yourselves, and remember Allah's Favour on you, for you were enemies one to another but He joined your hearts together, so that, by His Grace, you became brethren (in Islamic Faith), and you were on the brink of a pit of Fire, and He saved you from it. Thus, Allah makes His Ayat (proofs, evidences, verses, lessons, signs, revelations, etc.,) clear to you, that you may be guided. (3:103)
And,

The believers, men and women, are Auliya' (helpers, supporters, friends, protectors) of one another, they enjoin (on the people) Al-Ma'ruf (i.e. Islamic Monotheism and all that Islam orders one to do), and forbid (people) from Al-Munkar (i.e. polytheism and disbelief of all kinds, and all that Islam has forbidden); they perform As-Salat (Iqamat-as-Salat) and give the Zakat, and obey Allah and His Messenger. Allah will have His Mercy on them. Surely Allah is All-Mighty, All-Wise. (9:71)
And,
Hadith of the Prophet conveyed:
An-Nu'man ibn Basheer reported: The Messenger of Allah, peace and blessings be upon him, said:
مَثَلُ الْمُؤْمِنِينَ فِي تَوَادِّهِمْ وَتَرَاحُمِهِمْ وَتَعَاطُفِهِمْ مَثَلُ الْجَسَدِ إِذَا اشْتَكَى مِنْهُ عُضْوٌ تَدَاعَى لَهُ سَائِرُ الْجَسَدِ بِالسَّهَرِ وَالْحُمَّى
The parable of the believers in their affection, mercy, and compassion for each other is that of a body. When any limb aches, the whole body reacts with sleeplessness and fever. Source: Sahih al-Bukhari 5665, Grade: Muttafaqun Alayhi 
It portends a model of community.
In the U.S., the essence of Islam is rooted in unity. Indigenous brothers and sisters chose Islam as an answer to the fitna in America, especially in the urban areas. Collectively, we believe both the indigenous and the immigrant Muslims are situated in America to respond to the prayers of the oppressed around the globe. Efforts have been made, martyrs have been taken; organizations have been raised, yet neither have furthered a unified body to fulfill that mission.
Why?
Zaynab Abdullah is a slave of Allah

. An educator with 40+ years experience, she is currently teaches at Al Huda School. This mother of 10 and a grandmother of even more, is the founder and Director of Islamic Home School and Network, Incorporated (IHSAN Inc.), a satellite and umbrella program, which facilitated instruction for home educated and adult clients in the Detroit, Michigan. A seasoned community activist and program coordinator for community based centers including Youth Against Alcohol Tobacco and Other Drugs summer grant program in Detroit, Highland Park Community Center. She is a Public speaker, a MIST Coach and AP College Board Table Leader. She follows a legacy of generational human and civil rights activists.
Ed. Note: Part 2 will be published soon.
The Unfinished Business of Dr. Martin Luther King, Jr. | Imam Zaid Shakir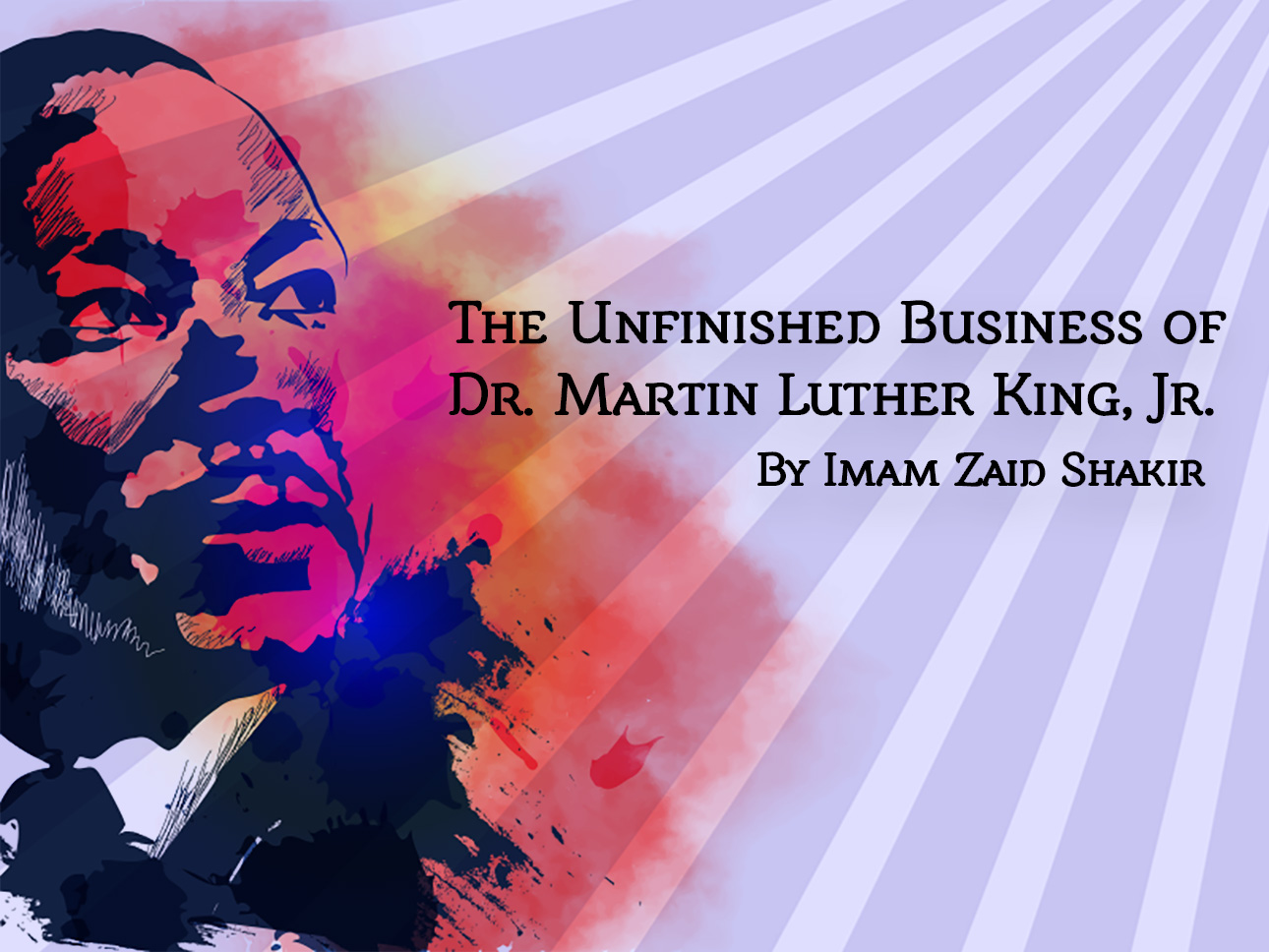 During these days many in this country are commemorating the life and work of Dr. Martin Luther King, Jr., born January 15, 1929. While most remember Dr. King for his soaring oration, symbolized by his famous "I Have a Dream" speech, delivered before a sweltering throng at the Lincoln Memorial, August 28, 1963, Dr. King was far more than a moving orator. He was a formidable intellectual, an effective organizer and a passionate advocate for the freedom of his people. These qualities combined with Dr. King's oratorical abilities to make him an individual oppressive political powers came to both despise and fear.
For all that he was able to accomplish in the context of the Civil Rights struggle and in advancing the rights and dignity of African Americans, Dr. King realized that his work was not complete; neither in the South nor in the North, as his painful experience in Chicago underscored. To a certain extent, his unfinished work is larger than the Civil Rights struggle. That larger work revolves around what he identified as the evil triplets of racism, materialism, and militarism. Decisively combating these evils is a daunting challenge, some might even describe it as nearly impossible. Dr. King realized, however, that with the help of God all things are possible and he thus never lost hope that we could overcome these forces. As people of faith, this should be our firm belief.
Our Muslim community is one whose existence, contrary to popular misconception, is predicated on the establishment of peace. It is a community that came into existence as a multiracial force and lists anti-materialism as one of its foundational principles (renounce the world and Allah

will love you). I believe that we have been divinely prepared to take up the torch held aloft so courageously by Dr. King and dedicate ourselves to the completion of his work. This is absolutely critical for the wellbeing of our nation and the world for as long as those evils rip through the waters of our collective humanity, the dehumanizing violence they give birth to will follow in their wake.
In his powerful but oftentimes overlooked speech, "Why I Oppose the War in Vietnam," delivered at the Riverside Church in Manhattan on April 4, 1967, Dr. King showed how these three evils are connected and how they combine to make the United States, in his words, "…the greatest purveyor of violence in the world today." The fact that such violence continues, unabated, should cause all of us to reflect deeply on why we as a society have not done more to address it. The gut-wrenching violence we visited upon Vietnam has directly afflicted Afghanistan and Iraq and indirectly defines the fate of nations like Yemen, Somalia, Syria, and Palestine.
I believe one of the reasons we have done so little to arrest that violence is because we as a nation are so effective in denying its existence. In the words of a popular song, "Memories may be beautiful and yet what's too painful to remember we simply choose to forget…" As a society, we find it far too easy and convenient to simply forget the painful horrors of native genocide, chattel slavery, Jim Crow and its accompanying brutalities, Hiroshima, Nagasaki, Vietnam, Iraq, Afghanistan or the next place whose name might be added to this list. Dr. King forces us to remember these horrors and the violence they birthed –through the brilliance of his oration, the seriousness of his struggle and the testimony of his death.
The following quote from Francis Fitzgerald's vivid chronicling of the Vietnam War, "Fire in the Lake," serves to both awaken us to the magnitude of American violence and also the tragedy of how easy it would be to replace Vietnam with Iraq, Afghanistan, Somalia, Syria or Yemen and find that it would be an apt description of any of those places. She writes:
In the refugee camps and isolated villages people die of malnutrition and the children are deformed. In the cities, where there is no sanitation and rarely any running water, the adults die of cholera, typhoid, smallpox, leprosy, bubonic plague, and their children die of the common diseases of dirt, such as scabies and sores. South Vietnam knows nothing like the suffering of India or Bangladesh. Comparatively speaking it has always been a rich country and the American aid has provided many people with the means for survival. But its one source of wealth is agriculture and the American war has wreaked havoc on its forests and paddy lands. It has given great fortune to the few while endangering the country's future and forcing the many to live in the kind of "poverty, ignorance and disease" that South Vietnam never knew before.

Still, the physical destruction, perhaps, is not the worst of it. The destruction of an entire society –"That is, above all, what the Vietnamese blame the Americans for," said one Vietnamese scholar. "Willingfully or not, they have tended to destroy what is most precious to us: family, friendship, our manner of expressing ourselves." … "Physical death is everywhere but it is the social death caused by the destruction of the family that is of overriding importance."
One could realistically ask why mention these things at this time when we should be celebrating Dr. King's life and work? Why should we even care when we can do little or nothing to change such monstrous realities? I would respond that his nonviolent opposition to the stultifying violence of our country is the very essence of Dr. King's life and work and collectively, with the help of Allah, we can begin to change the regime perpetuating that violence. I would respond to the above queries with a different set of questions. Namely, how many more innocent societies have to be destroyed before we as a people say enough is enough? What type of world do we wish to leave our children? Is it one where the situation described in "Fire in the Lake" becomes so common that it does not even prick their consciences. Have we become so blinded by the American dream that we can no longer see the accompanying global nightmare that helps to make it possible?
Some would say that the mere mention of such issues is overwhelming for the average person and hence could well lead to a type of socio-psychiatric paralysis. One the beautiful features of Islam is that it allows us to recognize our limitations while still maintaining a principled opposition to wrong. By so doing we are able to escape becoming socio-political zombies. Our Prophet (peace and blessings of Almighty God upon him) wisely stated,
"If one of you sees something wrong let him change it with his hand. If unable to do so let him speak out against it. If still unable to do so let him hate it in his heart, and that is the weakest manifestation of faith."
Thus, if one finds himself or herself unable to do something lawful and practical like joining with the work of the Quakers or other institutions with a long history of nonviolent anti-war activism in this country, or founding a similarly-oriented Muslim group, let him or her speak out against it at every forum and via every medium available. If even that is not possible then let them hate it in their hearts. Doing so is the least we can do to honor the life, legacy, and sacrifice of Dr. King and hopefully, it will serve as a first step in our moving to finish the work he so valiantly started.
Imam Zaid Shakir