Twitter Battles: 3 lessons for Muslim Tweeters from the Boston bombings
The recent tragic events in Boston have been noteworthy for many reasons. One of these is that it cemented the new age of information gathering and sharing. The post-news era is upon us with social media becoming the primary vehicle for gathering, sharing and debating information.
To put it bluntly – Twitter is the new CNN.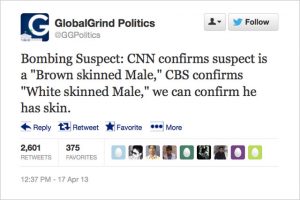 This has profound implications for all of us but especially for Muslims, ever in the media spotlight. In the hours and days following the dramatic events, there was the unedifying spectacle of Muslims getting into serious arguments with non-Muslims and even each other – including scholars.
Perhaps there are lessons to learn here from the behavior of Muslims on social media platforms during this period.
1. Haste is from satan
In the old days, if someone was asked to comment on an issue, they would often have a chance to think before they replied or took action.
Umar ibn Abdul Aziz (R) was well known for imprisoning those he was incredibly angry with for 3 days so that any judgement he passed on them was done with a calmer head after the anger had lifted. Yet, twitter and facebook scream out for instant reactions. This is both the beauty and the curse of it. Reputations that have taken years to build can be dented in seconds with something as simple as a poor choice of words or a rush to judgement.
Lesson: Muslims need a 1-minute delay before they reply to a vexing issue.
1 minute incidentally being just about enough time to do wudhu so as to physically and mentally cool down.
Sounds a bit much? Your reputation is worth far more.
2. Consider context
A few years ago, a person spoke only to the people who stood in front of him. He knew his audience, their mentality and what the implications of what he said was on them.
Today, you say something on twitter and you are addressing a global audience even if you don't want to. When we see people react on social media, we should consider their context and environment. Although we are all Muslims, how someone reacted in the eye of the storm in the US would surely be different to how someone responded half a world away. Both sides should show a little understanding.
Lesson: Before you reply to a message by someone, take a second to get to know them.
Who are they?
Where do they live?
Does their timeline reflect your opinion of them or do you have more in common than you think?
Taking the time to do this humanises the other person you are interacting with – the key ingredient needed to prevent trolling and flame wars.
3. Turn your adab filter on
There have been dozens of talks and videos on adab on social media. Yet the very nature of the beast is anti-adab. You interact with a large number of people, in less than 140 characters, little evidence of tone or context and – most depressingly of all – the more vocal/ outrageous/ extrovert you are, the more likely you are to get noticed and get the all-important retweets, likes or follows.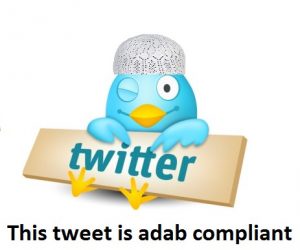 This exacerbates the already low levels of adab within the Muslim community. Till we change our attitude as a community, each one of us should be our brothers or sisters keeper. If we see adab that is unbecoming then remind with wisdom and patience… rather than become the virtual morality police.
Lesson: Before you send a message, consider whether you'd be happy to cc your parents into it. Or your boss. Or anyone else who you respect / fear. Odds are that all the rushed swear words, rude and borderline nasty messages won't make the cut… because they shouldn't.

The classical works of Islam were written many centuries ago, but you can be sure that if they were written now, the fiqh of twitter and facebook would merit their own chapters. Till then, lets all stop the dissing and cussing and get back to discussing – with wisdom, patience and adab.