Book Review | Green Deen: What Islam Teaches About Protecting the Planet
In recent years, many politicians and environmentalists have argued the need for a more environmentally friendly lifestyle. I recall one night in the Islamic Center of NM here in Albuquerque when a nun who was visiting our center asked me what Islam says about the environment, and I struggled to answer her.  I responded, "Of course it promotes taking care of our earth," but I wasn't able to give her enough evidences from the Quran and Sunnah to support my statement.
Recently, I read a book titled Green Deen: What Islam Teaches About Protecting the Planet by Ibrahim Abdul-Matin who is an environmental policy consultant and has worked for Green For All, Green City Force, Interfaith Leaders for Environmental Justice, the Prospect Park Alliance, and the New York City Mayor's Office of Long Term Planning & Sustainability. The book, which is available on Amazon, has a very unique approach to this issue of Islam and the environment.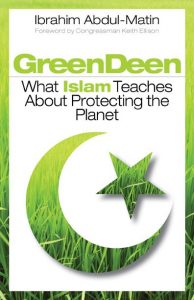 It is divided into an introduction and four parts (Waste, Watt, Water, and Food), and serves as an educational tool for Muslims and non-Muslims alike. In the introduction the author briefly introduces the reader to Islam and its concepts, and then he talks about the motives behind writing this book. One interesting section of the introduction was "The Six Principles of a Green Deen" which incorporated the concepts of Tawheed (monotheism), pondering over the signs of Allah on this earth, humans as guardians and protectors of this planet, Muslims as being just even to the environment, and promoting balance with nature. He elaborated and articulated how Islam promotes fairness and peace to earth and what is surrounding us.
In the first part of the book, Waste, he started by asking the very captivating question "How do you relate to trash, to waste, to consumption?", which automatically connected my mind with his.  It took me a few minutes to think of an answer before I continued reading the book just so I would examine where I stand vs. where the author stood, and the difference was huge. If we take a closer look into our Muslim homes, masajid, and community centers, we will find that the main theme connecting them all together is over-consumption. This part of the book sets the stage up for us to start thinking of ways and solutions to overcome these issues.
If you live around New York or the northeastern United States, then you will relate to part two of the book, Watt. It is interesting how the world lived pre-Industrial Revolution when the only source of energy was fire. The author alludes to the usage of cleaner energy and less dependence on carbon and its derivatives. He talks explicitly about the various industrial practices that left the environment naked of its natural resources. Coal mining and oil drilling were the main two areas that the author brought to light in this chapter. He suggested a few solutions like solar, water, and other renewable sources of energy. The interesting part was the verses he quoted in support of his solutions. Look forward to that.
The famous verse in the Quran where Allah said: "…and We have created from water every living thing" (Surah 21 v.30) came to mind when I read in the introduction of the third part of this book, Water, that less than 1% of the earth's water is left for us to survive. This indeed peaked my curiosity as to how to conserve water and use it properly. In this section of the book, Abdul-Matin spoke about the level of toxicity in our water and ways to conserve water as we are practicing our deen.
Being a chubby person myself, I found the chapter about food interesting, to say the least. The book gives excellent solutions as to how to pick your food and stay Halal. He actually has two chapters titled "Green Zabiha" and "American Halal – Setting the Stage for the Future" discussing methods and ways to stay green while staying Halal and even profiting from it financially.
I found this book to be interesting and original in its ideas. While I found the author sometimes going out on a limb to quote some verses, I think the book overall allows us Muslims to connect with the environment around us while realizing it is a form of obeying our Creator. I highly encourage reading this book.
Click here to watch an interview of Abdul-Matin on Fox News about his book.