The Polygamist Fantasy And The Distressing Of Sisters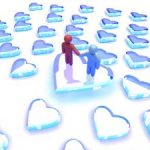 Guest post by AbdelRahman Murphy
One night, during a conference that I went to in the summer, my wife and I had a conversation about the day's events. One topic in our conversation that came up was the issue of American-Muslims and the struggle of marriage.
Earlier in the day, during his session, one of the lecturers asked for a quick show of hands as to how many people in the audience were married. Being a newly-inducted member into this (seemingly) exclusive group, I raised my hand and took a glance around the room, expecting to see a good number of brothers and sisters with their arms in the air. To my concern, the amount of raised hands in the was less than 20 – out of the 130 people in the room, approximately 110 of them were not married (as a piece of information to help paint the picture, the majority in the room was sisters).
As my wife and I discussed this odd phenomenon of young, practicing, Muslim singles remaining single, I asked the stereotypically male question, "Why are there so many unmarried people here? You would think that with such a large quantity of actively-Muslim Muslims that there would be a high percentage of brothers and sisters that were hitched."
My wife shrugged, "Not sure, and it's not like they don't want to get married, a lot of the sisters I've met are looking for a husband." And then it dawned on me – the proverbial apple had dropped from Isaac's tree and struck me on the head, pulling to the forefront of my mind, an amazing idea: "Why don't the brothers and sisters here who are unmarried just marry each other!" It was so simple! I was on my way to becoming the matchmaker of the century, and had already began imagining my acceptance speech as the new president of Practimate.com.
"Pfft," she said.
"Pfft? Is that such a terrible idea? We have two groups of unmarried people here, is it so hard to imagine that there would be some marriage-matches amongst them?"
"It's possible – if the guys act like men."
Whoa! Where was this coming from? The brothers I'd met during my time at the conference were, masha Allah, rising stars of dawah in America. The level of knowledge that was to be seen on the Y-chromosome side of the classroom was admirable, and I felt lucky to be a part of the group. Surely, brothers who were actively racing towards gaining knowledge from their teachers had passed the proverbial gate of maturation into manhood!
"Act like men? Huh?"
"The sisters would be interested, if they noticed any guys who would act mature. The main complaint I'm hearing on the girls' side is that the guys aren't acting like candidates that the girls would be interested in. For example, today when the shaykh mentioned the phrase "second wife," the brothers started giggling and high-fiving like…boys! Just watch for the next couple of days and tell me what you think."
And so the Achilles heel of the situation was revealed; the sisters' allergic reaction to polygamist tendencies.
I had decided to take my wife up on her suggestion and keep an eye on the personalities of the brothers as a group, particular when any topic of marriage was discussed, monogamist or polygamist.
Surely enough, as the days went on, I noticed precisely what my wife was saying. At any point during the seminar when any word or phrase that had a relation to having one or more than one wife was mentioned, there would be at least a small group of brothers who would make a smart comment, completing their ritualistic statements with some sort of testosterone-filled body gesture, whether it be a fist-pump, a high five, or simply a fist raised in the air (as though on an Olympic medal podium of the 1948 summer games). And then it dawned on me, as did many things in this blessed past year of marriage, the perspective from the "other" side. My wife had shed some light on the situation from the point of view of the sisters, and, as a public service (read: sadaqah jaariyah), I'd like to share some advices in regards to that utopian vision many of you may have.
Be Real
For those of you who are single, a quick math refresher: you have to have one before you can have two! It's fine if you genuinely and truly want more than one wife in this life (for the right reasons) – some guys do, and are actively looking for it. But realize that you, single brother, haven't even experienced what marriage is like, yet. You haven't felt the responsibility of maintaining a wife and a family – it is quite a handful, though the work doesn't mean it's not enjoyable. See if you can handle having one wife first, insha Allah, before you decide that having two is a piece of cake. Who knows, you may find the allure of having multiple wives not so strong when you get married for the first (and probably only) time.
It's Hurting Your Game
Now, since we've established that getting married is a goal for you, brother, maybe taking a look at how these actions of pseudo polygamist rhetoric affect your standing with the sisters could give you some insight into how to fix your problem of involuntary singularity. As this article is bluntly stating, most sisters don't enjoy the thought of their potential spouse scoping out their wedding for wife numero dos. If you're serious about carrying out this particular Sunnah for your own personal reasons, then seek out sisters who are predisposed to accepting it as your lifestyle. But if you're just doing it because the dream excites you or makes you feel "macho," then drop the gig, because it's not helping you, and is actually hurting your chances for finding Sr. Right.
Sister Paranoia
Once, while I was at a friend's house discussing this topic with him, and a certain article came up in conversation. It was one that we had both read that had articulated the idea that wives should realize that part of manhood is the innate desire to want more than one wife, so the wife should be constantly and adequately "re-inventing" herself, so as to distract the husband from wanting more than one wife. To this, the brother's wife chimed in, "So wait, on top of my family responsibilities and my social and dawah responsibilities, now I'm supposed to worry that when my husband goes out by himself, or even with me, that he'll be scoping out for another wife? That's depressing."
Now, we all may have heard a story or two about how sisters go beyond the bounds of protectiveness and dwell in the lands of suspicion in regards to their husbands. We know that from an Islamic (49:12), as well as a marital, perspective, these unfounded fears are not fair to the men in these relationships. Not only are they not fair, but a lack of trust, from either side of the relationship, is extremely damaging to the marriage in general. However, the (usually sarcastic) referencing of "getting another one" fuels what could've been a small spark of waswaas from Shaytan into an inferno of paranoia and worry.
One thing that I've learned from taking classes with different teachers on marriage and family life is that a man should never dangle a second wife over the first wife's head as a threat or motivation to "do better." This is disturbing and damaging to the psyche of sisters in general, whether they are married and it's happening to them, or if they are unmarried and worrying about picking a guy because "what's the point, he'll probably just be scoping out for number two while we're cutting the cake at our own wedding."
Respect The Sunnah
This article is not meant to say that it is weird, or that it is unnatural to want more than one wife. Definitely not – to each his own. Some men have the desire for more than one wife in this life, some don't. Regardless whether you truly do or don't, respecting it as a Sunnah comes into play. It's not something to prance around about, flaunting how you're going to have each of "the four" specialize in different culinary cuisines (true story). If you're doing this, it's because Allah allowed it and the Prophet

and some of his companions did it. It is a Sunnah in this regard, and should be treated with the dignity and seriousness of any other Sunnah. By lowering it to some sort of sensory fantasy, you're lowering it's dignity for those brothers who actually do plan on supporting more than one family insha Allah.
As A Preemptive Defense
I am a brother who is already married, and I did not write this article with the intention to woo and sister with my compassion into proposing to me. I am simply a guy who noticed a void in the akhlaaq and honor of the Muslims and decided to give it a bit of analysis and honest advice. The tone might've been a pinch cynical, but I think it was needed to get the message across. This is something that has been on my mind (as well as a few others, feel free to reveal yourself as a supporter of the cause) for a while, and I thought MuslimMatters would be a mature enough forum to discuss it.

www.suhaibwebb.com