Organ Donation: Something to think about?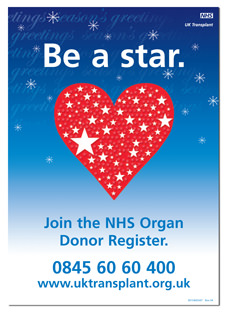 Recently, the UK PM, Gordon Brown, proposed that in order to tackle the problem of organ donor shortages, the current "opt-in" system should be replaced with an "opt-out" one, whereby all British citizens would automatically be placed on the donor register, unless they objected during their lifetime, or their family members refused permission after death. The "presumed consent" proposal has been welcomed by some, and rejected by others, including several patient groups.
I'd almost forgotten about the issue, until I came across this comment by Lord Sheikh, in a House of Lords debate on the Kidney Transplant Bill:
To my knowledge, the five major faiths in the United Kingdom do not object to the principle of organ donation. Christians, Jews, Muslims, Hindus and Sikhs have all endorsed organ donation and transplantation… My understanding is as follows.

A Christian who chooses to donate an organ is following the example set by Jesus of demonstrating love. Sacrifice and helping others form a key part of Christianity and, in the Bible, Christians are invited by St Matthew to "freely give".

Jews are required to obtain consent from a competent rabbinic authority before any organ donation procedure can commence, but nothing in principle in Judaism conflicts with organ donation in order to save lives. Jewish law prevents the unnecessary interference with the body after death and requires immediate burial of the complete body.

In Islam, violating the human body is normally forbidden, but it is permitted to save another person's life. Indeed, the Holy Koran states in chapter five that, "whosoever saves the life of one person it would be as if he saved the life of all mankind".

"Daan" is a word in Sanskrit for donation, which means selflessly giving to a Hindu. That is the third of the 10 niyamas, which are virtuous acts of the faith. Actions that sustain life are accepted and promoted as dharma, which means righteous living. Hindus believe that the soul is invisible, and that it is wrong to grieve for the body.

A key feature of Sikhism is the requirement to put the needs of others ahead of one's own requirements. As with most of the other religions, the soul of an individual is separate from the physical body, and Guru Nanak taught, in the Guru Granth Sahib, that: "The dead sustain their bond with the living through virtuous deeds".
Discovering this "common ground" between five very different religions, made me realise that, as a Muslim, I've never really thought much about the idea of becoming an organ donor before. I had some inkling that it was permissible in Islam, but had not yet embarked upon a serious quest to decide whether or not I should carry a donor card. In light of this recent debate, and the fact that I don't know how long I have left on this Earth, I think it is about time that I did.
So, what does Islam really have to say about organ donation? Referring to Sheikh Google, I discovered a leaflet published by the NHS Transplant website titled "Islam and organ donation", which states:
One of the basic aims of the Muslim faith is the saving of life. This is a fundamental aim of the Shariah and Allah greatly rewards those who save others from death.

Violating the human body, whether living or dead, is normally forbidden in Islam. The Shariah, however, waives this prohibition in a number of instances: firstly in cases of necessity; and secondly in saving another person's life. It is this Islamic legal maxim al-darurat tubih al-mahzurat (necessities overrule prohibition) that has great relevance to organ donation.

"Whosoever saves the life of one person it would be as if he saved the life of all mankind." Holy Qur'an, chapter 5 vs. 32

[…]

Muslim scholars of the most prestigious academies are unanimous in declaring that organ donation is an act of merit and in certain circumstances can be an obligation.
These institutes all call upon Muslims to donate organs for transplantation:

the Shariah Academy of the Organisation of Islamic Conference (representing all Muslim countries)
the Grand Ulema Council of Saudi Arabia.
the Iranian Religious Authority
the Al-Azhar Academy of Egypt
In addition, according to a fatwa on Islamonline.net:
"Organ donation is permitted in Islam if it is done within the permissible limits prescribed by the Shari`ah.

The following are the conditions scholars have stipulated for donation:

Conditions associated with a living donor:

1. He/she must be a person who is in full possession of his/her faculties so that he/she is able to make a sound decision by himself/herself;

2. He/she must be an adult and, preferably, at least twenty-one years old;

3. It should be done on his/her own free will without any external pressure exerted on him/ her;

4. The organ he/she is donating must not be a vital organ on which his/her survival or sound health is dependent upon;

5. No transplantation of sexual organs is allowed.

Conditions associated with deceased donors:

1. It must be done after having ascertained the free consent of the donor prior to his /her death. It can be through a will to that effect, or signing the donor card, etc.

2. In a case where organ donation consent was not given prior to a donor's death, the consent may be granted by the deceased's closest relatives who are in a position to make such decisions on his/her behalf.

3. It must be an organ or tissue that is medically determined to be able to save the life or maintain the quality of life of another human being.

4. The organ must be removed only from the deceased person after the death has been ascertained through reliable medical procedures.

5. Organs can also be harvested from the victims of traffic accidents if their identities are unknown, but it must be done only following the valid decree of a judge."
But what about the permissibility of donating organs to non-Muslims? Islamonline.net says:
Islam is a universal message of love, mercy and compassion towards all the inhabitants of this globe. It is because of this that it permits a Muslim to donate an organ to a non-Muslim in case he/she is in need. Of course, priority is given to a Muslim in case the donating Muslim is offered the choice.
So, thus far, it seems that there is little stopping me from adding my name to the organ donor register. In fact, another answer suggests that I might be dumb not to:
"Organ donation to save the life of another or to help another lead a better life is considered a meritorious act that entails great rewards. This has been the view of the Islamic jurists who have discussed this issue. The Prophet (peace and blessings be upon him) told us: "Whosoever of you can render any benefit to his brother should do so." It is not hard to imagine that no benefit is greater than saving someone's life by giving him the gift of an organ or tissue donation. Therefore, this would fall under the category of a most charitable act.

Organ donation is also reckoned as a sadaqah jariyah (ongoing charity) from which the donor will continue to reap rewards after his/her own death, so long as the organ he/she has thus donated continues to function in the body of another human being."
After reading all this, and especially considering that my own ethnic group is in dire need of more donors, I strongly suspect that it becomes my Islamic duty to register asap.
I encourage everyone to think deeply about becoming an organ donor; discuss the issue with trusted knowledgeable people, and most importantly, with your next of kin, because, in UK law at least, organs cannot be harvested if any close family member objects, in spite of any consent given by the deceased during their lifetime.
To find out more about what it means to be a registered organ donor in the UK, please refer to the NHS FAQ. If you have already made your decision, you can even sign up online. I invite readers from other countries to deposit the relevant info for how to become a donor in their locality, in the comments section below.
Finally, I ask Allah to forgive me for any errors I have made in writing this entry, and ask for guidance on this crucial topic, which has the potential to earn such great rewards. Ameen.